When you consider that there are more than 365 restaurants on the Outer Banks, it's no wonder you can't decide where to eat! There are just so many great choices vying for your attention in every Outer Banks town (see them all here). If you're like most visitors, you have your traditional favorites for breakfast, lunch and dinner, those places that you absolutely must visit each year, but you also always want to try out something new when you're here. It's always fun to check out the new places, so here are ten new restaurants that have opened on the Outer Banks since last fall. We start the list in Corolla and run south through Hatteras.
Photo: The Outboard chef's board at NC Coast Grill and Bar.
Bernie's Brother Tropical Grill and Bar
The Vlahos family ran Tomato Patch Pizzeria in this location for more than two decades. One of their sons went on to open the popular Barefoot Bernie's Tropical Grill and Bar in Kitty Hawk, and now that Tomato Patch has closed, another son has opened Bernie's Brothers Tropical Bar and Grill in its old location. The building is brand new, and it's modern and gorgeous, with options for outdoor dining. The menu has a tropical bent, with specialties from all the favorite islands and beaches around the world and yummy tropical cocktails. And in honor of their roots, they also have pizzas by Tomato Patch.
803 Albacore Street, Corolla, (252) 453-4500, berniesbrother.com
Low Tide Bar & Grill
Low Tide is in lower Corolla at the entrance of the Currituck Club. It's a great place for a casual lunch or dinner, with something for everyone like fish tacos, crab legs, steamed shrimp, crab cakes, fried chicken, Southern barbecue and a full bar.
520 Old Stony Road, Unit H, Corolla, (252) 597-3303, lowtidebarandgrill.com
NC Coast Grill & Bar
NC Coast is the second restaurant from the team at Duck's much-loved Red Sky Café. Chef Wes Stepp is a star chef on the northern Outer Banks, known for his eclectic preparations of seafood and the coastal South as well as for his dedication to serving fresh, healthy food. NC Coast is where he plays a little more, bringing cross-cultural and global influences to local ingredients, and the results are stunning. As if that weren't enough, the setting is a beautiful brand-new building directly on the Duck boardwalk overlooking Currituck Sound. Outdoor dining is available, and boat dockage is available. They also have live music nearly every night.
1184 Duck Road, Duck, (252) 261-8666, nccoastobx.com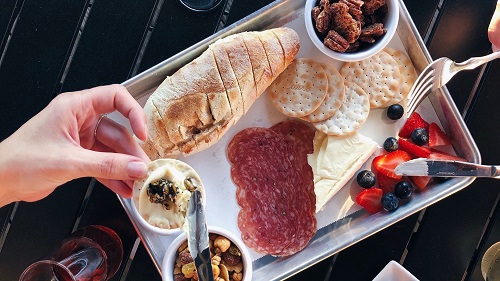 Photo: Charcuterie at eventide in Duck. 

 
eventide
Wave Pizza Cafe has closed, but in its place the same experienced crew has opened a casual spot for sophisticated beverages and bites, and it's right on the water on the Duck Boardwalk. Their tagline is Sip, Savor, Sunset, and that about sums up the civilized vibe. This is a place for savoring homemade sangria, a sommelier-designed wine list, craft beers, and sharing artisan cheeses, charcuterie boards and small plates with friends. Outdoor seating is available.
1190 Duck Road, Duck, (252) 715-1216, eventideduck.com
The Spot
The extremely popular Nags Head restaurant for acai bowls, poke bowls, smoothies and ice cream has opened a second location in Kitty Hawk. The new location is in the former Sweet Frog, and the building renovations and interior and exterior murals look amazing. They're open for takeout only.
3700 N. Croatan Highway (milepost 4.5), Kitty Hawk, (252) 715-4033, thespotobx.com
Donuts4U
There's a new doughnut shop in town, and it's not just for breakfast. This one stays open from 7 a.m. until 9 p.m. for satisfying those afternoon and after dinner munchies. It also goes above and beyond the typical donut shop by offering delivery. Yes, you can stay in your pajamas and enjoy freshly made warm doughnuts and churros for breakfast. Delivery is offered to Southern Shores, Kitty Hawk, KDH and Nags Head. Online ordering is available.
3701 N. Croatan Highway, Kitty Hawk, (252) 202-8676, donuts4you.com
Vinny's Pizza Joint
If you love Josephine's Sicilian Kitchen in Kitty Hawk (and a lot of people do), you'll be excited to know about their sister restaurant a few doors down. They offer traditional Sicilian pizza, gourmet pies, gluten-free crust, hoagies and salads for take-out or delivery (in Kill Devil Hills and Kitty Hawk). There's no dine-in service, but you can eat at a small table on the sidewalk out front.
3701 N. Croatan Highway, Kitty Hawk, (252) 715-1441, vinnyspizzajoint.com
Khan's Mongolian Grill
Khan's Mongolian Grill brought a new concept to the Outer Banks dining scene last fall. Opened by the team at Fuji Steakhouse & Sushi Bar, it's a place where you build your own meal with the ingredients of your choice. Choose your meats, sauces and flavors and watch as the chefs cook it Mongolian style on their gigantic grill and serve it with veggies and starches in a small or large bowl. They also have appetizers, a kids' menu and dessert. Eat inside or outdoors or take your food to go for lunch or dinner.  
101 E. Atlantic Street, Kill Devil Hills, (252) 255-1006, obxkhans.com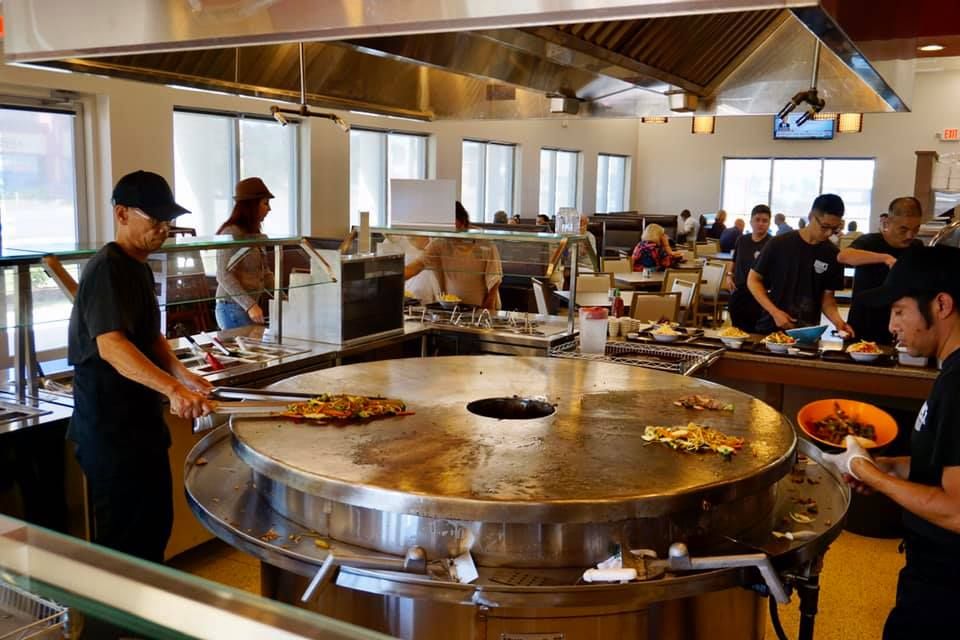 PokeBox
Much to the delight of Nags Head diners, the folks at Taiko Japanese Restaurant recently opened PokeBox at milepost 10.5. If you don't know poke, it's a Hawaiian dish of sliced marinated tuna. Its popularity has spawned the poke bowl trend, and this restaurant capitalizes on that trend. You choose a base (spring mix, rice or chips), proteins (tuna, salmon, tofu, steak, chicken etc.), mix-ins like veggies and herbs, a sauce and toppings, and they arrange it in a bowl of pure tastiness. This restaurant is take-out only, and online ordering is available.
2236 S. Croatan Highway, Nags Head, (252) 261-1178, obxpokebox.com
Neptune's Kitchen and Dive Bar
Neptune's Kitchen and Dive Bar's menu is simple and tasty, with sandwiches, seafood entrees, steamers, steaks, shareable apps and a kids' menu. But the real draw is the waterfront setting and outdoor dining with fantastic views of the sound, sunsets and watersports activity. They also have frequent live music.
24394 N.C. Highway 12, Rodanthe, (252) 987-5221, facebook.com/neptuneskitchenndivebar
Coming Soon
Over in Manteo, there's a new restaurant coming very soon to The Elizabethan Inn. Andy's Pancakes & Grill, which is opening on Wednesday, July 22, will offer full comfort food breakfasts (omelets, pancakes, biscuit sandwiches, platters) and lunches (burgers, sandwiches, salads, soups, melts). This is an offshoot of Andy's Pancakes & Steakhouse, a long-established Elizabeth City restaurant. 
The owner of Paper Canoe in Duck is opening a new restaurant in Kitty Hawk called The Pony and the Boat Comfort Kitchen. (Yes, the name was inspired by the Lyle Lovett song.) In the former location of Russo's, which recently closed, The Pony and the Boat will focus on comfort food in all its iterations. They're working on remodeling the restaurant now and are planning a fall 2020 opening.
Noosa Beach Grille also will be a new restaurant on the scene this fall. The owners, who also own a Noosa Bistro in Ohio, are working hard to gut and majorly renovate the former Flying Fish/Grandstaff & Stein building in Kill Devil Hills. Noosa is the name of an Australian surf town, and the restaurant will have a surf vibe and tasty fare like fresh sandwiches, wraps, seafood, salads, steaks, wine and martinis.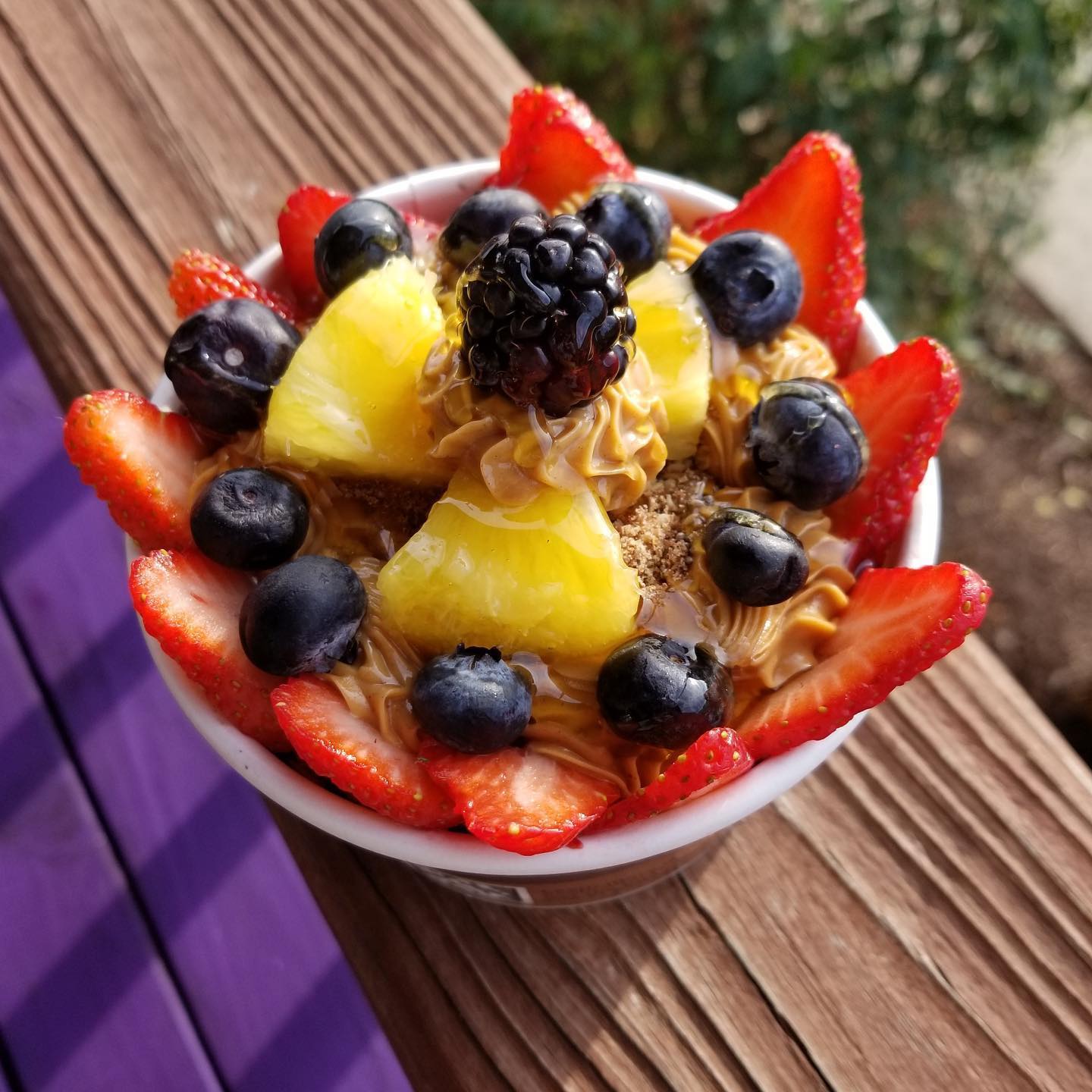 Photo: The Spot's delectable acai bowls can now be enjoyed in Kitty Hawk.
Have you been to any of these restaurants? Let us know how you like them or share your favorite Outer Banks restaurant experiences in the comments below. Bon appetit!