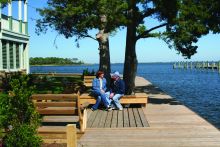 Those of us who live on the Outer Banks are proud to call it home. With the abundance of surf and sand for playing, the variety of activities and events and the vibrant local community, we totally get why it's a popular vacation destination. We love sharing our home with visitors, but no one needs that awkward divide between "local" and "tourist." To help everyone assimilate to the ways and habits of these coastal communities, here are a some things locals wished visitors knew.
On the Beach
Leave no trace. Or rather, when you visit the beach, leave with the stuff you brought. No one likes looking out from their beach cottage only to have an abandoned tent in the way. Even if you think you'll return to the same spot tomorrow, pack up the beach chairs, the umbrella, the cooler and (of course) any waste at the end of the day. Several towns now have actual laws to prevent people from leaving any stuff on the beach.
Personal space is a thing. When you're enjoying a day at the beach, nothing disrupts the peace like a posse of strangers unfurling their towels and blasting their tunes 2 feet away from you, am I right? Sure, on crowded days, we expect to get a little cozy with our neighbors. But if it's 9 a.m. and the whole beach is open, stake your claim a good distance away from others.
Heed the red flags. They fly for a reason. If you see them up around beach accesses and lifeguard towers, don't go into the water. It's pretty simple. Lifeguards don't fly red flags to annoy you or impinge on your beach day – they fly them because water safety is a very real issue. Even if you're a strong swimmer, the Atlantic Ocean on a rough day isn't the place to test your skills.
Watch the little ones. Vacation is a great time to release your inhibitions, but that doesn't mean running wild – or letting your kids run wild. We get it, you're at the beach, there's a great big ocean, lots of sand to run through and maybe new dogs to meet. But a watchful eye ensures that your little one's running doesn't take them too deep into the ocean or that their sandcastle construction avoids flinging sand onto other beachgoers.  
Stay off the dunes. I'm sure you've seen the signs, but do you know why staying off the dunes matters? The dunes and the sea oats that grow on many of them protect against beach erosion. They keep sand from moving from the beach and onto the beach road, behind houses, etc. We rely on them to buffer against the storm surges in bad weather. Take care of the beach so that it can take care of you.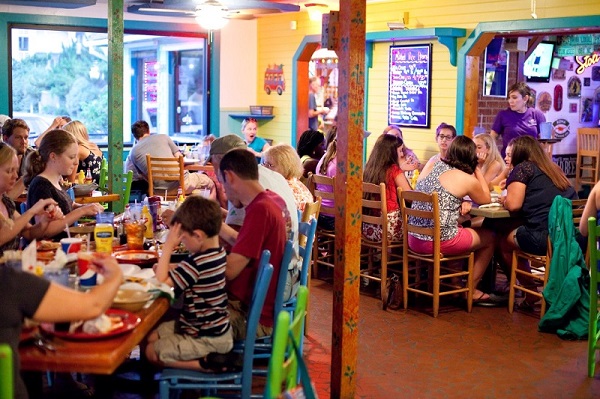 Out and About
Know the rules of the road. Sometimes it seems like when visitors arrive for their Outer Banks vacation, their driving skills take a vacation too. It may seem like common sense, but don't speed, especially through neighborhoods and along the Beach Road. Look up directions beforehand to help if you get lost. Minimize the time you spend in the middle turn lane on the bypass, and please don't drive in that middle lane. And remember, drivers, you are required to stop for pedestrians at crosswalks. Drive like your loved ones are next to you.
Be a good pedestrian. Alternately, remember to practice proper pedestrian and cyclist etiquette when you take to the streets. Wait for traffic to stop when using the crosswalk. At night you're nearly impossible to see from behind the wheel of a car so if you must go out, use reflectors and lights. Walk against traffic, bike with it. It's pretty standard.
No need to dress up. We're pretty laidback here. That means that if you go out for drinks at a bar or an upscale dinner, you probably don't need to break out the heels or blazer. Enjoy your comf, vacation clothes and save the itchy fabric and stiff collars for your return. That said, don't be that guy who shows up to a sit-down meal in a rash-guard or the gal parading around the grocery store in a bikini. That's where we draw the line.
Dining out tips. We have lots of tips and tricks to dining out in Outer Banks restaurants. For more details, check out this short article on it. For some highlights: Know that Wednesdays in the summer tend to be the most popular night for eating out so reservations are always an excellent idea. Roanoke Island restaurants don't get as busy as the ones on the beach, and you can walk around the downtown before and after your meal. Going out for lunch and staying in for dinner is a great way to try gourmet cuisine without paying evening hour prices. And please, please, please remember to tip your servers!
Talk to us! Want to know our recommendations for our favorite Outer Banks restaurants and activities? Events we can't stand to miss? Hole-in-the-wall boutiques? Just ask us. We're pretty approachable and if you strike up a conversation, we usually offer our two-cents whether or not you ask. Like I mentioned earlier, we have a vibrant community of locals – it's one reason so many people fall in love with the Outer Banks.
---
These are by no means a set of rules to follow – if you're enjoying your time on the Outer Banks, then keep doing what works for you. Be sure to check out our Daytime Events and Nightlife listings of all the fun activities happening while you're here.