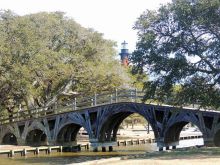 North of Duck on the northernmost part of the Outer Banks, the Currituck Outer Banks is 24-mile-long stretch of barrier island (actually peninsula) that everyone calls "Corolla." There's no actual incorporated town of Corolla and no official town center or town hall, but there is a recognized heart of Corolla and that's Historic Corolla Park.
The 39-acre green space is right along Highway 12 and the multiuse bike path, encircled by the area's top attractions – Currituck Sound, Whalehead, Currituck Beach Lighthouse and Outer Banks Center for Wildlife Education – and within walking distance of Historic Corolla Village, the shops and restaurants of Corolla Light Town Center and the Atlantic Ocean. It's the site of almost all of Corolla's special events, and it's a great place to hang out, exercise or recreate. On any given day you'll find people relaxing in the shade of giant live oaks, enjoying a picnic on the great lawn, crabbing in the basin, launching a kayak or SUP, flying a kite, jogging, taking pictures on the picturesque footbridge and more. It's also a very popular site for weddings.
Whether you're staying in Corolla or headed that way for a daytrip, be sure to spend some time in Historic Corolla Park. Here are 10 ways to experience Historic Corolla Park this summer.
Run a 5K
Keep up your exercise routine and meet some new friends with a 5K run or walk on Wednesday mornings in Historic Corolla Park. The race, presented by Brindley Beach Vacations, has a vacation-friendly 8 a.m. start time, and the course is flat and scenic. Runners get a t-shirt, a medal and chip timing. Awards are given for the top three male and female finishers in a few different categories. You can register on-site the morning of the event from 6:50 to 7:50 a.m. or in advance here. Cost is $38 for adults, $33 for teens and $28 for age 12 and younger. If you miss the run, just head over to the park and run, walk, push your kids in a stroller or do your own outdoor workout. You won't be alone as this is a very popular place to exercise.
Sip at Corolla Cork & Craft
Every summer Wednesday from 3 to 7 p.m., Historic Corolla Park is filled with the festivities of this wine, beer, music and arts event. For $15 admission, you get a souvenir wine glass, wine and beer samples, live music, a free tour of the Whalehead museum and a 10% discount from art vendors. Additional beer and wine is available for purchase from participating wineries and breweries, which may include Sanctuary Vineyards, Vineyards on the Scuppernong and Weeping Radish Farm Brewery. Nondrinking guests get in free.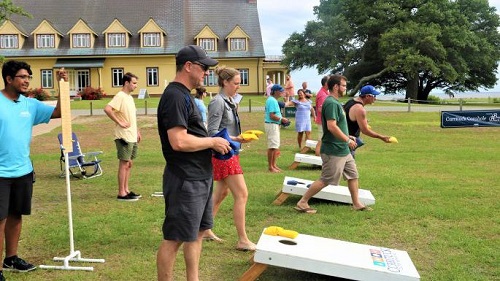 Compete in the Corolla Cornhole Tournament
Coinciding with Corolla Cork & Craft is the weekly Corolla Cornhole Tournament from 4:15 to 7 p.m. every Wednesday. Teams compete in a double-elimination tournament with a limit of 16 teams. Advance registration is recommended by calling (252) 453-9040, but you can also register on-site the day of between 3 and 4 p.m. Cost is $20 per team, and cornhole bags and boards are provided. Winners receive prizes from Currituck Travel & Tourism, and at the end of the season, all first-prize winners are entered into a drawing for a beach vacation home stay donated by Brindley Beach Vacations.
Relax with Yoga in the Park
Free yoga classes are offered in Historic Corolla Park every Thursday beginning at 7:30 a.m. The all-levels classes last one hour and include a guided meditation. Instructor Rosie Sharkey leads the classes in front of Whalehead overlooking the sound. Bring your own yoga mat or towel, water and sun protection. The event is canceled if it's raining.
Explore the Currituck County Maritime Museum
There's a big, brand-new museum at Historic Corolla Park. The 10,000-square-foot Currituck County Maritime Museum focuses on the recreational and commercial maritime heritage of Currituck County and includes historic boats, artifacts, photographs and exhibits. It's free to visit this museum, which is open Monday through Friday from 9:30 a.m. to 4 p.m.
Climb Currituck Beach Lighthouse
Climbing the lighthouse gives you an amazing overview of Historic Corolla Park, along with spectacular views of the ocean, sound and Currituck Banks. The lighthouse and gift shop are open daily from 9 a.m. to 5 p.m. The cost to climb is $10 for anyone 4 and older. Ages newborn to 3 can go up for free with an adult as long as the child is in a carrier.
Learn at Outer Banks Center for Wildlife Education
This educational center offers a self-guided museum that teaches you about the natural history and cultural heritage of the northern Outer Banks. You'll learn about the sounds, the wildlife, fishing and hunting and a lot more. It's open Monday through Friday from 9 a.m. to 5 p.m. Be sure to walk the nature trail boardwalk behind the museum too.

Admire Whalehead in Historic Corolla
This is a historic house museum. The 1920s-era Art Nouveau mansion is open for tours Monday through Friday from 10 a.m. to 4 p.m.
Picnic on the Lawn
Pick up food from a Corolla restaurant (see a list here), and bring it to the park, the perfect picnic spot. You can sit in the shade of an oak tree, on a bench with a water view or on the big, open lawn. It's a great place to people-watch and relax. Bring a blanket, a kite, a Frisbee or a leashed dog if you'd like.
Catch a Crab 
Crabbing is a simple pastime that can occupy kids for an hour or so. You'll need a piece of raw chicken, a string with a handle on the end, a net and a bucket. Tie the piece of chicken to the string and dangle it from the dock in the boat basin at Historic Corolla Park. When a crab comes along and starts picking at the chicken, scoop it up with your net and drop it in your bucket. It's really time-consuming to catch anywhere near enough crabs for a feast, so unless you're making a day of it, it's probably best to watch the crab for a while and then let it go. If you do plan to keep them, the carapace (shell) width has to be at least 5" wide, and 50 is the maximum you can keep.
For more ideas of things to do in Corolla, click over to all of our Corolla content at corollaguide.com. Have fun!
Photos courtesy Currituck County Department of Travel & Tourism