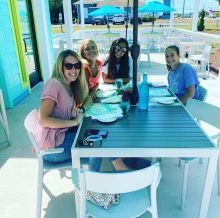 With record numbers of visitors in town this summer, the Outer Banks restaurants are hopping busy. It's a good thing there are so many new restaurants in town to fill all the hungry bellies. Here's a list of 12 new places to try from Corolla to Hatteras Island, plus six new sweets shops.
If you missed visiting last year due to COVID concerns, you may want to have a look at the 2020 new restaurants blog since those 10 restaurants will be new to you as well. 
Meanwhile, there are close to 400 restaurants on the Outer Banks, and you can find them all in our comprehensive Outer Banks Restaurants listings. There is something for every taste and budget, and it's definitely safe to say you will not go hungry on the Outer Banks.
As is the case in many vacation areas, Outer Banks restaurants are operating short-staffed this summer. Please keep this in mind when you're dining out. Things may take a bit longer than you're used to, but remember that everyone is working as hard as they can. Patience, kindness, good manners and a smile will make everyone feel better.
Photo: Outside dining at the new Noosa Beach Grille in Kill Devil Hills.
Corolla
Broken Plate Kitchen
With owners hailing from Jamaica, Broken Plate Kitchen brings a taste of the islands to Corolla. In a cheerful space in Corolla Light Town Center, they serve breakfast, lunch and dinner. Breakfast is pretty traditional, while lunch and dinner bring in those Caribbean dishes, including Jamaican jerk chicken and Caribbean spiced fish. 1159 Austin Street, Unit 106 AB, Corolla, (252) 597-3294
Chicken Coop Country Diner
This is a family-friendly diner-style restaurant focusing on comfort foods like fried chicken, country-style sides and chicken and dumplings for lunch and dinner and omelettes, biscuits and gravy, scrapple and eggs for breakfast. You can pick up a box of their fried chicken and sides for an easy meal, and they even have a drive-through. 814 Ocean Trail, Corolla, (252) 597-3101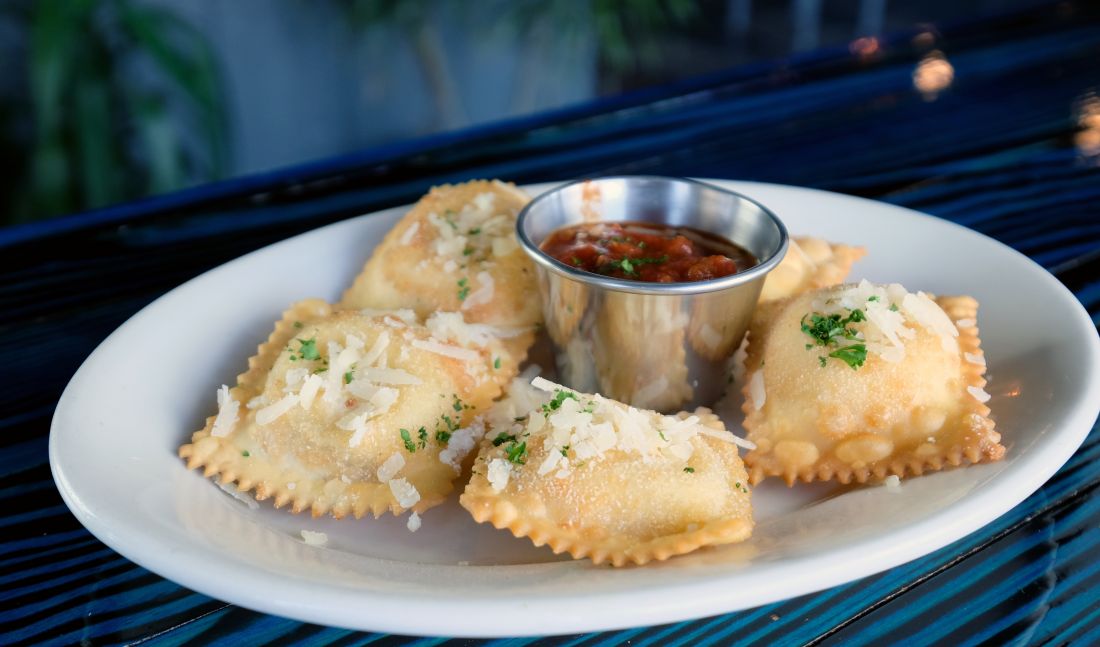 Kitty Hawk
Sharky's OBX Grill
Sharky's serves breakfast and lunch, and it's a good spot to pick up a beach picnic. They have hearty breakfast options like burritos, biscuit sandwiches and biscuits and gravy, plus some lighter fare options. Lunch offers burgers, sandwiches, wraps and cheesesteaks. 3723 N. Croatan Highway, MP 4.5, Kitty Hawk, (252) 715-2460
The Pony and the Boat
A sister restaurant to the popular Paper Canoe in Duck, The Pony and the Boat serves fresh takes on comfort food classics like chicken pot pie, pot roast, fried chicken and Southern sides. But they do it with top-quality ingredients alongside N.C. craft brews, craft cocktails, bourbons and wine. The interior feels like a cool neighborhood pub in the city – modern and hip but casual at the same time. 3712 N. Croatan Highway, MP 4.5, Kitty Hawk, (252) 715-2991
Kill Devil Hills
Shine On Juicery
If you eat healthy, you'll love Shine On Juicery. Owner Amy Landes offers Juice Flood packages in which can pick up bottles of fresh cold-pressed juice for cleanses, detoxes and all-around great health. She also serves acai bowls, smoothies, avocado toast, summer rolls, Buddha bowls, raw desserts and more. Indoor and outdoor seating are available. 1209 S. Croatan Highway, MP 9.5, Kill Devil Hills, (252) 489-7864
3 Tequilas Restaurante Mexicano
This new restaurant (where Roosters used to be) serves traditional Mexican food and tableside guacamole. The menu is huge, so ordering might take a while. They have a full bar with margaritas and a good selection of tequila. This is one of the few restaurants on the Outer Banks that takes reservations. 804 S. Croatan Highway, MP 8.5, Kill Devil Hills, (252) 715-3604
Noosa Beach Grille
You can't miss this one on the Bypass with its cheerful aqua and lime color scheme and VW bus logo on the sign. It's named for a coastal surf town in Australia, paying homage to the owners' Aussie roots. The atmosphere is casual and surf-inspired, and the menu is a step up, with dishes like prime rib, seafood pasta, chicken marsala, rack of lamb, burgers, sandwiches and more. The bar stays open late and sometimes there's live music. 2003 S. Croatan Highway, MP 9.75, Kill Devil Hills, (252) 715-6393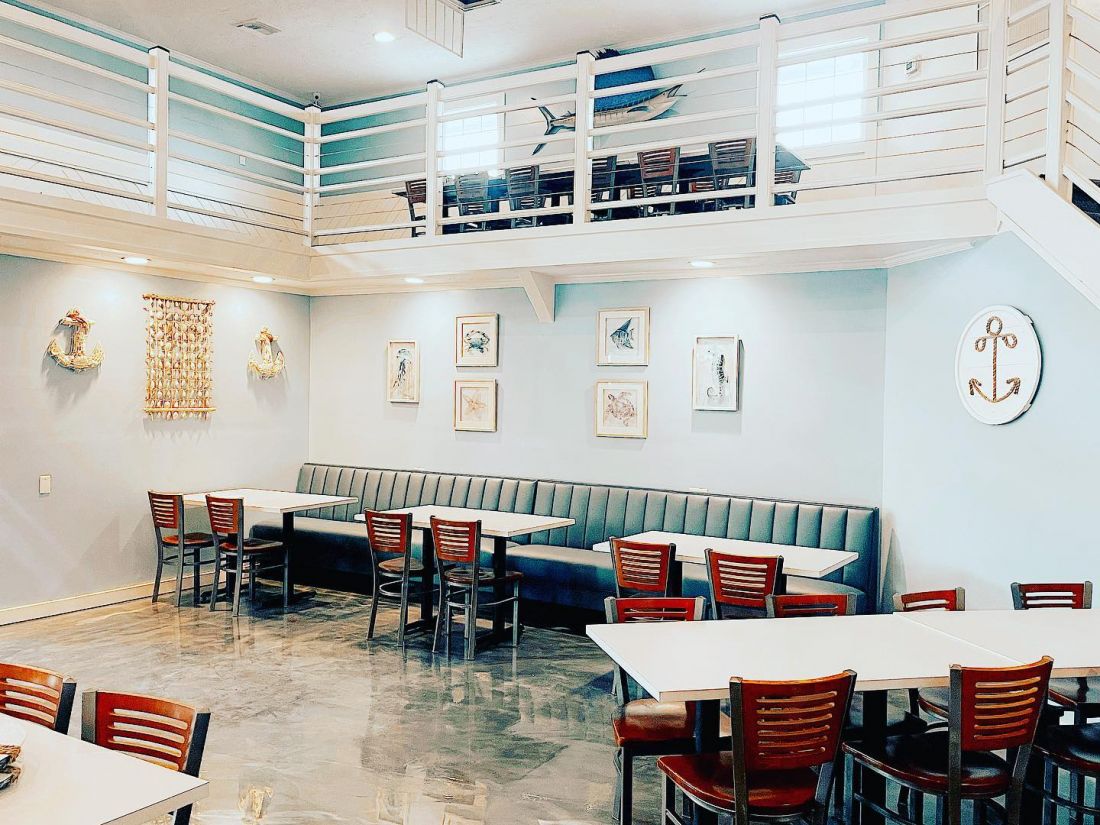 Nags Head
Mahi Mahi's Island Grill
In the former NY Pizza Pub in Nags Head, Mahi Mahi's serves American cuisine and local seafood with a dash of Latin flavor. The longtime local chef is known for his award-winning Mahi Mahi Chowder and Shrimp and Grits. The menu has a lot of great choices, the newly renovated space is beautiful and spacious, and there's a full bar. 2217 S. Croatan Highway, MP 10.5, Nags Head. (252) 715-0106
McGrath's Burger Shack
This is an Irish-themed meat eater's paradise with wings and burgers prepared all the ways. Their Irish Car Bomb Burger has fried onions, Jameson barbecue sauce, a fried egg and Baileys candied bacon. They also have chicken sandwiches, hot dogs and plant-based burgers. They have a full bar with all the Irish favorites plus they do Burger Boxes for easy take-out dinners. 5000 S. Croatan Highway, MP 14.5, Outer Banks Mall, Nags Head, (252) 715-4455
Manteo
Olives, A Greek Kitchen
Wondering where to get Greek and Mediterranean food on the Outer Banks? Olives serves it all, including hummus, dolmades, saganaki, souvlaki, moussaka, spanakopita, baklava and more. They also have gyros, pizzas, Greek tacos and a lot more. It's in the Waterfront Shops, a flight up from street level, and offers a waterfront view of Shallowbag Bay. 207 Queen Elizabeth Avenue, Manteo, (252) 423-3322
Wabi Sabi
Sushi has finally come to Manteo! Wabi Sabi has all the sushi favorites from sashimi to rolls, plus sandwiches for the less adventurous eaters. They have a full bar, and the interior is upscale and modern. Take-out is available. It's on the main highway, a few doors down from Food-A-Rama. 210 U.S. Highway 64, Manteo. (252) 423-3131
Hatteras Island
Cockeyed Clam
This restaurant in Buxton is the place for a nice but casual dinner of seafood and New American cuisine. Their daily specialty cocktails are always intriguing, and they have a well-thought-out selection of beers and wines. They serve fried seafood, steamed seafood, entrees, specials and homemade desserts. Wednesday is Burger Night. 47048 N.C. Highway 12, Buxton, (252) 986-5488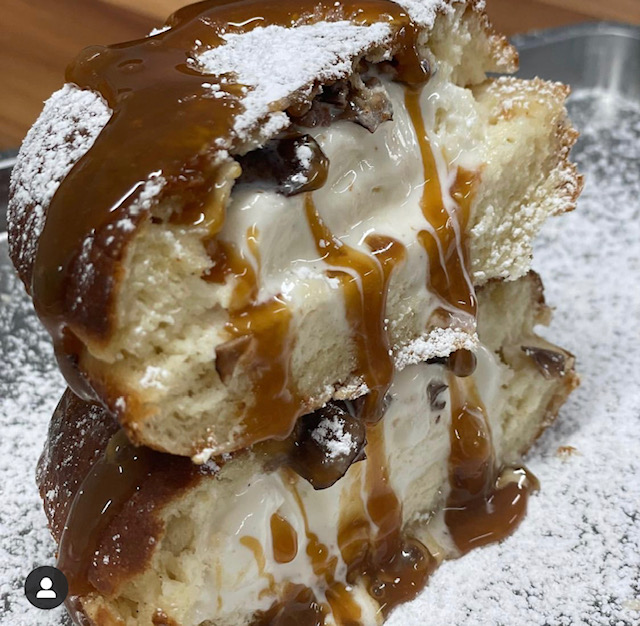 The Ice Cream Donut Panini at Holy Cow Creamery is made with a fresh-baked doughnut from Proof Bakery.
New in Coffee and Sweets
Tasty Treats in Corolla
Tasty Treats is part of Broken Plate Kitchen, so you can order from there for your dessert. Or they have a walk-up window. They serve ice cream, Extreme Milk Shakes (you keep the jar), bubble tea, iced coffee, churros and Waffle Sticks. 1159 Austin Street, Unit 106 AB, Corolla, (252) 597-3294
Holy Cow Creamery in KDH
Freshly churned homemade ice cream in a variety of very unique flavors is the name of the game here. Plus they have a smooshed Ice Cream Donut Panini with a donut made by Proof Bakery. Yum! 1006 S. Virginia Dare Trail, MP 9, Kill Devil Hills, (252) 399-2619
Frosties in Manteo
Frosties serves high-quality soft serve, sundaes, milk shakes and flavored shaved ice. You'll find it one level up from the street across from Downtown Books. 106 Sir Walter Raleigh Street, Manteo, (252) 473-2319
Sweet & Salty Popcorn and Shaved Ice in Rodanthe
Small-batch artisan popcorn in creative sweet and savory flavors is the name of the game here. They also have Snow by the Sea shaved ice. It's in Pamlico Station shopping center. 24267 N.C. Highway 12, Rodanthe, (252) 888-5989
Island Bakery in Avon
This bakery has a regular supply of cakes, pies, cookies, bars and cheesecakes, or you can custom order desserts. 41934 N.C. Highway 12, Avon, (252) 986-5188
Isla Coffee Shop in Avon
Avon's new coffee shop serves up all the favorite coffee and espresso drinks, cold brew, teas and even Wellness Lattes with a superfood mix of reishi and mucuna. They have some baked good and plant-based foods too. 39774 N.C. Highway 12, Avon, (252) 986-5293
In other sweets and bakery news ...
Proof Bakery has reopened in a new location next to the KDH post office. Three words: Best. Croissants. Ever. They also have breakfast sandwiches, incredible bread, fresh made doughnuts, coffee and sandwiches for lunch. Take-out only. 402 S. Croatan Highway, Kill Devil Hills, (252) 480-0938
Booty Treats has opened a second location at MP 15.5 in Nags Head, serving the same Hawaiian shaved ice, ice cream and Booty Freezes as its 10.5 location. New location: 6406 S. Virginia Dare Trail, MP 15.5, Nags Head, (252) 305-4785
Surfin' Spoon, ever-popular froyo spot, has moved a mile south to a bigger location with way more parking. 3408 S. Virginia Dare Trail, MP 11.5, (252) 441-7873
Bonus: New in Nightlife
The Breeze Nightclub & Bar
With Gaffers moving out of Ocracoke after the hurricane, the owners of Jernimans reinvented the space as The Breeze. They feature live bands, including local, regional and national acts. It's a private club so you have to purchase a $1 membership.