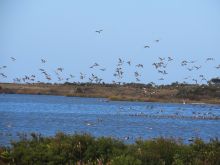 Did you know that northeastern North Carolina is home to nine national wildlife refuges that provide habitat for a huge variety of wildlife and plants? Plus there are two additional national wildlife refuges close by in southeastern Virginia. Put those 11 refuges together and this provides more than 505,000 acres of federally protected land as a safe place for wildlife to live and beautiful areas for humans to explore.
The National Wildlife Refuge System focuses on wildlife conservation and ensuring the survival of native wildlife species. The 11 refuges in this region are:
Alligator River National Wildlife Refuge, 152,195 acres on the mainland Dare County
Pea Island National Wildlife Refuge, 5,834 acres on the north end of Hatteras Island
Currituck National Wildlife Refuge, Currituck Outer Banks, north of Corolla
Mackay Island National Wildlife Refuge, 8,646 acres on Knotts Island, Currituck County
Mattamuskeet National Wildlife Refuge, 50,180 acres in Hyde County
Swanquarter National Wildlife Refuge, 16,500 acres in Hyde County
Pocosin Lakes National Wildlife Refuge, 110,106 acres in Tyrrell County
Roanoke River National Wildlife Refuge, 20,978 acres in Bertie County
Cedar Island National Wildlife Refuge, 14,480 in Carteret County south of Ocracoke
Great Dismal Swamp National Wildlife Refuge, 113,000 near Suffolk, Virginia
Back Bay National Wildlife Refuge, 9,200 acres south of Virginia Beach, Virginia
The U.S. Fish and Wildlife Service refuges are open to public visits for nature-based recreational such as hunting, fishing, wildlife observation, wildlife photography, environmental education and interpretation (activities vary per area and season). By clicking here, you can digitally explore all of these refuges and find maps and visitation information. Visitation is predominantly self-guided. The refuges are huge, so seeing wildlife is often hit or miss unless you know where and when to look. But local refuges, including Alligator River, Pea Island and Pocosin Lakes NWRs offer guided interpretive programs year round, with more in the summer months. Click here to see what's offered.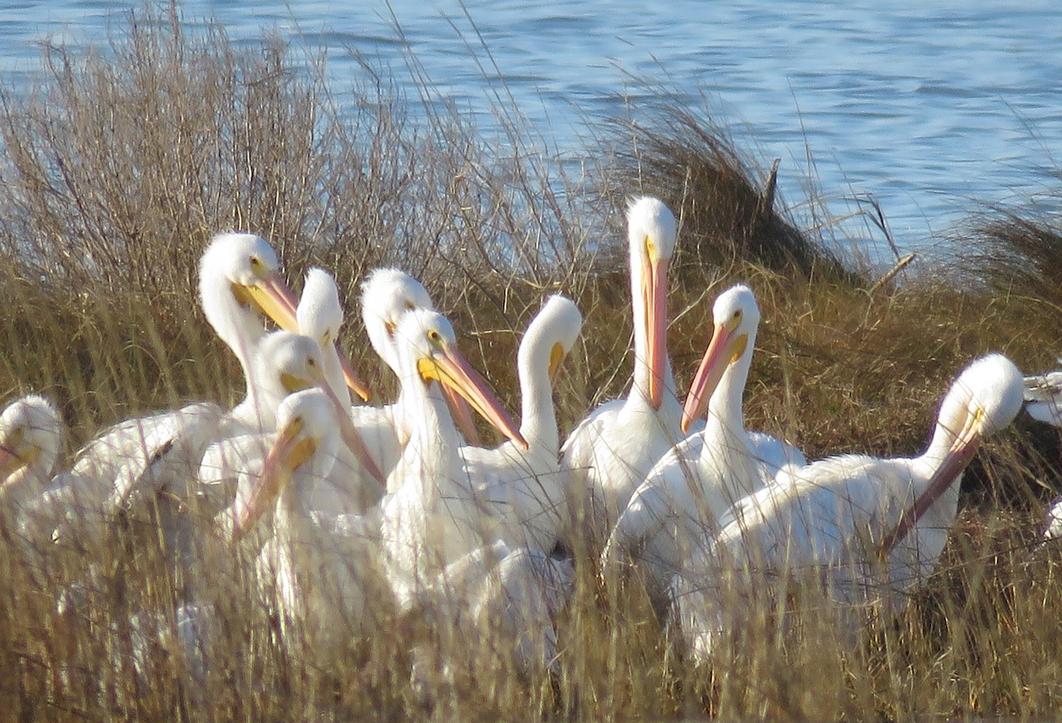 Photo of white pelicans courtesy of Wings Over Water
Wings Over Water Festival
For the last 25 years, the Wings Over Water Wildlife Festival has provided a way to access some of these refuges and other local lands and experience the wildlife with a knowledgeable guide. Wildlife professionals (birders, botanists, authors, artists, photographers and professors among them) volunteer their time, travel and expenses to lead programs in birding, photography, paddling and natural history in six northeastern North Carolina refuges. In addition to the refuges, programs are offered in other areas like Nags Head Woods, Cape Hatteras National Seashore, Pine Island Audubon Sanctuary and more.
Established in 1997 with just a few guided programs, the festival has grown into one of the premier wildlife festivals on the East Coast. This year the six-day festival from October 17 to 22 features more than 60 programs. There's also an encore festival from December 8 to 10 that focuses solely on birding. Between the two festivals there are more than 70 guided programs. Some of the program leaders have been guided Wings Over Water programs for all 25 years.
Examples of the October trips include Birding at Peal Island's South Pond, Nags Head Woods Reptile and Amphibian Hike, Roanoke Island Night Kayak Paddle, Alligator River Refuge Nature Photography Van Tour, Owl Prowl in Alligator River, Red-Cockaded Woodpecker Watching at Palmetto-Peartree Reserve, Buxton Woods Maritime Forest Hike, Hummingbird Banding, Bird Drawing and Watercolor with John Sill. Most of them are full, but scheduling coordinator Steve Brumfield says there are a few last-minute openings as people have had to cancel for various reasons. You can visit wingsoverwater.org or call (252) 216-9464 to see what's left, but do it today!
Wings Over Water is more than an adventure in the wild. It's also an annual fundraising event for the Coastal Wildlife Refuge Society, a nonprofit organization that raises funds to support programs in eastern North Carolina wildlife refuges and staff those refuges with volunteers. The funds they raise through this event as well as membership fees and donations provide educational grants to schools and help with projects like maintaining trails, signs and structures. It also helps the Coastal Wildlife Refuge Society provide volunteers and staff at the regional wildlife refuges and visitors centers. To learn more about the Coastal Wildlife Refuge Society and how you can help, click here. 
Other Wings Over Festival partners include the Carolina Bird Club, Ventures Birding Tours, U.S. Fish and Wildlife Service, National Park Service, The Nature Conservancy North Carolina and Audubon North Carolina.
Wings Over Water Encore offers birding-only programs from December 8 to 10. It's a great chance to catch the migrating species that come through this region. These birding trips are nearing capacity. To register, go to wingsoverwater.org or call (252) 216-9464.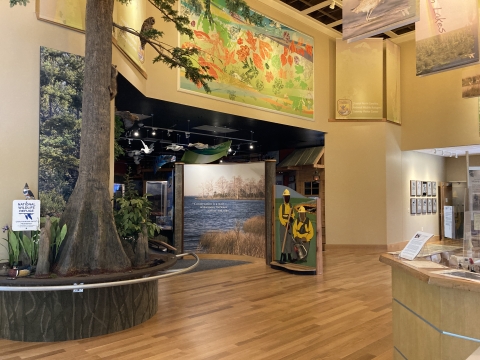 Inside the National Wildlife Refuges Gateway Visitors Center in Manteo. Photo from USFWS
Coastal North Carolina National Wildlife Refuges Gateway Visitors Center
If you want to know more about the national wildlife refuges in the region, you can visit the Coastal North Carolina National Wildlife Refuges Gateway Visitors Center on Roanoke Island. It serves as an introduction to the 11 regional wildlife refuges, plus the national fish hatchery in nearby Edenton. You'll find interactive exhibits that teach about the wildlife, plants, trees and natural history of each refuge. It's a very kid-friendly education center. You'll also learn about programs available in the refuges, such as guided tours of Alligator River National Wildlife Refuge. Coastal Wildlife Refuge Society staffs the center with volunteers and operates a gift shop. They can give you information on visiting any of these natural areas. The center has 35 acres and four walking trails through the woods on the North End of Roanoke Island. You'll find it 100 Conservation Way, Manteo, off U.S. Highway 64 near the entrance to Fort Raleigh National Historic Site. Hours are 9 a.m. to 4 p.m. Monday through Saturday and noon to 4 p.m. on Sunday.