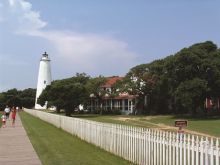 Fall is just about everyone's favorite season on the Outer Banks. With 70 degree weather, warm water and all the activities still available, it's like summer, only without the crowds. The weather here has been amazing this fall season, and even in early November we're looking at sunny, 70-degree days.
One place where fall just seems that much more glorious is Ocracoke Island. The southernmost populated island on the Outer Banks, Ocracoke is accessible only by ferry or private plane. That remoteness lends the island a singular character – the pace is slower and, as cliche as it sounds, it really is that place where you can forget about the worries of your regular life for a while.
So what makes Ocracoke Island so great in the fall? Read on for five reasons to put Ocracoke on your schedule for an autumn vacation.
Fewer People
Ocracoke is crazy popular in the summertime, and that means long lines at the ferry docks and coffee shops, competition for restaurant seats and watersports rentals and streets crowded with bikers, walkers and golf carts. By mid to late fall, the crowds have thinned way down. That means you can be a bit more spontaneous about a visit to the island in regards to last-minute accommodations and ferry reservations from the mainland. You won't even have to wait in line for the free ferry from Hatteras. You'll just have more freedom to do things around the island, like enjoying uncrowded restaurants, browsing through the shops without having to jockey for space, attending classes at the yoga studio or getting a massage, hiking the trails, renting a golf cart or standup paddleboard — you get the idea.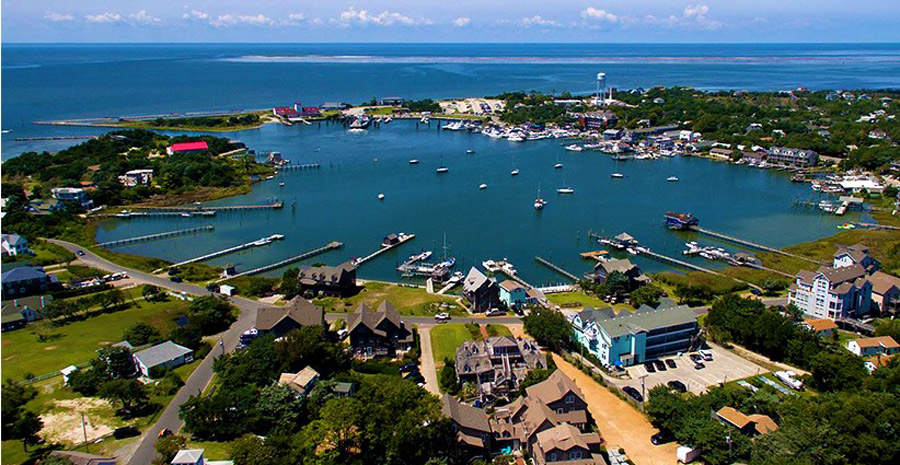 Photo: Ocracoke village is centered around Silver Lake Harbor.
Cheaper Accommodations
The farther you get away from summer, the better the deals on accommodations. This is true of any Outer Banks accommodation. On Ocracoke, you can choose from vacation rentals, hotels, motels, bed and breakfasts, condos, townhomes and campgrounds. Many Ocracoke accommodations options are open all year round, though some close for all or a portion of the winter. You can find Ocracoke accommodations deals here and vacation rental deals here.i Another good thing about off-season accommodations is that n the off-season, you're much more likely to find short-stay deals on vacation rental homes (as opposed to the full-week requirement in the summer). In the summer you absolutely have to plan ahead to score a place to stay, but in the fall, you can be much more flexible and find something wonderful at the last minute.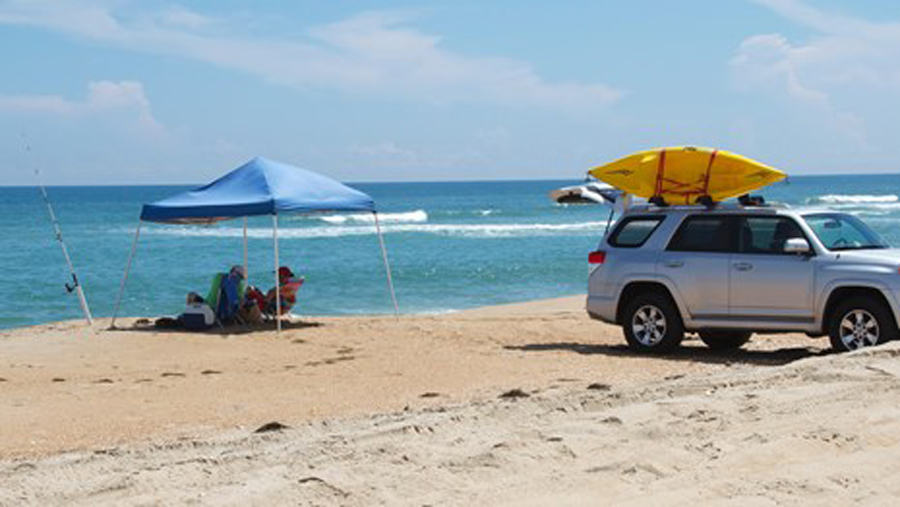 Photo: Beach driving is allowed on Ocracoke Island as long as you purchase an NPS ORV permit here.
The Beach
Ocracoke's undeveloped beach is a top reason to visit all year round. The beach here is so beautiful and clean that it is frequently recognized by Dr. Beach (actually Dr. Stephen Leatherman of Florida International University's Laboratory for Coastal Research) as among the best in the nation. In 2022 Dr. Beach ranked Ocracoke Island's Lifeguard Beach as #1 on his 10 Best Beaches in the USA list. Even in the fall, you can behave like it's summer on an Ocracoke beach. The air temperature can be in the 70s, and, depending on the wind direction, the ocean water is typically warm enough for swimming in the fall, averaging in the low 70s. At this writing, the ocean temperature in Ocracoke was 69 degrees – five degrees warmer than the ocean in Nags Head. I'd swim in that! Shelling and beach combing is much more fun in the offseason; not only does it seem like more shells wash up in the fall, but also there's less competition for what's out there.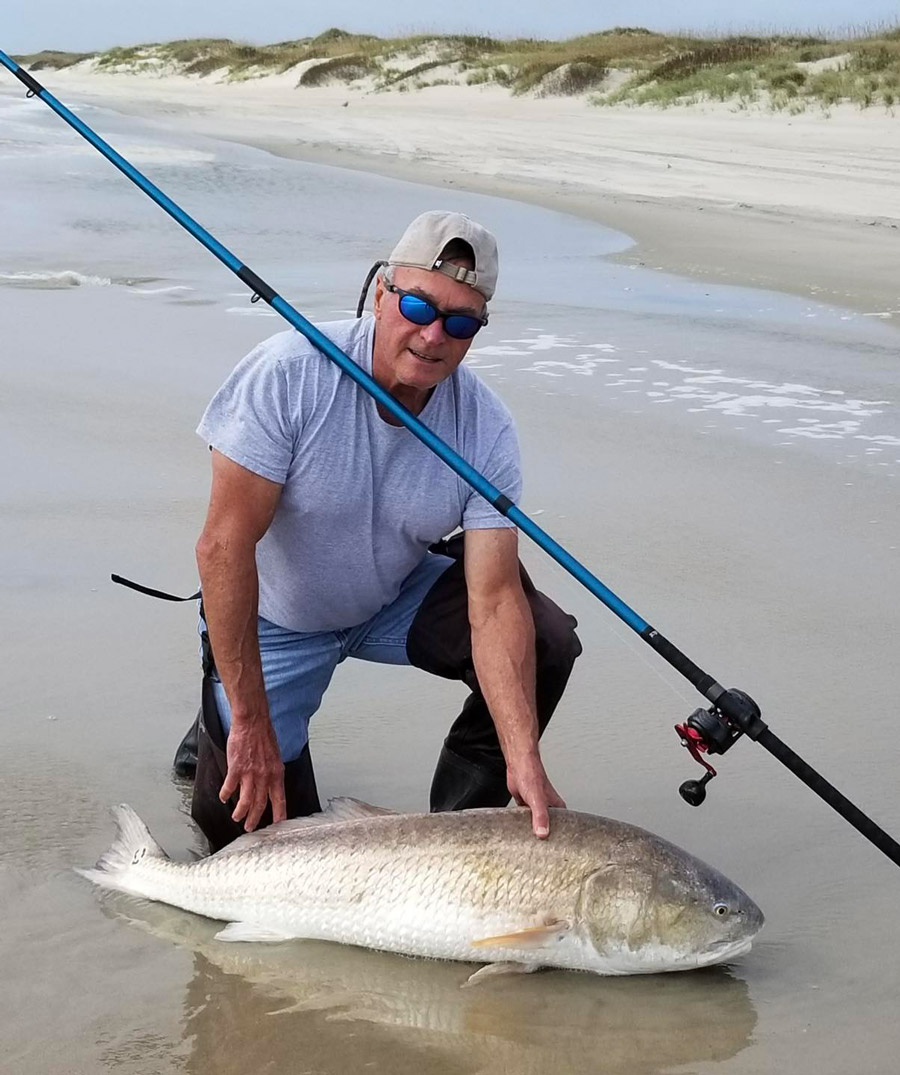 Photo: Huge red drum are being caught in the Ocracoke surf as you read this. Thanks to Tradewinds Tackle Facebook for this photo.
Fall Fishing
Fishing is legendary on the Outer Banks in the fall, and the island does draw a lot of fishermen in October and November. October is the peak fishing month for surf and inshore fishing, and the good catches continue into November. According to Tradewinds Tackle on the island, the first two weeks of November typically yield the largest red drum from the surf – with some fish measuring over 50 inches! Red drum, black drum, sea mullet, bluefish, speckled trout and pompano are popular fall catches. Offshore fishing is also great for species like wahoo, tuna, king mackerel, amberjack, grouper, triggerfish and black sea bass.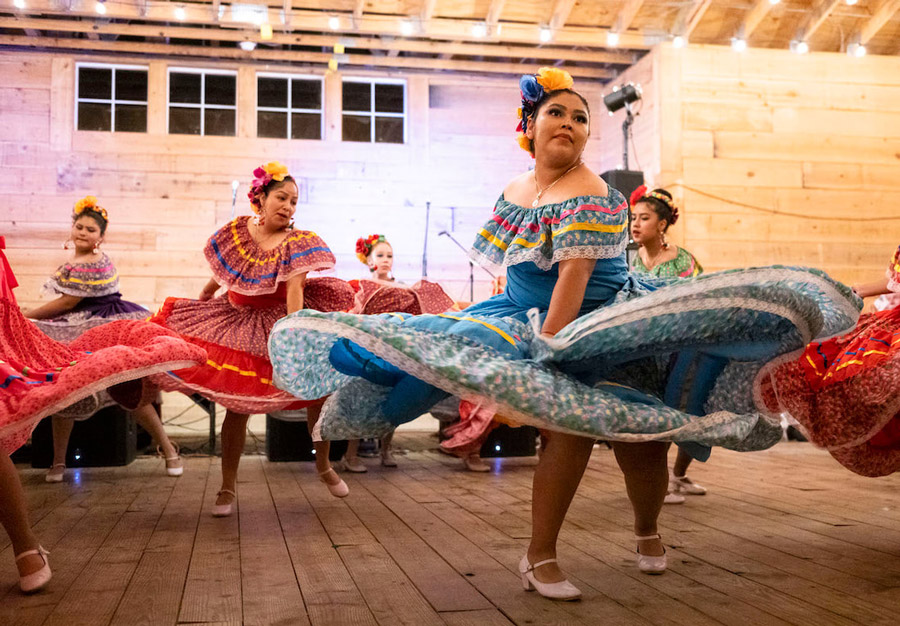 Photo: Ballet Folklorico de Ocracoke getting ready for this year's festival, courtesy of Ocracoke Alive. Photographed by Eakin Howard
Events
The people of Ocracoke Island put on some of the best annual events on the Outer Banks. Here are a few that are coming up in the remainder of 2022.
Turkey Trot – November 24
The annual 5K Turkey Trot takes place at 8 a.m. on Thanksgiving morning. It's a fun way to meet some of the locals and visitors and spend time with family before the big feast.
Parade of Boats  - November 25
The Parade of Boats takes place in Silver Lake Harbor. It's one way the island kicks off the holidays, and it's fun to gather at the edges of the harbor to see all the creative lighted boat displays.
Festival Latino de Ocracoke – December 2 and 3
Ocracoke Island has a large Latino population, and the islanders and visitors gather to celebrate this culture and its traditions, food, music, games, crafts and history in a big two-day festival.
For everything you need to know about Ocracoke, including accommodations, restaurants, shops, things to do and events, click here.