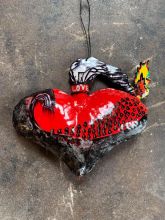 Romance is in the air when Valentine's Day falls on a weekend (Valentine's is Sunday, if you didn't already know). I hope some of you non-local readers are coming to the Outer Banks to stay this weekend. Accommodations are open and welcoming guests, and the rates are low at this time of year, so come on if you can! And this is one time of year when you can afford to be spontaneous. If you haven't already booked a stay, you shouldn't have a problem finding a place, even on this holiday weekend (President's Day is Monday, btw). 
Expressions of the Heart exhibit. Photo courtesy of Dare County Arts Council
Eat
Food: It's how we celebrate everything. And Valentine's Day is no exception. A lot of Outer Banks restaurants close for the winter, but plenty are still open, and those that are will be offering Valentine's Day specials and treats. Here are a few of them:
NC Coast Grill & Bar and Red Sky Café in Duck are offering Valentine's Day Chef Boards on Sunday from 4 to 9 p.m. Cost is $55 person, and reservations are required. Call (252) 261-8646 for Red Sky and (252) 261-8666 for NC Coast.
TRiO Restaurant & Market in Kitty Hawk is hosting a Galentine's Day Brunch on Saturday and a Valentine's Day Brunch on Sunday, both from 11 a.m. to 3 p.m. Sunday will feature live music. Saturday at 4 p.m. there's cacao bean foods tasting with Chef Suzanne Loving for $45. They're also offering a $50 gift package that includes a cheese and charcuterie board, a bottle of bubbly and chocolate. Call (252) 261-0277 for brunch and tasting reservations.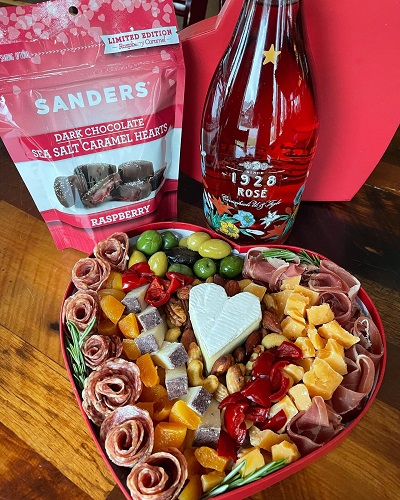 TRiO's special Valentine gift combo.
Outer Banks Brewing Station in Kill Devil Hills is offering a Valentine's Day three-course dinner with a drink for $45. This offering is for Saturday and Sunday nights. Reservations are being accepted. (252) 449-2739
Dirty Dick's Crab House in Nags Head is offering a Valentine's Day menu for lunch and dinner on Sunday. Their three-course dinner is available for dine-in or take-out. 
The Dunes Restaurant in Nags Head is offering lunch specials and serving homemade strawberry shortcake as a Valentine's treat this weekend. Take-out and dine-in are available.
Froggy Dog in Avon has delicious dinner and dessert specials all weekend (Friday through Sunday) as well as brunch specials all day on Sunday (9 a.m. to 4 p.m.). Take-out and dine-in are available.
Admire
If you and yours appreciate art, take the time to wander through an Outer Banks gallery and admire local artwork. Dare County Arts Council in Manteo is open Monday through Saturday from 12 to 5 p.m., and the place is full of art. For starters, the annual Frank Stick Memorial Art Show is hanging, showcasing the works of a huge range of local artists. In the Vault Gallery, you'll also find an exhibit called Expressions of the Heart. The hearts in the exhibit were created by artists who have been impacted by cancer in any capacity, and the works are for sale. Seaside Art Gallery in Nags Head is holding its annual Animals in Art show this month. They're open Saturday from 10 a.m. to 5 p.m.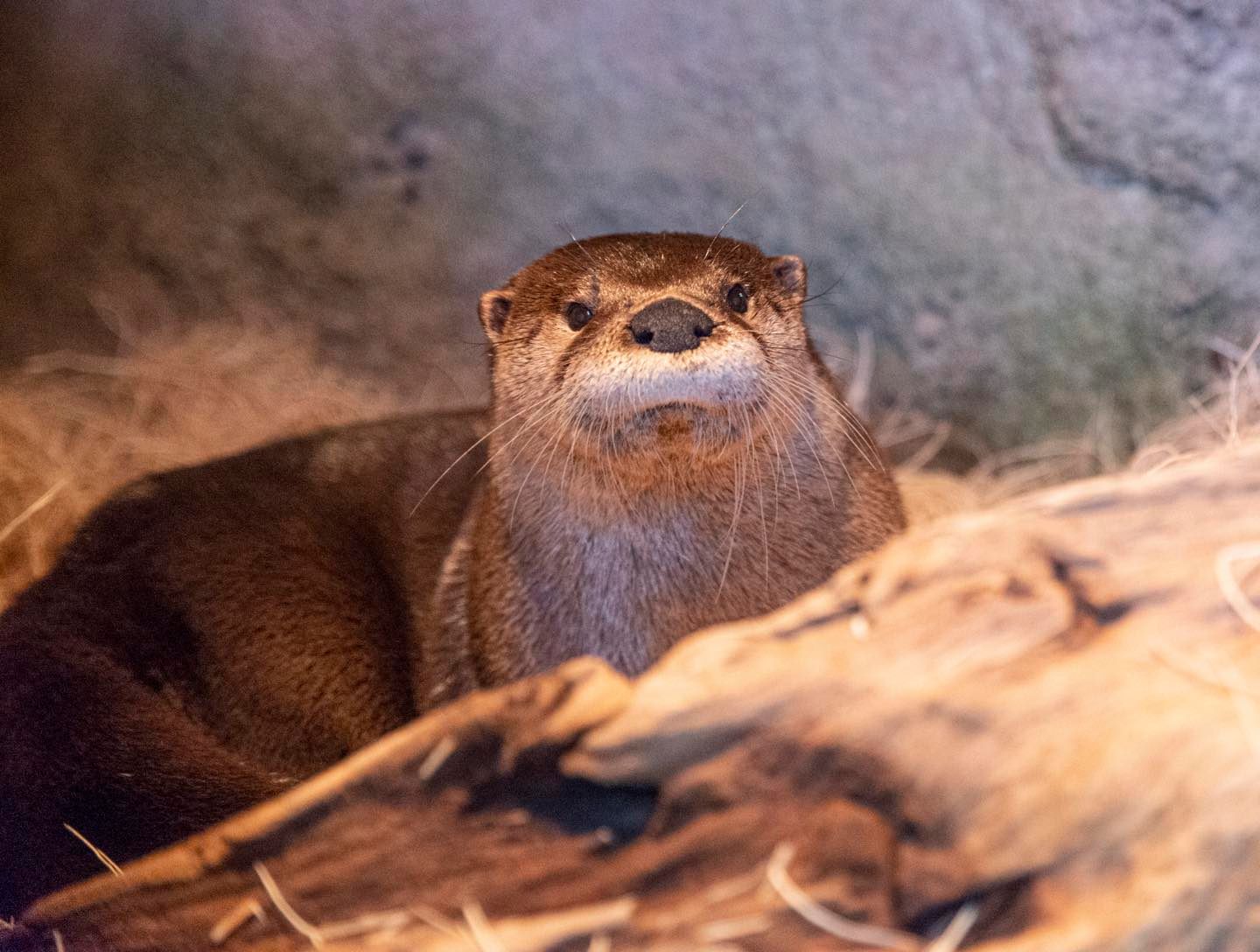 Olive the otter. Photo courtesy North Carolina Aquarium on Roanoke Island
Stroll
No matter how old you are, there's something sweet about strolling alongside your loved ones in the dim light of the North Carolina Aquarium on Roanoke Island, looking at alligators, sharks, turtles, jellyfish and all the other animals. Plus, there's something new to see at the aquarium – Olive the American river otter. Olive can be seen in the Wild Wetlands gallery from 9 to 11 a.m. and 1 to 3 p.m. The aquarium is open daily, but because of COVID the number of guests is limited. Be sure to go online to reserve your ticket times before you go.
Run
Yes, some couples would find this fun. OBX Running is hosting its Love on the Run 5K on Saturday, and it's NOT virtual. The 5K winds through the beautiful setting at Sanctuary Vineyards in Jarvisburg and includes real, live runners. Following the 9 a.m. race, there's a Wine-Cheese-Chocolate Tasting Party. COVID precautions will be in place. Cost is $45 for ages 21 and older, $33 for ages 20 and younger. Register here.
Party
Sanctuary Vineyards is hosting a socially distant, COVID-safe actual party this weekend. On Saturday and Sunday, you can let the good times roll at the Cajun Occasion. They're serving gumbo, jambalaya and cornbread from Coinjock Marina, having live music by Just Playing Dixieland, handing out Mardi Gras party favors and, of course, serving their award-winning wines. To keep the numbers low, they will have four sessions: Saturday 11:30 a.m. to 1:30 p.m. and 2 to 4 p.m. and Sunday 11:30 a.m. to 1:30 p.m. and 2 to 4 p.m. Cost is $30. Register for your session here.
Stay safe and have fun this weekend!