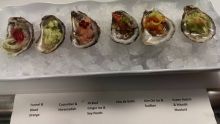 Ah, the humble oyster. While unassuming tucked within its rough and wrinkled shell, this seasonal delicacy supports a whole culture surrounding its preparation and consumption. On the Outer Banks oyster season traditionally belongs to the "R" months of September through April (but you'll find these mollusks available in restaurants and from your local seafood purveyors in other months too). Harvest 'em, shuck 'em, steam 'em and eat 'em – it's an age old Outer Banks practice that people rally around each year. Check out these local restaurants and ideas to make the most of this year's oyster season on the Outer Banks.
Oystoberfest at Coastal Provisions 
Get into the oyster season spirit with a festival that puts a Bavarian twist on this Outer Banks classic. This weekend the second annual Oystoberfest returns to Coastal Provisions Oyster Bar and Wine Cafe. This is a tasteful spot for an oyster dinner any time of the year; however, you get an unbeatable deal this Saturday as the Oystoberfest offers six local restaurants' oyster creations – raw, steamed or cooked into dishes – in addition to an assortment of eight craft beers from around the region. Regional oyster farmers bring their harvests and shucking skills to the event, and no one goes hungry. This event is part of the Outer Banks Fall Restaurant Week, and you can purchase tickets in advance here or at the door the day of the event. Part of the proceeds benefit North Carolina Coastal Federation. Make your way to Coastal Provisions in Southern Shores this Saturday from 12 to 3 p.m. to get your oyster fix.
Photos at left and above: Coastal Provisions Facebook
Awful Arthur's Oyster Bar
Awful Arthur's Oyster Bar is an Outer Banks institution. Recognized by both Coastal Living and Esquire magazines for its oyster bar, Awful Arthur's is a go-to spot for locals and visitors when it comes to oysters. Sit at the bar and watch your oysters go from steamed to shucked to swallowed. Yum. And don't forget to check out their ocean-view lounge, where your mouth feasts on seafood and your eyes feast on the Atlantic. It doesn't matter if you prefer oysters steamed, fried, in a sandwich or straight-up raw – Awful Arthur's fixes them to every taste.
Sandbars Raw Bar & Grill
Can't decide between oysters, surf or turf? Why not go for a bit of it all at Sandbars Raw Bar and Grill? With a gourmet selection of Outer Banks and southeast coastal specialties, you can dine on an oyster appetizer at the raw bar and then dig into a warming plate of seafood linguine or shrimp and grits. Want something a little on the lighter side? A crab cake salad or bowl of Hatteras-style clam chowder never fail to satisfy. This week we noticed they had a delectable-looking oyster stew on the menu. If you're interested, call ahead and make sure it's still on the specials menu before you go. By the way, Sandbars will be one of the six restaurants cooking oyster dishes at the aforementioned Oystoberfest.
Ocracoke Oyster Company
If you're on Ocracoke Island and you love oysters, you're in luck. Ocracoke Oyster Company offers a huge variety of oyster dishes, probably the largest regular menu selection on the Outer Banks – raw local oysters, Oysters Sushi, Oysters Ceviche, BBQ Oysters, Oysters Rockefeller, Crabby Oysters, Oysters O'Cocker, Oysters Mon Luis and fried oyster po-boys in addition to seasonal specials. It's worth the trip to Ocracoke just to sample all of these varieties.
Photo at right: Ocracoke Oyster Company 
DIY Oyster Roast
Show off a little seasonal entertainment by hosting a cozy oyster roast. This social event, at its finest, features the best elements of oyster season: chilly weather, warmth emanating from a bonfire or grill or steamer (preferably all three), your brew of choice, good company and, of course, all the oysters you can eat and their appropriate sauces. Wash the oysters before fixing them. You can steam them for five minutes or pop them on the grill for about eight to ten. In a pinch you can roast oysters in a 425 F oven for about 15 minutes. However you're cooking them, keep an eye on them. Right as they begin to pop open, they're done. Pry them from their shells and enjoy them with melted butter or cocktail sauce and/or saltine crackers.  
If you're feeling adventurous, here are three unique sauces for your steamed or roasted oysters.
Mignonette Sauce
It even sounds fancier being that it's a French word. But it's simple to make. Chop up a couple of shallots, add champagne vinegar and season with sea salt and ground pepper. Drizzle over oysters or put it in a squirt-top bottle and let folks add their own.
Pesto Sauce
Gather up about two fist-sized bunches of basil leaves and stems. In a food processor, add the basil, pine nuts or walnuts and garlic (as much as makes you happy!) and blend that until it's chopped up looking. Next, add parmesan cheese and some salt and blend again for a smidge. Then, as the processor is running, start adding olive oil until you get the consistency you like.
Ginger and Soy Sauce
In a squirt bottles, add rice wine vinegar and sesame oil in equal parts. Add a couple spoonfuls of soy sauce and grated ginger. Shake, shake, shake and you're done.