People who live or vacation in Duck are in on a little secret: There's way more to this tiny Outer Banks town than the beach and shopping (though it's definitely known for both). As you'll see in this blog of 50 things to do in Duck (and the beach is not even on the list), Duck is full of fun for every age if you know where to look. And you certainly don't have to be staying in Duck to have a good time in Duck. Come for the day or evening, and you'll find that this little town has big energy.
Photo: The original Duck Donuts was founded right here in Duck, NC.
An obvious starting point is in the heart of town at 1) Duck Town Park. An 11-acre greenspace, it's a fantastic place for some downtime in nature. The 2) children's playground and 3) park walking trails will entertain your kids for hours, and there's a 4) picnic shelter for enjoying a snack or lunch in the shade. There's also a 5) boat ramp that's perfect for launching your kayaks and SUPs. And don't miss the 6) Little Free Library within the park.
Duck Town Park is also the site of numerous summer events. Free workouts are held here each week, including 7) Yoga on the Green on Tuesdays at 7:30 a.m. and 8) Dynamic Flow on the Green on Wednesdays at 7:30 a.m. Family programming includes the 9) OBXtreme Magic Show on Wednesdays at 9:30 a.m. and 11 a.m.; 10) Chalk Art Fun on Thursdays at 9:30 a.m.; and 11) Story Time on Fridays at 10 a.m. Every other Monday there's a 12) Nature Out Loud! Children's Concert at 10 a.m. On Thursday evenings at 6:30 p.m., Duck Town Park hosts free 13) Concerts on the Green (bring your own chair or blanket). Inside Town Hall within the park, there's always a 14) Rotating Art Show on display; this month you can see the works of awesome local painters Meg Rubino and Christina Forte.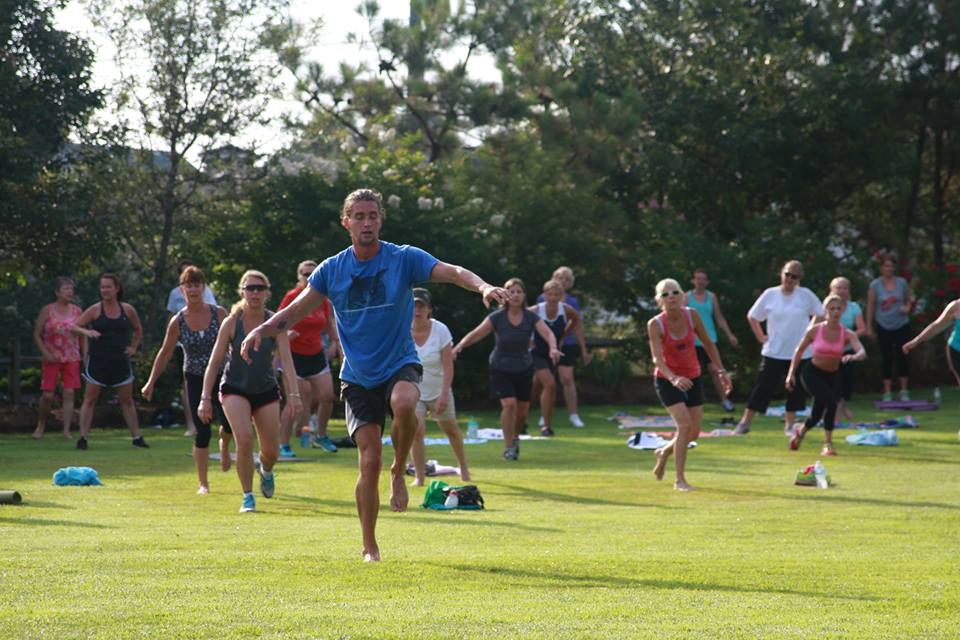 Photo: Free yoga and fitness classes are offered in Duck Town Park in the summer.
Running along the waterfront through the park and beyond is the mile-long 15) Duck Boardwalk. The boardwalk connects businesses and shopping centers, so it's a way to get from place to place, but it's also a nice area to relax. Sit on the benches and look at the water, or stop at the Duck United Methodist Church's 16) waterfront sanctuary for a few moments of quiet reflection. On the north end of the Boardwalk at the Waterfront Shops, kids love 17) feeding ducks and geese; there's a little vending machine that dispenses food that's safe for the birds to eat; please don't feed them human food. 18) Free transient dockage at the north and south ends of the Boardwalk means you can boat to Duck if you want to.
As I mentioned above, Duck is known for its shopping scene. There are 19) dozens of stores, home décor shops, art galleries and clothing boutiques in this town, so if you like to shop this is the place for you. The best part is that Duck is super walker-friendly thanks to the boardwalk, 20) a multi-use sidewalk path through the whole length of town and plentiful crosswalks.
Among the favorites for shopping are 21) two independent bookstores, Island Bookstore and Duck's Cottage, where you can spend hours looking for your next beach read or get help within minutes from knowledgeable staff. If you're procuring groceries and specialty food items, Duck has 23) two produce stands, Green Acres and Tomato Shack; 24) a seafood store, Dockside in Duck;  and several 24) specialty grocery purveyors, like Wink's Market, Tommy's Market, two olive oil stores, a spice merchant, OBX Growlers To Go, a couple of wine shops and more.
A popular Duck shopping event in the warm seasons is the weekly 25) popup Makers Market, held every Wednesday from 3 to 6 p.m. at The Village Table and Tavern on the north end of town. It's a waterfront market with baked goods, artwork, jewelry, pottery and more from local artists.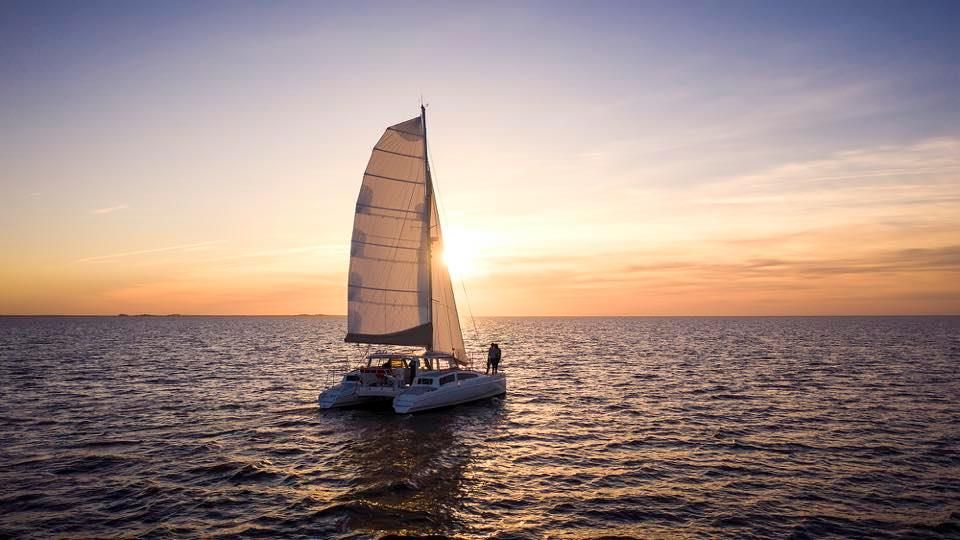 Photo: Nor'Banks Sailing Center offers everything from catamaran tours to kayak rentals.
If you're feeling active, Duck is one of the best places on the Outer Banks for watersports. Its 27) soundside location along the wide, shallow Currituck Sound makes it the perfect place for outfitters to offer 28) parasailing, 29) Jet Skiing, 30) boat rentals, 31) kayak and SUP rentals and tours, 32) waterskiing and wakeboarding (the only place on the Outer Banks to offer this is Nor'Banks Sailing Center), 33) sailing rentals and tours and more. Thanks to that multiuse path and quiet side streets, Duck is also a good place to 34) rent bikes. If you like yoga, don't miss 35) Duck Village Yoga, offering a multitude of classes for all levels outdoors and indoors in warm and cool studios, plus Reiki and craniosacral therapy.
If you're looking to recharge instead of expending all of your energy, Duck has two spas – 36) The Spa at Sanderling Resort and 37) Aqua Spa, both offering massage, facials, manis, pedis and more.
When you're ready to wind down with a cocktail, Duck has many great options, but one of the favorites is 38) Sweet T's, a friendly wine and beer bar that hosts 39) weekly Wine Tastings on Wednesdays and Fridays from 5 to 7 p.m. for just $10.
Like every Outer Banks town, Duck has 40) dozens of great restaurants, including the legendary 41) Blue Point, which kicked off the Duck dining scene in 1989. But what makes Duck stand out from the other towns is its abundance of 42) waterfront dining and, therefore, 43) sunset dining. Here's a rundown on where this is possible: Kimball's Kitchen, The Paper Canoe, The Village Table and Tavern, Sunset Grill and Raw Bar, The Blue Point, Coastal Cantina, NC Coast, Eventide and Aqua.
In the morning, Duck is a standout for breakfast. It's hard to choose between the 44) four charming independently owned coffee shops – Treehouse Coffee, Outer Bean, Duck's Cottage Coffee and Books and Sweet T's. If you love real homemade baked goods, the fresh, homemade biscuits at 45) Rope Ladder Kitchen at Treehouse Coffee are the best on the Outer Banks, and 46) Tullio's Bakery in Duck is a legendary place for pastries. And you must know that Duck is the place where the now-famous 47) Duck Donuts was founded.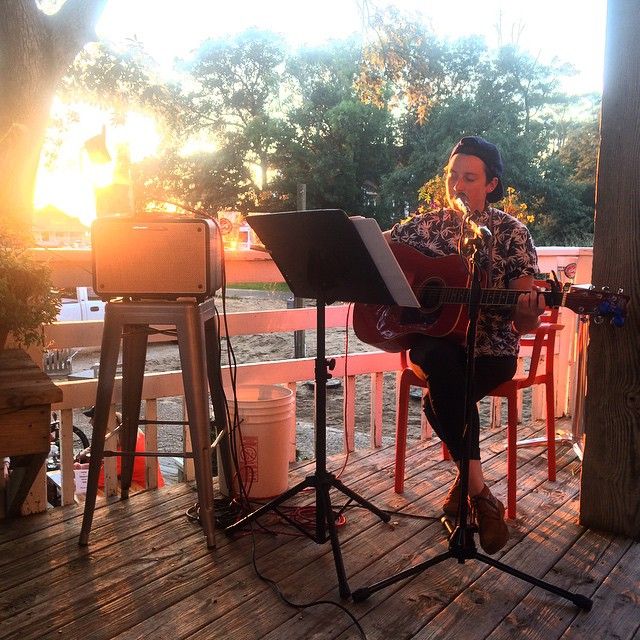 Photo: Live music at Sweet T's in Duck.
Hey, how did I get to 48 so fast? I could easily go to 100, but I'll wrap it up at 50 with something that you can't overlook in Duck: live music. The home of the 48) Duck Jazz Festival every October, this is a town that appreciates great music. One of the best venues is the 49) Tap Shack at Coastal Cravings, which draws big-name bands to a tiny venue that's hidden back in the heart of the village, but there are 50) many other live music venues you should check out in Duck, including the eclectic Roadside Bar & Grill, NC Coast, Village Table and Tavern, The Blue Point's Back Bar and others, all of which feature local acts year-round and some big-name out-of-towners when the Duck Jazz Festival is going on.
You can find out everything you want to know about Duck right here, including a rundown of every store, restaurant, place to stay and activity plus daytime and nightlife events around town.