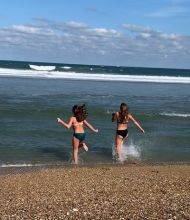 It's a dreamy week to be on the Outer Banks! With the kind of fall weather we all love – temperatures in the upper 60s/low 70s, light winds and plentiful sunshine – if ever there was a week to enjoy the great outdoors on the Outer Banks, this one is it. One might even be tempted to take a few dips in the ocean, as water temperatures are hovering in the high 60s.
If you're here and looking for something fun to do, we've got plenty of suggestions. Hiking, kayak tours, fishing trips, driving on the beach, air tours and so much more are listed on these links and in our things to do section. A few activities are happening this week as well. Check these out.
Island Farm's Evening Lantern Tours: Draped in Black
Island Farm is a living history site that interprets 1805s life on Roanoke Island. If you've never been, it's a great place to visit to remember the simple pleasures of life. On a daytime visit to the 125-acre farm, you can wander around among the farm buildings and windmill, watch the sheep, horses, ox and chickens and enjoy some sort of live demonstration such as gardening, hearth cooking, weaving and spinning wool, feeding animals, blacksmithing, traditional games and more.
Once a year the farm hosts nighttime tours in which costumed interpreters portray the home of a grieving widow. Tour-goers get a glimpse into the peculiar ways that Victorian families mourned the loss of a loved one. The lantern tour includes spooky stories about the farm residents and ends up in the farm's graveyard. Draped in Black will be held on two nights: Friday, November 6 and Saturday, November 7. Tours are held between 6 and 8 p.m. both nights. Small groups will be led on the tour by a guide. Bring your mask because some of the tour is held indoors. Island Farm is at 1140 N. U.S. Highway 64 in Manteo. Call (252) 473-6500 or click the link above for information.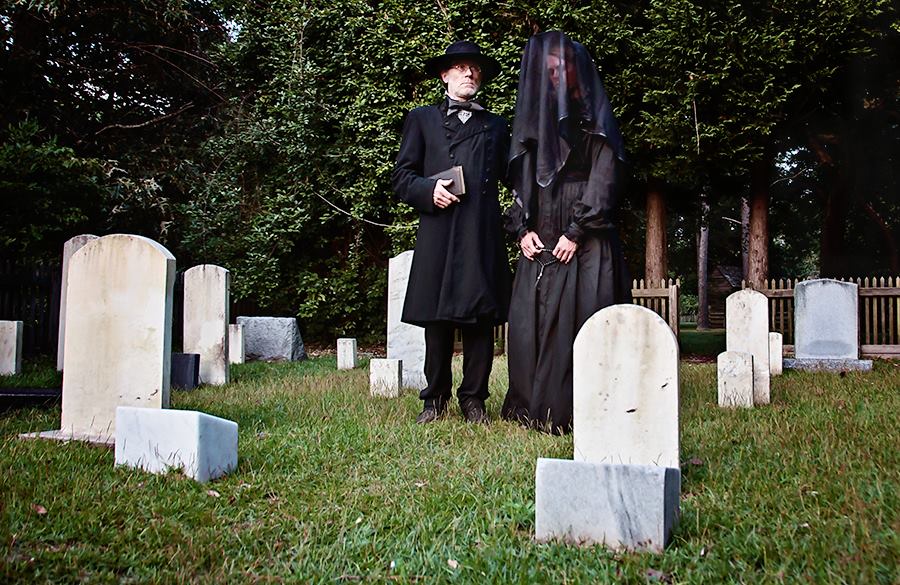 Photo: Island Farm
Shrimp Crawl to Benefit Center for Outer Banks Dolphin Research
In a normal year this would be the 11th annual Outer Banks Shrimp Cookoff. But this is not a normal year. So the cookoff to benefit the Center for Outer Banks Dolphin Research has become a Shrimp Crawl. This weekend, Saturday, November 7 and Sunday, November 8, local chefs will compete to prepare the best shrimp appetizer. Instead of attending one big gathering, tasters will visit up to five restaurants and vote for their favorite shrimp dish. This being a fundraiser, there will also be a virtual silent auction. Tickets are $25 each, and only 100 will be sold. Group A restaurants include Mako Mike's, Two Roads Tavern, Hurricane Mo's Beachside Bar and Grill, Sandtrap Tavern and Shipwreck's Tap House and Grill. Group B restaurants include Outer Banks Brewing Station, Mama Kwan's Grill & Tiki Bar, Freshfit Café, Jack Brown's Beer and Burger Joint and Basnight's Lone Cedar Café. Visit this link to buy tickets and see how it works.
Sanctuary Vineyards' Friday Night Live
Sanctuary Vineyards is a beautiful winery in Jarvisburg on the Currituck mainland, only about a 20-minute drive from Kitty Hawk. Sanctuary has gorgeous vineyards to explore, award-winning wines to taste in the tasting room and tours.
Sanctuary's popular Friday Night Live series offers live music on the lawn. On Friday, November 6, local guitar legend Joe Mapp is bringing his acoustic jams to the scene. There will be food from Dank Frank's Food Truck, Sanctuary's wine and beer (don't bring in outside alcohol). This will take place from 5 to 8 p.m. Bring a chair or blanket.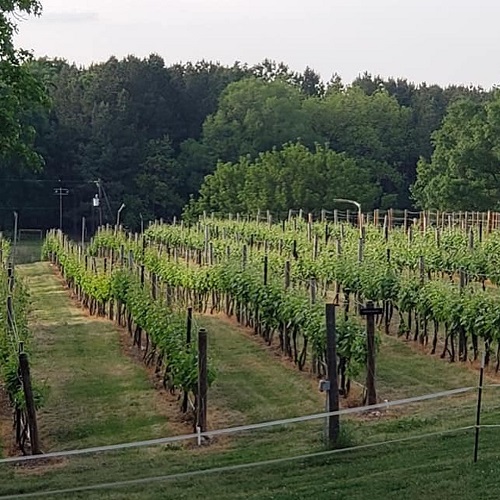 Photo: Sanctuary Vineyards
NFL Under the Stars
If you love your weekly dose of football with the sides of tasty apps, cold beer and the competitive camaraderie of friends, you'll love Bonzer Shack's NFL Under the Stars on Thursdays and Sundays. They set up TVs in the yard so everyone can enjoy safe, socially distant football watching. Just watch those spit droplets when you're yelling for your team. Bonzer Shack is at 1200 S. Virginia Dare Trail in Kill Devil Hills. Call (252) 480-1010 for info.
SoPoz at Secret Island Tavern
If you're craving the sound and feeling of loud live music, Secret Island Tavern has it, though it's a little different from the old days. These days you have to grab a table, preferably with friends, and sit down through an early performance. This Saturday, November 7, they have SoPoz playing their mix of reggae, rock, ska and dub from 6 to 11 p.m. You can enjoy dinner and drinks during the show. Secret Island is at 504 S. Virginia Dare Trail in KDH. Call (252) 441-7484 to reserve a table.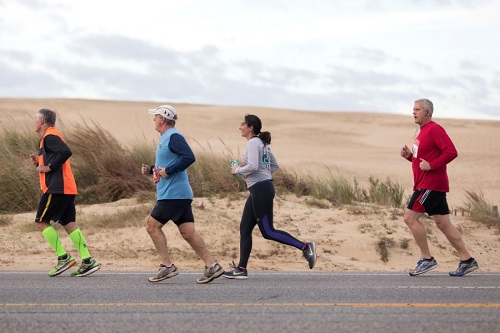 Virtual Outer Banks Marathon
The live racing scene has been canceled for 2020, but that doesn't mean you can't run for a good cause. The Outer Banks Marathon and Half Marathon, along with an 8K, 5K, 6 miler and 1 Mile Fun Run have gone virtual, meaning you keep up with your training wherever you want and log your times to receive a finisher medal. When you pay the entry fee, you will help Dare Education Foundation and Outer Banks Relief Foundation continue their work in the community. Runners who were already registered for the live event were automatically entered into the virtual event or given the option to defer to next year's race. If you're registered, why not come on down to the Outer Banks to do your run, where the weather is sweet and the course is flat. For information, click here.