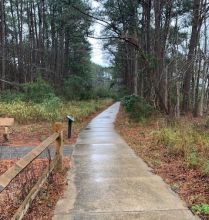 Nature has always been my greatest source of peace and joy, but over the last year, it's been absolutely essential, like medicine. Getting outside has saved me from losing my mind during the pandemic and all the other craziness of late.
Easy access to nature is one of the reasons we all love the Outer Banks. Thanks to places like Cape Hatteras National Seashore, several National Wildlife Refuges, public beaches and nature preserves, there are so many ways to get out and breathe fresh air and connect with the environment. Every single one of us craves and needs experiences in nature, and luckily there are many handicapped-accessible ways to enjoy the natural areas of the Outer Banks. Here are six really good ones, but there are many more. Let us know your favorite fully accessible Outer Banks natural areas in the comments below.
Photo: The ADA Accessible Nature Trail in Nags Head Woods offers a .5-mile loop into the woods and around an interdunal pond.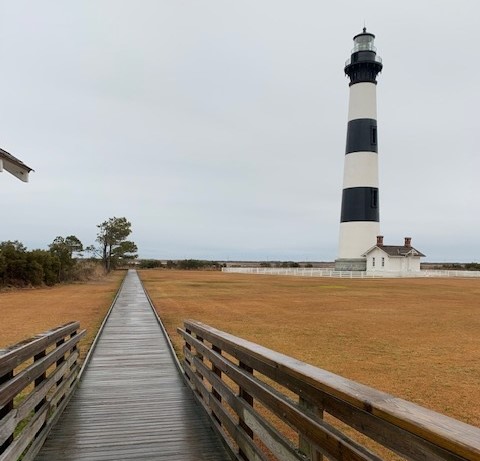 Bodie Island Lighthouse Walkway
This walkway combines an ultra-photogenic view of the lighthouse with a trip into the marsh. From the handicapped parking spaces by the restrooms, a concrete sidewalk leads to a spectacular boardwalk over the marsh. At the end of the boardwalk is a high platform that looks out over a pond and marshlands. On the day I visited in January, the pond was full of squawking tundra swans and chatty little ducks.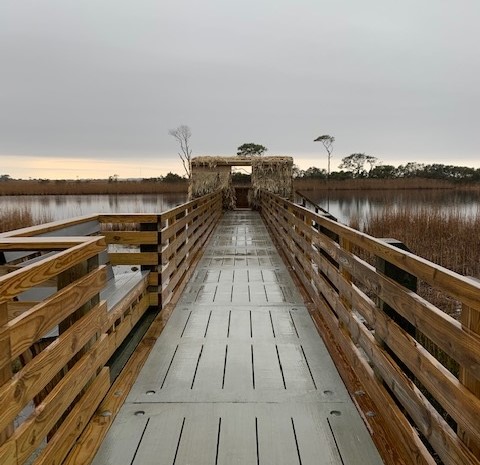 Bodie Island Marsh Blind
Bodie Island Marsh Blind is a couple of miles north of Bodie Island Lighthouse on the west side of N.C. Highway 12. Two parking spaces are situated in close proximity to an elevated boardwalk that leads to the marsh. This blind can be reserved for handicapped-accessible hunting. When it's not in use by hunters, stop in for photographer or wildlife watching. I saw several species of ducks there on a recent visit. You'll know when it's in use by hunters because the gates will be closed.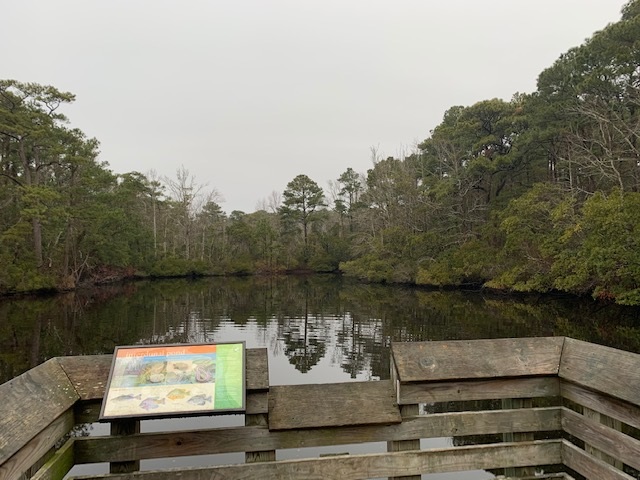 Nags Head Woods ADA Trail
This .5-mile loop consists of a wooden board and concrete sidewalk, allowing those with disabilities to get a little deeper into Nags Head Woods. The trail goes around an interdunal freshwater pond and through a maritime swamp forest with an overlook of the brackish marsh. On my most recent visit, I watched two otters playing in the pond from the deck area. The deck is also a good place for fishing. To get there, travel down Ocean Acres Drive in Kill Devil Hills. Go past the Nags Head Woods visitors center. When you get to a stop sign, go straight.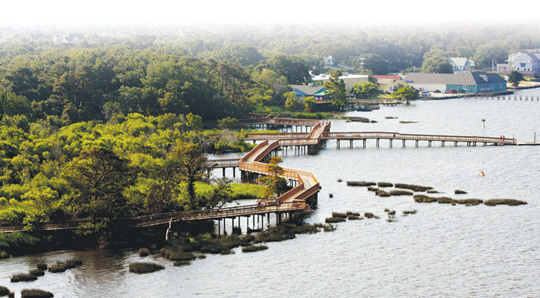 Town of Duck Boardwalk
The Town of Duck's Boardwalk is mile-long elevated walkway on the banks of Currituck Sound. It offers access to numerous shops and restaurants, along with great views of the sound, marsh and forest. You'll likely see geese and ducks on the sound waters (some of the ducks are of the tame variety, and you can buy food to feed them). Serious birders come to the boardwalk in late fall and winter to look for migrating warblers in the overhanging trees.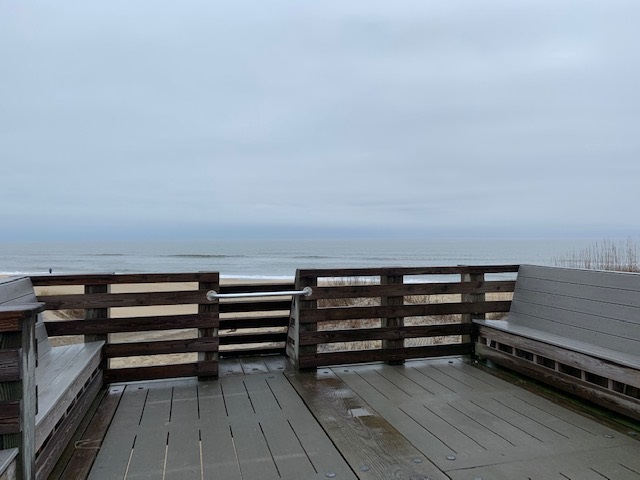 Beach Accesses
Unfortunately, ADA accessibility directly onto the beach is challenging (but not impossible if you can get a beach wheelchair). But the Outer Banks does have a wealth of handicapped-accessible beach accesses that can get you onto the dune-top for great views of the ocean. From a beach access at this time of year, you can watch the waves and smell the ocean, look for all kinds of birds and watch the shrimp boats. I've seen a lot of dolphins in the ocean this winter too. This is a great website for a list of all the ADA accessible beach accesses and beach wheelchair information.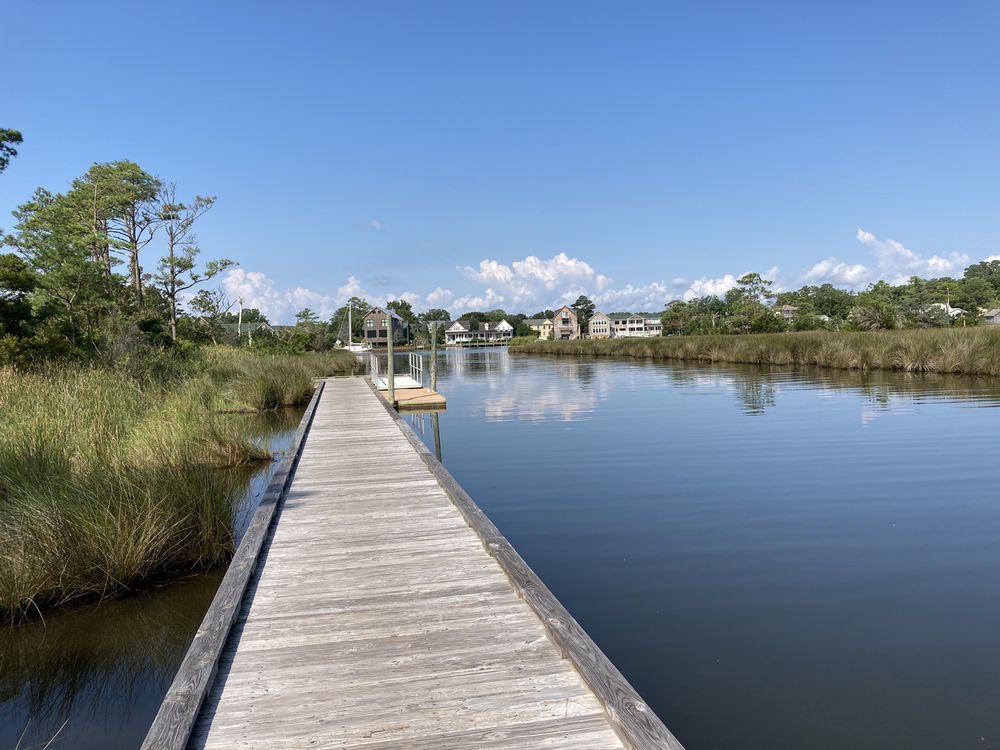 Manteo Waterfront Boardwalk & Roanoke Island Festival Park Boardwalk
Manteo's Downtown Waterfront Boardwalk is a great place to observe wildlife and the waters of Shallowbag Bay. Access is available across from Roanoke Island Inn or from the downtown area. The boardwalk passes by shops, restaurants, a marina, Roanoke Marshes Light, Roanoke Island Maritime Museum and other scenic locations, and it offers a great view of the Elizabeth II across the water. Over at Roanoke Island Festival Park, just across a small bridge from downtown Manteo, is another boardwalk that runs along the island's shore. This elevated boardwalk takes you directly over the water and marsh, offering stellar views of Roanoke Sound and a creek.