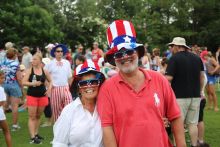 The highlight of summer, the Fourth of July, is here! If you've ever spent this holiday on the Outer Banks, then you know that the week surrounding it is pretty much the epitome of summer mayhem. The Outer Banks is packed to the gills, and the hotels, pools, beaches, roads, restaurants, nightclubs, shops, grocery stores, urgent care centers etc. are busy and crowded. Prepare to be in close quarters, but plan for a lot of fun.  The Outer Banks is the perfect place to celebrate the July Fourth holiday, and here's the rundown on why.
1. One word: Ocracoke
The award for the most festive Fourth of July celebrations goes to the people of Ocracoke. They celebrate the holiday for three days and welcome visitors with a wide range of events. They start it off on July 3 with a Square Dance with Molasses Creek (that's so Ocracoke), followed by a fireworks show at the NPS docks at 9:15 p.m. The next day brings a party at the Pony Pens to meet the newest member of the herd; a flag-raising ceremony at the school; the famous Sand Sculpture Contest at Lifeguard Beach; a classic car show at Pony Island Motel; rare viewings on the Ocracoke Lighthouse interior; a parade through the village; storytelling with island resident Donald Davis at Books to Be Red; and a laser light show and dance party at Community Park. They even carry it over to July 5 with a community bonfire at Lifeguard Beach. If you can still find accommodations reservations or a campsite, this is a good place to spend the holiday! Get all the details here.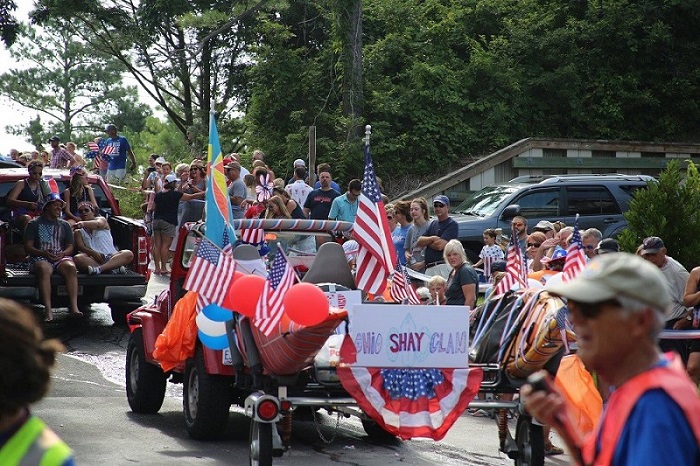 Photos above: Town of Duck, Facebook
2. Patriotic Parades
Quirky, zany and festive, the local Fourth of July parades are all about residents and visitors coming together to express their patriotism with creativity and ingenuity. The Town of Duck hosts the largest local parade, and it's a doozy. It starts at 9 a.m. and is on the side streets (not on Duck Road). If you're not staying in Duck, get there early to find a place to park in the village and walk over to Scarborough Lane, Ocean way or Christopher Drive. After the parade there's a party with live music, refreshments and parade trophies in Duck Town Park. See the Town of Duck website for more information.
Hatteras village hosts a wacky golf cart parade right on N.C. 12, usually around 4 p.m. If you want to be in it, just show up. Or stand along the sidelines and cheer for your favorites. Details are  sparse, but you can check here or ask around town.
3. Festive Fitness
The fitness minded among us have two race opportunities to choose from on the morning of the Fourth. The seventh annual Freedom 5K and Veterans Drive Mile is held in Kill Devil Hills starting at 7:30 a.m. There's also a Fun Run at 8:15 a.m. Meet at Town Hall at 102 Town Hall Drive. Register here.
A more challenging opportunity is the Killer Dunes 2-Miler and Fun Run on Jockeys Ridge at 8:30 a.m. Outer Banks Running Club hosts this race across the sand to benefit Friends of Jockeys Ridge. Register here and be sure to hydrate the day before!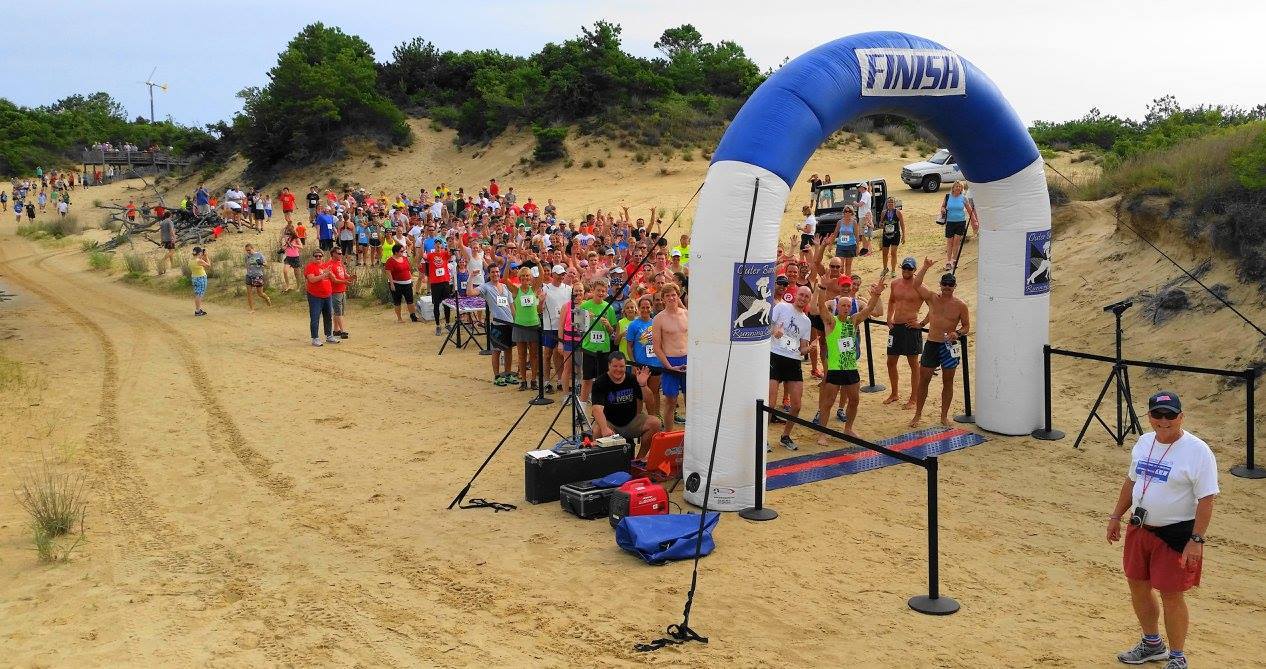 Photo: Killer Dunes 2 Miler, Facebook
4. Independence 1850s Style
Island Farm on Roanoke Island offers a simple and peaceful event that feels far away from the bedlam at the beaches. Under the shade of oaks on the historic farm setting, you can enjoy a picnic (bring your own) while listening to a reading of the Declaration of Independence. There will be games for the kids, visits with the farm animals and costumed interpreters. This one is from 10 a.m. to 4 p.m. and costs $8 (children younger than 5 get in free).
5. Family-Friendly Celebrations
Manteo's Fourth of July celebrations are the hallmark of small-town camaraderie. The locals come out in droves for the festivities, and visitors are always welcome. In the morning, at 10:30 a.m., the 208th Army Band will be presenting a children's show at the Indoor Theatre at Roanoke Island Festival Park. In the late afternoon, everyone heads downtown. A bike and golf cart parade starts at 3:15 p.m. (line up is at 2:45 at Magnolia Market). Live music starts on the courthouse stage at 3:30 p.m. and runs through 7:30 p.m. Throughout the afternoon there is an apple pie contest, a watermelon eating contest, a cornhole tournament and more. The Army band will play again at the Outdoor Pavilion at Festival Park at 8 p.m., followed by the fireworks show. If you prefer, you can listen to Breaking Grass play bluegrass music at Bluegass Island in downtown Manteo. Both shows are free; bring your own chairs or blankets. Find information here.
In Corolla at Whalehead/Historic Corolla Park there's a big celebration with food vendors, live music, children's games, activities and much more. Everything starts around 3 p.m. and runs through the fireworks show at dusk. Find more details here.
6. Pyrotechnics!
What everyone really wants on the Fourth of July is fireworks, and the Outer Banks has them in six different locations. All of these shows are held at dusk or maybe a little later. The Town of Nags Head tends to wait until 9:25 for its show.
Corolla – Historic Corolla Park / Whalehead
Kill Devil Hills - Avalon Pier, milepost 6
Nags Head – Nags Head Fishing Pier, milepost 11
Manteo – Roanoke Island Festival Park
Hatteras Island – Avon Fishing Pier, Avon
Ocracoke – NPS Boat Ramp on July 3!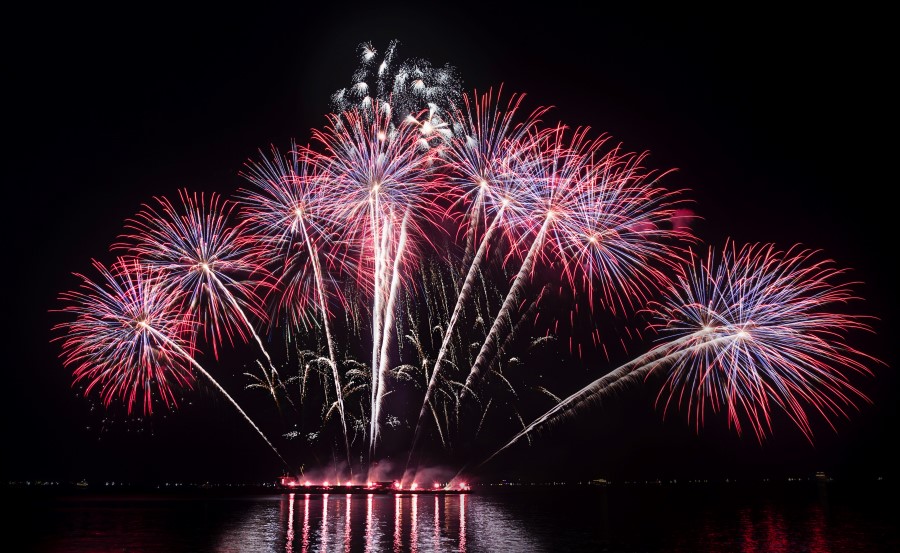 7. The Beer Mile
Warning: The Independence Beer Mile is not going to help you recover from your holiday hangover and will only prolong the pain of recovery. But, hey, it includes beer and it's fun! At 11 a.m. on July 5, head to Outer Banks Brewing Station for a race that alternates four 1/4-mile runs with the drinking of four 12-ounce beers. There's a costume contest, and the fastest finishers get prizes. Register here.
Here's to a happy Fourth of July! For more events be sure to check Daytime and Nightlife sections.
BONUS! Tips for a Happy Holiday
Remember that personal fireworks are illegal in North Carolina.
Stock up on your beverages, ice and cookout and picnic supplies well ahead of time! This is not the week to be running to Food Lion every day. Shop late at night or early in the morning and plan well so you'll get everything you think you'll need.
Don't wait until the last minute to order takeout for your fireworks picnic. Many other people will be ordering takeout. Plan ahead.
Remember to bring your own blankets or chairs to the fireworks show.
Arrive early. You don't want to be searching for a parking place while the fireworks are starting. Walk or bike over if you can.
Remember that you can see fireworks from a long ways away. You don't have to be sitting with the crowds at ground zero to enjoy the show.
Be careful! Bring a flashlight and wear light-colored clothing when you're walking around at night. Use crosswalks and stay out of the roadway. If you're biking use a light. And please don't buy glowsticks – single-use plastic products are so out!
Do not drink and drive. Wait for the Uber or cab.