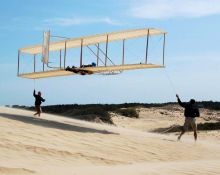 Spring days on the Outer Banks can make you feel totally high on life. The weather is perfection, and everything is so green and vital and alive — it's simply exhilarating. Want to know what else can you give you that high-on-life feeling? Flying. I was talking about flying.
Here in the land of first-flight fame, aerial adventures are a natural activity. Definitely, you should learn about the Wright brothers and all of their accomplishments at the Wright Brothers National Memorial in Kill Devil Hills, but following their inspiration, you also need to get your feet off the ground for a bit while you're here. Kitty Hawk Kites even offers an experience in which you can fly in a reproduction of the Wright brothers' 1902 Glider. The replica aircraft is one of the few in existence, and it offers the feeling of flying like the Wright brothers did. That's what's going on in the picture to the left, and you can learn more about it here.
Here are some of other flying adventures you can experience on the Outer Banks.
Hang Gliding
Thanks to Kitty Hawk Kites, Jockeys Ridge State Park is one of the premier hang gliding destinations in the nation. Since Kitty Hawk Kites opened in Nags Head in 1974, they've taught nearly 450,000 people to hang glide, and they're definitely the largest hang gliding school in the world. With their expert instructors, even straight-up beginners can get the experience of being off the ground. They've taken all ages and can accommodate deaf, blind and physically challenged people. Kitty Hawk Kites also offers tandem hang gliding tows at its location at The Cotton Gin in Jarvisburg. In this adventure, you ride tandem with an instructor, and you can choose to go to 2,000 feet or a mile high. Click here for more information about Kitty Hawk Kites' adventures.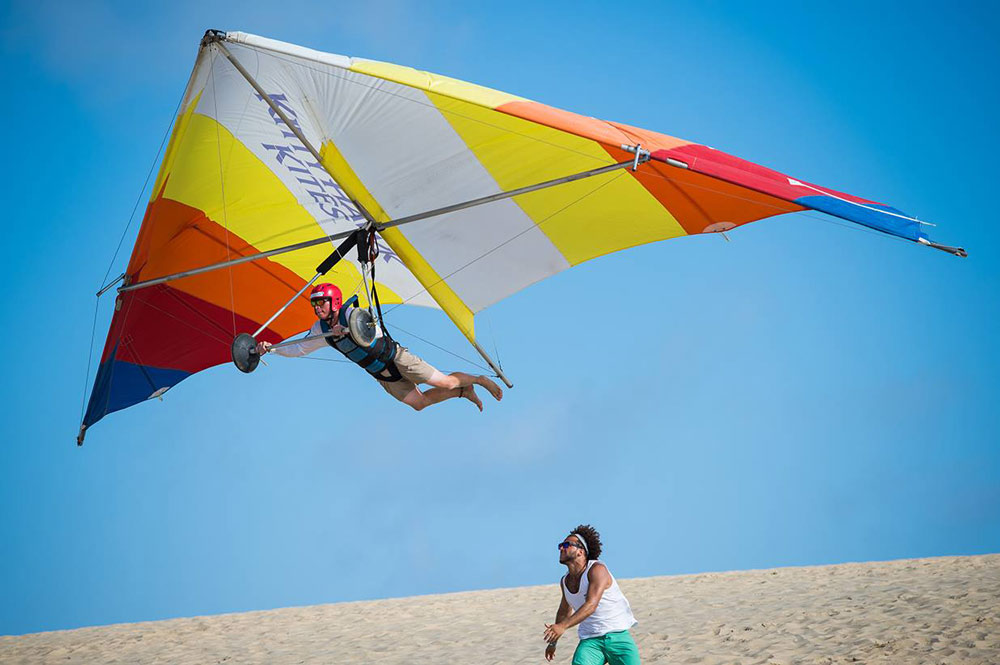 Photo above courtesy of Kitty Hawk Kites Facebook
Motorized Hang Gliding
A new business called UltraFlight OBX offers flying experiences in an open-air, motorized hang glider on a two-seater trike. It's just you and the FAA-certified pilot in this little flying machine, and your view of the water, land and sky is completely unobstructed. You can choose a quick trip around the Currituck Outer Banks, a 30-minute trip along the northern Outer Banks, a 60-minute flight farther down the islands or come up with a custom experience. Click here to see more about these flying adventures.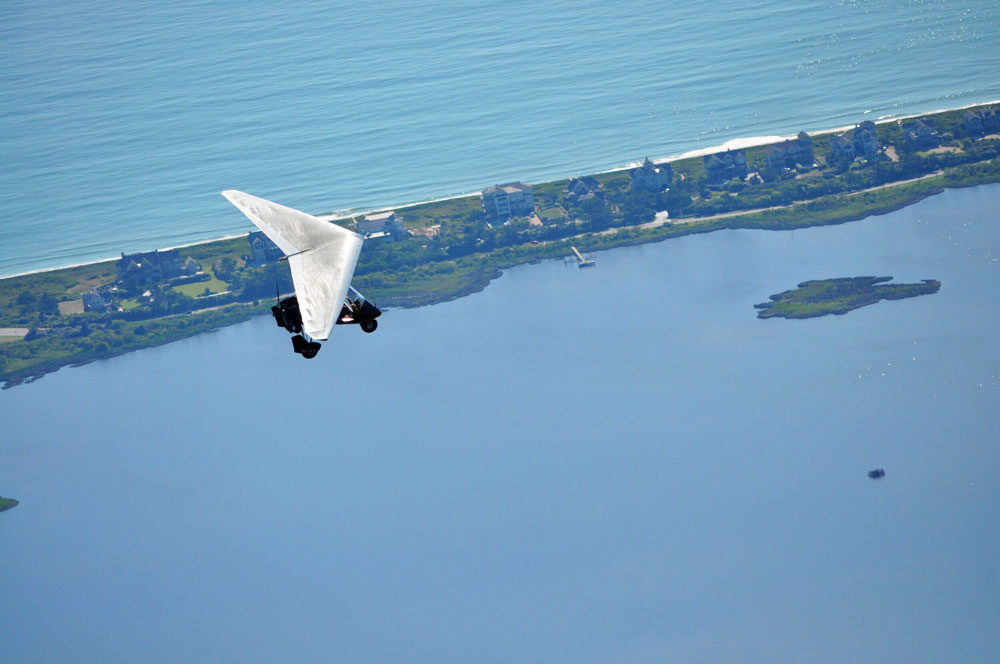 Photo courtesy UltraFlightOBX
Parasailing
Almost anybody can Parasail. It does not require any special skills, unless you count not being afraid of heights a skill. All you have to do is get strapped into a harness and sit on a boat. You don't even have to get wet, unless you want to, which makes it a great springtime activity. From the boat you're lifted high in the air, alone or with two or three friends, for a fantastic view of the sound and surrounding islands. Parasailing happens in the sound, and you'll find outfitters in Corolla, Duck, Nags Head, Hatteras Island and Ocracoke Island. For a list of outfitters, click here.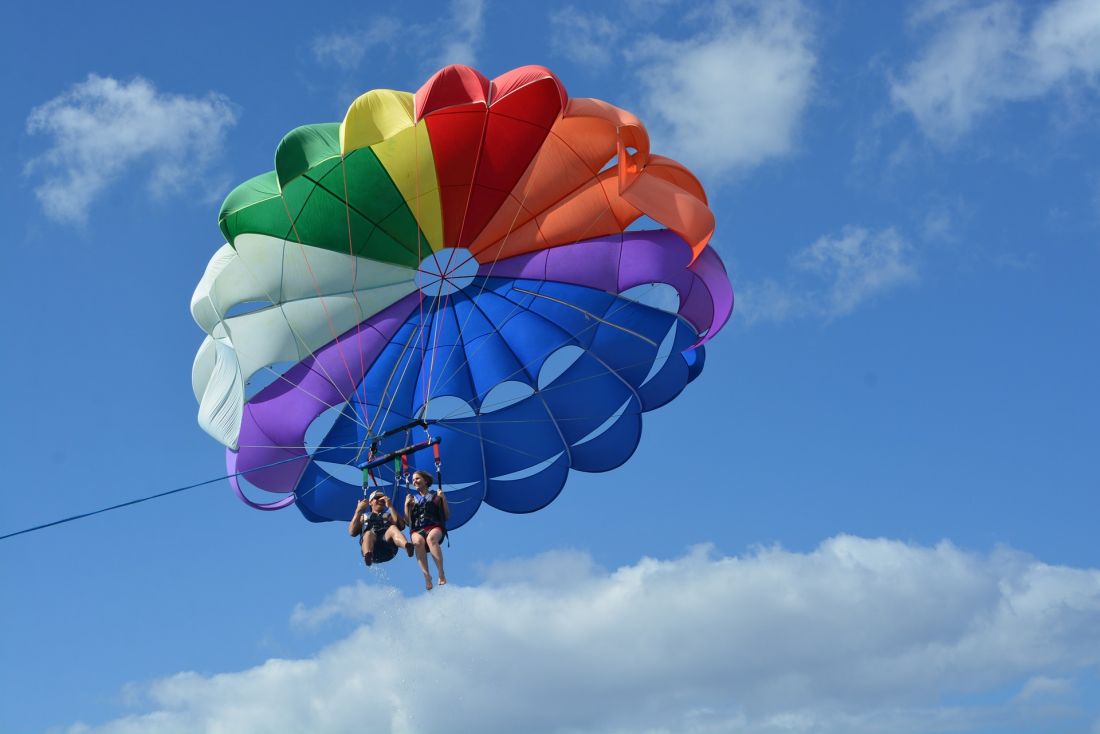 Photo courtesy Corolla Duck Parasail
Plane & Helicopter Tours
Seeing the Outer Banks from the vantage point of a plane is always a jaw-dropping experience. The islands look like tiny sandbars – seemingly impossible to live upon. And you can see down into the depths of the waters to the sandbars, shipwrecks, fish, sea creatures and sharks (yep) swimming below. The Outer Banks has several air tour companies that make this experience surprisingly affordable with one of their packages or you can charter the aircraft for a longer custom experience. With Outer Banks air tour outfitters, you can ride in a vintage WWII airplane, an open-cockpit biplane, a traditional enclosed plane or even a helicopter. These tours depart from Dare County Regional Airport on Roanoke Island. Find out more here.
Photo courtesy Coastal Helicopters Inc Facebook
Skydiving
Thrill-seekers will be pumped to know that there's a skydiving outfitter on the Outer Banks, based at the Dare County Regional Airport on Roanoke Island. It's a beautiful place for a skydive. Whether it's your first jump or your 50th, the view of the island and surrounding sound waters will definitely be a standout. All the experiences are tandem, so at least you have the assistance of someone who knows what they're doing. Sign up here.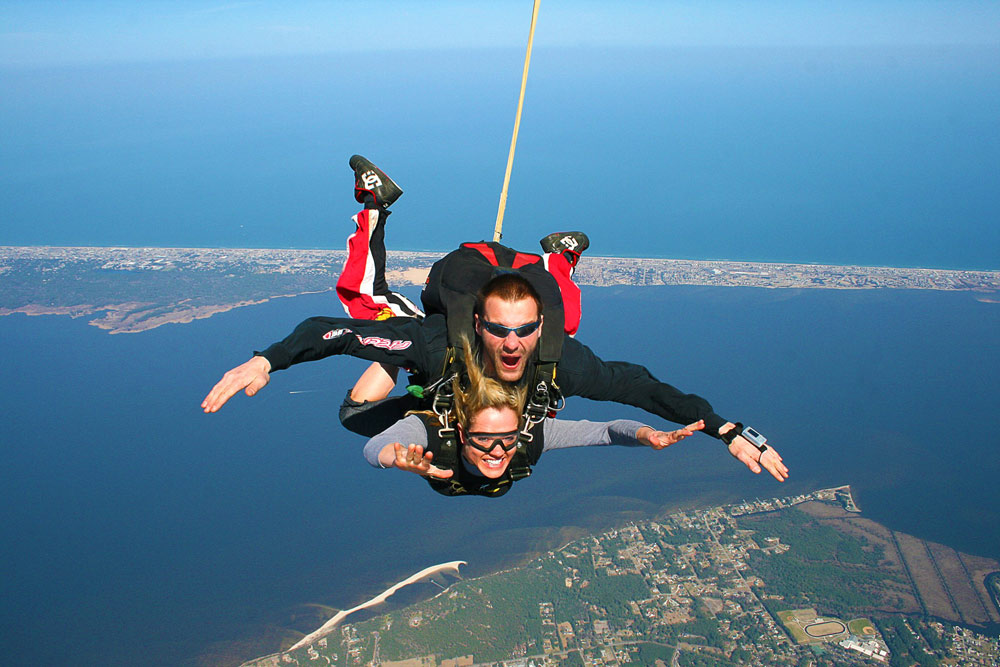 Photo courtesy SkydiveOBX Facebook
If you'd rather keep two feet on the ground, there are so many other things to do on the Outer Banks. There's a huge list of every Outer Banks activity here. You can also special events on our Daytime and Nightlife pages.
---