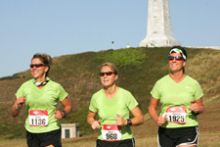 Don't be blue about tax day this week; just get them done and move on. Life's too short to worry about something as unavoidable as taxes - plus you're going to be too busy scuttling around to events all week to worry about anything!...
First things first - the Land of Beginnings Festival. * The nine-day festival is well under way with events all week and the culmination with a gala on Saturday night. The Living Legend Community Luncheon was held on Monday, with Glenn Eure fittingly honored as the 2010 Living Legend. * On Tuesday, there's storytelling in Manteo at Festival Park with George Spence, Lib Fearing and Maxine Peele, and on Thursday there's storytelling in Kitty Hawk at the Black Pelican with George McLean, Jimmie Austin and Ada Scarborough. Great way to hear Outer Banks history - from those who lived it. Both start at 7 p.m. and are free. * Thursday is a way-cool community forum sponsored by COA and the chamber: the Create the Future Initiative. It's free but you need to register. * Friday is Wilbur Wright's birthday celebration with lots of events (talks, tours, kite flying) at Wright Brothers National Memorial. Author Suzanne Tate will be there at 3 p.m. for the birthday party with cake. Admission is free for the festivities. * Saturday's black-tie gala "Under the Sea" at the Wright Brothers Pavilion in KDH promises a good time to benefit the Roanoke Island Historical Association...
A lot's going on Saturday. * The Coastal Antiques Appraisal Fair in Barco (that's the Currituck mainland) offers an opportunity to get your antiques appraised. (That painting you bought at Hotline for $1 could be your ticket to early retirement. Well it happens on TV.) Bring them to the Currituck Cooperative Extension Building between 10 a.m. and 4 p.m. This is a fund-raiser for the Whalehead Club, Outer Banks History Center and Cooperative Extension, so you pay per appraisal. You can also shop for antiques and take workshops. Call 453-9040...
Local artists are opening their studios as part of THE Studio Tour North. Stop by the Dare County Arts Council in Manteo for a list of studios that are open to the public on Saturday or visit www.darearts.org...
This will be fun: the Old Time Ensemble from the School of Music at UNC-Greensboro playing fiddle, banjo, accordion, washboard, spoons and other instruments at Roanoke Island Festival Park. It's on Saturday at 2 p.m. or 7 p.m. and it's free...
Lots of fund-raisers this weekend. * This one has my vote for favorite local fund-raiser: Up in Arms Against Domestic and Sexual Violence to benefit Outer Banks Hotline. It's a sanctioned arm-wrestling event. At the Port O Call. In the day. How wacky. But it absolutely makes sense to have people showing their muscle to benefit this organization. Weigh in is between 9 and 11:30 a.m. and the competition starts at 12 p.m. * MHS Booster Club Spring Fling: yard sales, pig pickin' and concessions, vendor booths, games and events. * S.U.R.G.E. Pancake Breakfast at Applebee's on Saturday morning benefits the youth of the Mount Olivet Church in Manteo. * Dancing through the Decades on Friday night at Outer Banks Brewing Station will benefit Heron Pond Montessori School in Kitty Hawk...
Did you register to run yet? Online registration for the First Flight 5K on Saturday and the Flying Pirate Half-Marathon on Sunday is closed, but you can register at the Race Expo on Friday from 3 to 8 p.m. and Saturday from 9 a.m. to 6 p.m. The Expo is at the Dare County Rec Park in KDH. (I've already got pre-race jitters and it's only Monday!)...
You either love it or you hate it: Bike Week. It starts this weekend. * I admit I'm on the love it side. All those packs of leather-clad bikers are quite a sight, and their enthusiasm is infectious. And the bikes are a nice alternative to the usual endless sea of SUVs and minivans. But, damn, they are loud. * And here's a soap-opera-like twist: There are actually two rival bike events going this week. The local Harley-Davidson dealerships are hosting Outer Banks Bike WEEK, but Vertigo Tattoo in Manns Harbor has got its Outer Banks Bike RALLY. May the best team win. * Check www.outerbanksbikerally.net or www.outerbanksbikeweek.com for the long lists of events...
Meanwhile, Bike Week/Bike Rally is bringing the nightlife scene up a level. There's music all over the place for the next two weekends. On Friday at Ocean Boulevard, it's an old-time favorite The Wall-O-Matics or the cover band Rich Whiskey Audition at Kelly's. On Saturday, catch Ty Fleming doing Southern rock at Port O Call, Uphill singing the blues at Outer Banks Brewing Station or Sea Level acoustic at Poor Richard's in Manteo. Check our Outer Banks By Night listings for more happenings...
All right, go get on with your life. But keep checking the site all week as businesses and organizations on the Outer Banks are adding new stuff here every day. I'll be back with a new blog of Outer Banks snippets and events next Tuesday. And if you've got a business or organization that wants to get the word out about something - a sale, a special, an event or a fund-raiser - click on Get Involved just on the right column of this page...
And please put your 2 cents in. If you'd like to contribute or add your voice to this blog, you can do that below. Keep in mind that the blog comments are moderated so that this site is only putting positive vibes into cyberspace * We'd really love to hear from you...