As July comes to a close and August begins, the days are hot and the ocean is clear as can be – clearer than I ever remember it. It's been an absolute diving paradise for the locals who dabble in spear fishing. You'll see them bound for the sea with their Hawaiian slings and fins and return to shore with a big ring of fresh fish. And did I mention the shipwrecks? Of course we're sitting on the Graveyard of the Atlantic, but this summer there have been more shipwrecks discovered, it seems, than ever before – a playground for fish and divers alike. Childhood stories of the Graveyard play back in my mind, like when pirates would tie a lantern around an old nag's neck (or horse's neck) and lead it up and down the beach to draw in ships searching for a lighthouse.
This time of summer brings a heavy sense of calm too. There's an excited anticipation that comes with the beginning of the season, and now that we've reached the halfway point the locals can breathe and enjoy all that there is to see along with visitors. I've mentioned before that on the Outer Banks, we know art. That rings especially true this week with art and craft events happening from Kill Devil Hills to Avon.
The Windmill Point Art Fair


One of those gatherings of artists I am most excited about is the Windmill Point Art Fair in Nags Head. The fair takes place right on the Albemarle Sound in the new and improved Outer Banks Event Site – that's right, it's finished! And this was one serious makeover. I can't imagine a better place to peruse art inspired by the Outer Banks. More than 40 artists and crafters from around the region will be showing off their wares, and that includes painters, photographers, potters, soap makers, wood workers, jewelers, glass crafters and even a map maker. Whether you're an artist yourself or an aficionado, this waterfront fair is worth a stop. The free event put on by the Outer Banks Children at Play Museum takes place Thursday, August 6 from 10 a.m. to 6 p.m.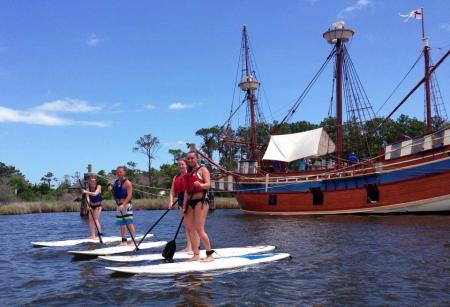 BIC SUP One Design Series
You think I'm a writer, but really I'm a standup paddleboard promoter. Along with the slew of artsy events happening this week, there's a ton of stuff going on in the athletic world such as the BIC SUP One Design Series. The sound has been glassy for days – not one gust for the sailing community but perfect for SUPing! Kitty Hawk Surf Co. hosts the series in different towns throughout the summer with this week's event happening at the Kitty Hawk Kites Whalebone location on the causeway in Nags Head. Beginners and experienced paddlers are welcome; it's a competition, but it's way family friendly. Head to the Whalebone location on Thursday, August 6 at 10 a.m. to sign up. If you want to knock out the SUP race and the art fair in one day, the events are very close together.
OBX Sandbar 5K
We love 5Ks on the Outer Banks, especially when they're on the beach. The 14th Annual OBX Sandbar 5K is happening on Sunday, August 2 in front of the historic Old Station public bathhouse in Kitty Hawk. Runners will dig their toes – well, soles – into the sand and head north then loop back to the start/finish line. And get this – the man and woman who take home first place overall will win vacation packages to come back to the Outer Banks. That's right, it's time to run for your next OBX vacation! There will also be awards in every age group for first, second and third place. Register online before Saturday, August 1, or register on the beach the day of the event between 6:15 and 7 a.m. The race starts at 7:30 a.m. and will benefit the Outer Banks Relief Foundation.
Kids' Fishing Tournament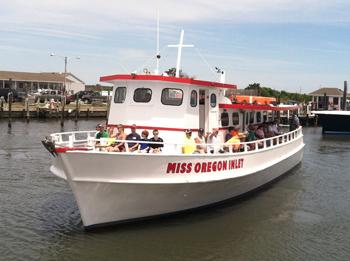 You're going to want to come back and fish on this boat yourself after you see how much fun your kids are having. (And luckily, you can.) Monday, August 3 brings a Kids' Fishing Tournament on board the Miss Oregon Inlet headboat. Everything the kids need is provided, including an experienced mate. And on the high seas – the Albemarle Sound – the crew has seen all kinds of fish including spot, croaker, flounder and speckled trout. Kids ages 8 to 14 can fish to their hearts' content with the best catches of the day winning trophies. Call in advance to book at (252) 441-6341, and arrive at 9:30 a.m. on the day of. All young anglers will receive T-shirts and medals.
Senior Citizen Arts & Crafts Fair
Here's another cool art fair happening this week – the Senior Citizen Arts & Crafts Fair at the Baum Center in Kill Devil Hills. Our senior citizen center is the opposite of stuffy, and on Wednesday, August 5 and Thursday, August 6 it will become even more vibrant when the rooms are filled with artistic creations from 9 a.m. to 4 p.m. Admission is just $1, and proceeds will go toward scholarship projects organized by the Outer Banks Woman's Club. Children 12 and younger are free.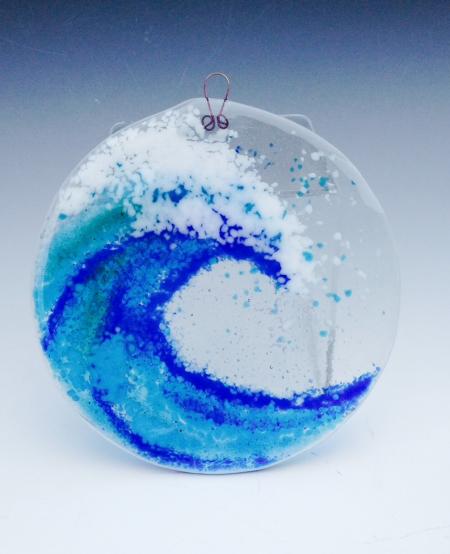 Glass Fusion and Mermaid Rings
In the spirit of all the art events happening this week, why not create some art yourself? I like to call myself an occasional artist, so it's always nice when there's someone around to give a little direction. Studio 12 in Avon offers all sorts of art classes, with the first one this week being Glass Fusion Sun Catchers and Jewelry. You can create your own glass sun catcher (even if you're an occasional artist like me) on Wednesday, August 5 at 10 a.m. Then on Thursday, August 6, learn how to wrap silver wire and incorporate crystals and pearls to create rings that any mermaid would be jealous of. Mermaid Rings starts at 3 p.m., and you're going to want to register for either or both of these classes by calling (252) 995-7899.
Pints for Pups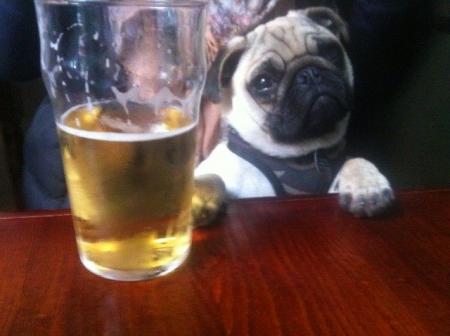 Okay, so I know this one doesn't quite fall into the art or athletics category, but how cool is this? Full Moon Café and Brewery in Manteo is donating $1 to the SPCA for every beer purchased on Saturday, August 1. And on top of that if you bring your furry friend in to eat with you, you get 10% off your meal. Dogs and pints . . . I can't think of anything better. Also, does anyone have a pup I can borrow for the day?
In the realm of nightlife this week, I challenge you to find a restaurant or bar that does not have tons of entertainment scheduled. There's live music almost anywhere you go for dinner, and when it comes to late night, you can find dueling DJs, trivia, karaoke and always more live music. Visit our Nightlife & Events page for the full lineup.