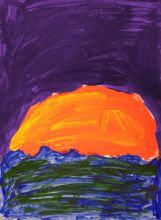 Any time an event can claim "23rd Annual" as part of its name, you know the event's organizers have a well-earned connection with the hearts and minds of the community. The 23rd Annual Artrageous Art Extravaganza, to be held Saturday, Nov. 17 from 10 a.m. to 3 p.m. at Dare County Family Recreation Park in Kill Devil Hills, is just such an event.
True to its slogan "Art for All and All for Art!" Artrageous is an annual community-wide celebration of the arts sponsored by the Dare County Arts Council. Artrageous features professional artists showing and selling work, live art demos, artist quick draw, creative hands-on booths, The Scrap Exchange, youth art and activities for kids, live music and more. Coastal Provisions will be on hand serving vegetarian chili, macaroni and cheese, pork barbeque and chicken noodle soup. Bring the entire family for a fun-filled day!
All proceeds from Artrageous benefit arts education programming in each of Dare County's schools, a variety of cultural arts programs in our community and the Artrageous Scholarship Fund (which each year awards one scholarship to a graduating senior from each of Dare County's high schools). In the event of inclement weather, Artrageous will be rescheduled for the following Saturday, Nov. 24 at the same time and location. Please visit darearts.org for the most up-to-date information. If you have any questions about Artrageous or would like to volunteer, please call (252) 473-5558.
Since moving to the Outer Banks nearly 20 years ago, I've likely eaten my weight in shrimp many times over. Whether boiled, steamed, breaded and fried, sautéed, grilled, stuffed with crab, glazed with sweet & sour sauce or transformed into croquettes, I've yet to encounter a shrimp variation I would not devour. For those of like mind and appetite, this weekend offers something special -- the 3rd Annual Outer Banks Shrimp Cook-Off on Sunday, Nov. 18 from 12 p.m. to 3 p.m. at Ocean Boulevard Bistro and Martini Bar in Kitty Hawk. Chefs representing 10 local restaurants will compete to prepare the best, most innovative dishes using the featured ingredient, fresh local shrimp. And we, the lucky public, get to sample the chefs' creations and vote for our favorites. Restaurants represented in this year's Cook-Off are Ocean Boulevard, Bad Bean, Coastal Provisions, Metropolis, Black Pelican, Barefoot Bernie's, Port 'O' Call, Brine and Bottle, Café Lachine and Left Bank.
As if the shrimp-tacular cuisine was not enough of a draw, the annual event is a fundraiser for The Outer Banks Center for Dolphin Research. In addition to the shrimp-inspired creations of some of the Outer Banks' best chefs, the event also includes a silent auction, door prizes, a DJ, beer/wine specials, a 50/50 raffle and an educational outreach booth where you can learn more about the conservation of our local bottlenose dolphins and the education and research efforts of the Center for Dolphin Research.
The nonprofit Outer Banks Center for Dolphin Research monitors the population size, movement patterns and behavioral ecology of bottlenose dolphins in our coastal waters and conducts a photo-identification study of dolphins in the Roanoke, Croatan, Albemarle, Pamlico and Currituck sounds. Center scientists also collaborate with marine mammal scientists all along the western Atlantic coast to enhance understanding of the dolphins' long-range migratory patterns. Volunteers are welcome, and summer internships are frequently available. For more information visit obxdolphins.org.
Tickets to the Cook-Off are $20/person and may be purchased at the door on the day of the event or in advance at Ocean Boulevard Bistro and Martini Bar, Outer Banks Veterinary Hospital or Salty Paws Biscuits. For updates, check out obshrimp.com.
Get an early start on your holiday shopping at the Tenth Annual All Saints Church Holly Days Bazaar! From 9 a.m. to 4 p.m. on both Friday, Nov. 16 and Saturday, Nov. 17 shop for that special gift from a large variety of handmade jewelry, handbags, wooden art, functional whimsical gifts, painted glassware, furniture, Christmas decorations, Yesterdays' Jewels, original photography and watercolors, scarves, pottery, bird houses, take-home casseroles, a Gourmet Bake table and more. Then enjoy a tasty lunch in their café from 11:30 a.m. to 1:30 p.m.
How sweet it is! Attend the Elizabethan Gardens' "Art of Candy Making" workshop Saturday, Nov. 17 from 10 a.m. to 1 p.m. and learn to create popular confections from scratch in this hands-on class. Then, apply your new-found skills to produce your very own homemade candies and become the toast of the holiday season. The fee for Gardens members is $45; non-members, $55. For information call (252) 473-3234.
This weekend also marks the return of the 15th Annual Rockfish Rodeo, a fishing tournament sponsored by the Manteo Rotary Club. Registration will be Friday, November 16 at the Pavilion at Pirates Cove Marina from 2 p.m. to 8 p.m. A Welcome Social with hamburgers, hot dogs and beverages starts at 6 p.m. followed by an Anglers Meeting at 7 p.m. The tournament officially kicks off at 6 a.m. Saturday, Nov. 17. Fishing continues until 3 p.m. with official weigh-ins from 1 p.m. to 4 p.m.
The tournament is open to all ages. Pre-registration is required. Visit the event registration website for more information or to preregister. Prices are a $10 donation for the Social and $75 to participate in the fishing tournament. Spectators are welcome! Bring the family and enjoy the marina surroundings, walk the docks, check out the world-class yachts of the Pirates Cove charter fleet or shop at the Marina ship's store for gifts or supplies.
Finally...
I'd be remiss if I didn't mention that the Eating Season...umm...Holiday Season is fast approaching with Thankgiving in the lead-off position. For those looking to eat well on Thanksgiving Day - but avoid the preparations, cooking and clean-up - there are a number of tempting options. Several Outer Banks restaurants are featuring special Thanksgiving meals or buffets (note that some establishments will require reservations or preregistration; it is good policy to call in advance or consult a restaurant's website for details).
Lone Cedar Café on the Nags Head/Manteo Causeway will serve their always impressive Thanksgiving Day Buffett from 11 a.m. to 6 p.m. The buffet includes all the traditional Thanksgiving meal items you'd expect plus many Outer Banks seasonal specialties and favorites. Prices are $31 for adults, $15 for children, free for 5 and younger. Prices do not include tax or gratuity.
In Nags Head, Owens' Restaurant's Grand Buffet will challenge diners' appetites from 12 p.m. to 8:30 p.m. with mouthwatering selections such as herb-rubbed roast turkey with giblet gravy, baked local flounder in parchment, cherry-chipotle glazed North Atlantic salmon, Seafood Napoleon, classic oyster dressing, gingersnap sweet potatoes, almond wild rice pilaf, soups and bisques, a variety of breads and a bounty of desserts. Limited selections are available from the regular menu. Buffet prices are $29.95 for adults, $12.95 for ages 6 to 12 and free for ages 6 and younger. Call (252) 441-7309 to make a reservation.
Ocean Boulevard Bistro and Martini Bar in Kitty Hawk offers a four-course menu from 3 p.m. to 9 p.m. for parties from one to 20 people. The menu features "creative twists to tradition," offering a tasty way of presenting classic holiday staples with fresh, updated flair. Child-friendly options are also available. The price is $50/Four-Course Meal. Visit the Ocean Boulevard website to pre-register (required).
In Duck, the Sunset Grille will serve a Thanksgiving buffet from 12 p.m. to 6 p.m. featuring a bevy of autumn favorites including New England-style clam chowder, roast turkey with gravy, carved prime rib, smoked ham with a honey-brown sugar glaze, lump crab cakes with remoulade sauce, corn bread and sausage dressing, sweet potatoes with maple butter and pecans, mashed Yukon Gold potatoes with chives, corn, green bean casserole, Baked Fish Martinique, breads and assorted desserts. Enjoy a fantastic feast with friends and family while overlooking the beautiful Currituck Sound. Reservations are accepted at (252) 261-3901, ext. 27. Prices are $19.95 for adults and $9.95 for children younger than 12.
Many other Outer Banks restaurants will also be serving special holiday meals. Other establishments will be open, but serving from their regular menus. Visit outerbanksthisweek.com or the website of your favorite dining spot for more information on who's doing what and when.

This week you have a chance to win a one-night stay at First Colony Inn and a $50 gift certificate to Gray's Family Department Store!
For more information about First Colony Inn, check out their website.
For more information about Gray's Family Department Store, check out their website.
Last Week's Winner
Congratulations to Kristy Winslow‎!!!

You won an on-the-go pedicure & mimosa for you and a friend from Aqua Spa plus a $50 gift certificate to Artspace Gallery!
For more information about Aqua Spa, check out their website.
For more information about Artspace, check out their website.