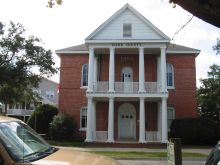 Maybe it's so much water, maybe it's so much nature, maybe it's that feeling of living on the edge ... whatever IT is, something about the Outer Banks inspires creativity. * Here on the Outer Banks, artists are everywhere, whether they're working professionally or just enjoying the creative process for themselves...
Big news in the Outer Banks art world is that the Dare County Arts Council is moving into the historic 1904 Dare County Courthouse building in downtown Manteo. * So far DCAC has renovated the first floor to use as galleries and administrative offices. * Plans for the second floor include a multi-use center for the arts, housing space for education workshops, performances and community gatherings. * The doors of the Courthouse will open to the public on Monday, August 2 ...
Meanwhile, I'm just going to go ahead and say that downtown Manteo is a veritable arts destination (I could also make the case for Hatteras Island and Ocracoke Island and I'll add that to my to-do list) * A new gallery called Art By Locals opened in the old DCAC building, and another gallery called Hazy Art, featuring the found-object works of Faye Skakle and lots of other local artists is open beside Wanchese Pottery. * Other galleries in downtown Manteo include John Silver Gallery, Nancyware Pottery, Fine Yarns at Kimbeeba, Gallery 101, Endless Possibilities, Full Moon Art Gallery: Purely Island Art, The Andrus Gallery, Inspired by the Sea, His Shells by Brenda, Roanoke Heritage Extended, Outer Banks Quilts and Antiques, Island Accent Gifts and Roanoke Island Festival Park's Art Gallery across Shallowbag Bay. That's 18 galleries downtown and I probably missed one or two. Throw in the Island Gallery at the Christmas Shop and Silver Bonsai Gallery on the main highway, and that's at least 20 galleries of all sorts for art lovers to explore on Roanoke Island...
Also new on the Outer Banks gallery scene are: Lasting Effects Frame Shop and Gallery in Kill Devil Hills, ARTspace Gallery and Studios in Southern Shores, CatFish Pottery in Frisco, Hwy12 PhotoArts in Hatteras Village, Hemingway Gallery & Custom Framing in Kitty Hawk and Outer Banks Epicurean on Colington Road (sorry if I missed anyone! feel free to comment below to add any new galleries)...
And, now, I'm on to my original purpose - this week's events:
Chicamacomico Life-Saving Station Historic Site in Rodanthe has its Chicamacomico Art Show with local artists this week on Wednesday and Friday from 10 a.m. to 5 p.m...
For budding artists ages 7 to 11, sign them up for Waterside Art Wednesday at Waterside Theatre, where they'll create watercolor drawings inspired by John White's 1585 Roanoke Island watercolors. Call 473-3414...
Don't miss The Lost Colony cast presenting The Wizard of Oz on Friday and Saturday nights at 8 p.m. at Waterside Theatre. (If you can't make it this weekend they're doing it next weekend too.) * Everything The Lost Colony does is top-notch. We recently saw and LOVED this year's children's show, The Tale of the Frog Prince, which runs Tuesday and Thursday mornings at 9:30 a.m. Get there early to sit in the shade...
Roanoke Island Festival Park has Flow Circus this week, in which Paul Miller performs highly improvisational, off the wall juggling, magic and physical comedy, Tuesday, Wednesday and Thursday at 10:30 a.m. and Tuesday and Wednesday at 7 p.m. Both shows are indoors...
Big News: Nags Head's top-secret museum, the Nellie Myrtle Beachcomber Museum, will have an open house on Friday, July 30 from 10 a.m. to 2 p.m. Come see the lifelong beach-combing collection of Nellie Myrtle Pridgen. Admission is free, and the museum is on the beach road in Nags Head, just south of Mulligan's. * Don't miss this, you only get a couple of chances a year to see it!...
On Sunday, a cool new photography exhibit opens up at Roanoke Island Festival Park's Art Gallery: Weather and Sky Photography by Michael Halminski, Eve Turek and Ray Matthews. The three are well-known Outer Banks photographers with a passion for weather, sky and its moods.The show will hang through August 30, and the opening reception is this Sunday from 2 to 4 p.m.
Outdoor music series: Duck has Ruth Wyand on Tuesday and the Greg Shelton Trio on Thursday * Whalehead Club has the 9:58 Band on Thursday...
There's also a rare chance to see a crazy natural phenomenon in which thousands upon thousands of purple martins roost under the old Manns Harbor Bridge at dusk for a few weeks each year. * The Purple Martin Society and Crystal Dawn head boat out of Pirates Cove are offering the Purple Martin Roost Boat Tour on Saturday, but you have to reserve your spot by Wednesday. Call (252) 394-6205 for info. Tickets cost $30...
Finally, the latest news on the Hatteras Island beaches is that ORV access has reopened on the east side of Cape Point from 6 a.m. to 10 p.m. daily...
If I yammered on and on about everything that is going on this week on the Outer Banks you'd be sitting in front of your computer all week instead of getting out there and doing it, so I'm signing off. But look around our site's By Day, By Night, Shopping, Restaurants and Fishing sections and you'll find lots to do...
And put your 2 cents in. If you'd like to contribute or add your voice to this blog, you can do that below. Keep in mind that the blog comments are moderated so that this site is only putting positive vibes into cyberspace...