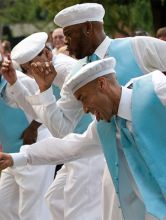 Fans of beach music won't want to miss the Outer Banks Beach Music Festival held this Sunday, May 26 at Whalehead in Corolla. The gate open at 10 a.m. and the day of upbeat, family-friendly music begins at 11 a.m. with local favorites The Crowd, followed by Steve Owens and Summertime at 12:30 p.m. and the Band of Oz at 2:15 p.m. before showcasing the legendary Tams who will take the stage at 4 p.m. Bring a blanket or lawn chair and make a day of it! Barbecue and other food vendors will be on-site, and beer, wine and other refreshments will be available for purchase. Cash is recommended. Picnics and 5-quart coolers are encouraged (limit of one cooler per person); larger coolers are allowed for a $10 fee. Glass bottles, liquor, professional cameras and pets are prohibited. Tickets are $20/person or $150 for groups of 10 and can be purchased in advance or at the gate. Don't forget your hat and sunscreen. The event will go on rain or shine.
Other Happenings
Is there a young wannabe angler in your life? Bring him or her to Jennette's Pier in Nags Head on Thursday, May 23 at 11 a.m. for the Little Anglers class, a one-hour class featuring hands-on instruction on the basics of fishing. The session begins on the beach with Back Yard Bass, a game that teaches little ones how to cast before trying their luck on the pier with an educator. The class is open to children ages 3 to 8, and the price is $8/child. Pre-registration is required.
The Family Fishing class at Jennette's Pier on Friday, May 24 from 9 a.m. to 11 a.m. teaches basic fishing skills for the whole family. Topics covered in the program include information on species commonly found around the pier and how to identify them, a lesson on how to cast and tie your rigs followed by instruction on catch and release techniques. Pre-registration is required. The cost is $15/person ($8 for ages 5 and younger). See the website for more details and alternate dates.
Kids will be happy to learn that Friday, May 24 is a half-day at school. Unfortunately, half-days can present complications for parents. An entertaining and educational solution is to head for Jennette's Pier and their Half-day Fish 'N' Play camp, an afternoon of fishing and beach games for youth ages 5 to 12. The camp begins at noon and runs until 4 p.m. Price is $30/camper. Campers should bring a bag lunch and dress for the weather. A light snack will be provided.
Across the Bonner Bridge on Hatteras Island the 2nd Annual Shore Break 5K takes off Saturday, May 25 at 8 a.m. with the Tide Pool Fun Run on the beach immediately following at 9 a.m. The 5K is a 3.1-mile run over varied terrain, from paved roads winding through Kinnakeet Shores to wooden bridges, boardwalks and beach walkways before finishing with an unbelievable view of the Atlantic Ocean as the final stretch takes you to the beach. Runners and walkers are welcome! All proceeds go toward the Hatteras Island Youth Education Fund and OBX GO FAR (Go Out For A Run) Children's Health and Nutrition Program. See the website for entrance, registration and other details.
Want to know if all the hype you've heard about the new kiteboarding equipment is true? Come and try out the gear for yourself during the free Spring Demo Days at Kitty Hawk Kites' Kiteboarding Resort in Rodanthe from Saturday, May 25 through Sunday, May 26 from 9 a.m. to 4 p.m. each day. In addition to kiteboarding product demonstrations and clinics, Kitty Hawk Kites will also host the BIC SUP One Design Challenge on Saturday, May 25. Kitty Hawk Surf Company supplies the boards and paddles. You bring the energy! Race entry is $10/person; registration starts at 1 p.m. with races running from 2 p.m. to 6 p.m.
The Outer Banks Woman's Club is sponsoring the Outer Banks Spring Festival of Art and Crafts at the Baum Senior Center in Kill Devil Hills this Saturday from 9 a.m. to 5 p.m. and Sunday from 9 a.m. to 4 p.m. The indoor/outdoor event, which benefits club scholarships and community needs, includes art, jewelry and woodcrafts. Admission is $1/person.
Here's something different to put on your Must Do list. Three nights each month Ride the Wind in Ocracoke offers its Full Moon Kayak Tour, combining the history and nature of Ocracoke with a night paddle under a full moon. This first of this month's excursion begins Wednesday, May 22 with tours following on Thursday and Friday nights. Experience a beautiful soundside sunset, learn some Ocracoke history and seek out flounder and shellfish in the shallows of the tidal marsh. Tours are $35/person and last approximately two hours. See Ride the Wind's website for details and future tour dates. Bring watershoes, water, hat, insect repellent and camera.
Take yourself - and someone else - out to the ballpark Tuesday, May 28 at 7:30 p.m. for the opening of the Outer Banks Daredevils 2013 season in the Tidewater Summer League. You'll find no overpaid, pharmaceutically enhanced prima donnas here, just America's pastime played in the spirit it was meant to be played by collegiate players refining their skills for a shot at the pros. Bring the family to the First Flight Baseball Complex in Kill Devil Hills for an affordable and fun-filled evening of baseball. A complete season schedule is available on the Daredevils' website. Tickets are $3/adults, $2/seniors and students, and children younger than 12 admitted free. What a great way to spend a summer evening!
And, finally, mark your calendars for a sneak peek at the 2013 incarnation of an Outer Banks institution. Preview Night at The Lost Colonyis set for Thursday, May 30 at 8 p.m. at Waterside Theatre on Roanoke Island. Tickets for the show, a final dress rehearsal before the season officially begins, are available at a discounted rate of $12.50/person.

This week you have a chance to win a $50 gift certificate to Blue Pelican Gallery and $35 gift certificate to Gidget's Pizza and Pasta on Hatteras Island!
For more information about Blue Pelican Gallery, check out their website.
For more information about Gidget's Pizza and Pasta, check out their website.
Last Week's Winner
Congratulations to Danielle Enyart!!!

You won a $50 gift certificate to Peppercorns Restaurant and two tickets to The Comedy Club of the Outer Banks!
For more information about Peppercorns Restaurant, click here.
For more information about The Comedy Club of the Outer Banks, check out their website.