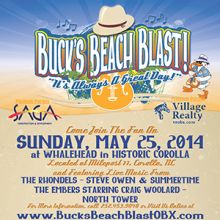 If you're a fan of beach music, then the Outer Banks is where you'll want to be this Memorial Day Weekend as not one, but two, beach music events bring that easygoing summertime vibe to our barrier islands! First up is Buck's Beach Blast Outer Banks Music Festival at the Whalehead in Corolla on Sunday, May 25 featuring performances from North Tower, The Rhondels, the Craig Woolard Band and Steve Owen & Summertime. Gates open at 10 a.m. with the first performance beginning at 1 p.m. Tickets for the day-long event are $25/person. VIP tickets, which include access to the VIP tent, catering by Good Life Café, free beverages (alcoholic and non-alcoholic), a free T-shirt and comfortable seating, are available for $75/person. Tickets purchased after May 19 will be held at Will Call on the day of the event. Picnics and 5-quart coolers are encouraged (one per person). Larger coolers will be allowed for a $10 fee. No glass bottles or outside alcohol will be allowed. Beer and wine will be available for on-site purchase.
Less than 24 hours later it's Beach Music, Round Two, as the Shallowbag Shag Beach Music Festival brings the barefootin' and upbeat tunes to the Outdoor Pavilion at Roanoke Island Festival Park adjacent to the Historic Manteo Waterfront. From noon until 8 p.m. on Monday, May 26 beach music fans can enjoy hot fun in the "almost" summertime, sip cold drinks and shag until they're all shagged out to the music of several acclaimed beach music bands including The Tams, Jim Quick and Coastline, The Embers, The Holiday Band, The Carolina Breakers and more! Regular tickets are $25/person in advance, $30/person at the gate. VIP tickets are also available ($60/person) as are tent rentals, but both are going fast. For more information visit the event website.
In Search of...Wine and Beer
When most of us think of food touring we think of expensive trips through Tuscany or Napa Valley in California. But Outer Banks Restaurant Tours brings the concept of food tours home to the Outer Banks, with mini-tours built around foundations as diverse as blue crab, the sweetly decadent creations of local pastry chefs and top-tier local seafood entrees. But it's not all about food. Two upcoming tours feature wines and beers perfect to accompany great Outer Banks dishes.
The Thirsty Thursday Winery Tour on May 22 will dispel all notions about North Carolina wines being limited to cloyingly sweet Muscadine derivatives. This tour of Sanctuary Vineyards (the Outer Banks' only winery) will explore 10 acres of Sangiovese, Traminette, Albarino, Syrah, Chardonel and other varietals producing an impressive variety of wines. After touring the vineyards and winery operations, enjoy an exclusive tasting of their wines and lunch on the vineyard grounds. Pre-registration is required and reservations will be accepted until Wednesday 8 p.m. (the day before the tour). The tour price of $49/person includes transportation and tour fees, wine tastings and lunch. Participants must be 21 or older. Tours require a minimum of four people with the maximum number of participants set at 10. The meeting locations/pick-up times are: Corolla Visitors Center, 11:50 a.m.; Waterfront Shops in Duck, 12:10 p.m.; Coastal Provisions Market parking lot, 12:30 p.m. The tour ends at approximately 3 p.m. followed by drop-offs.
The Wednesday Brews and Bites Tour begins May 28 at Sweet T's in Duck, home to more than 200 bottled craft beers. Next is a stop at Trio in Kitty Hawk where you will be treated to delicious panini sandwiches and a beer tasting from the largest selection of small-batch, craft microbrews on tap (24) on the Outer Banks! The final stop is Chip's Wine and Beer Market where the Great Wall of Beer is stocked with more than 450 beers from more than 15 countries. Pre-registration is required, and reservations will be accepted until 9 a.m. the day of the tour. The tour price of $62/person includes transportation and tour fees, beer tastings and lunch. Participants must be 21 or older. Tours require a minimum of four people with the maximum number of participants set at 10. The meeting locations/pick-up times are: Corolla Visitors Center, 12:30 p.m. and Waterfront Shops in Duck, 12:50 p.m. The tour ends at approximately 3:30 p.m. followed by drop-offs.
Cape Hatteras National Seashore
I continue to be impressed with the topics for Cape Hatteras National Seashore's free summer programming - and kinda bummed that the ol' day job prevents me from joining in much of the fun. As I noted last week, each of these programs will be presented multiple times. See the Cape Hatteras National Seashore website for the complete listing of all programs and their times, dates and locations.
Cape Hatteras is well known for abundant bird life, and the Morning Bird Walk on Ocracoke Island will acquaint you with the birds' beach and salt marsh haunts. All experience levels are welcomed. Binoculars will be provided if you don't have your own. Sunscreen and bug spray are recommended.
Ocracoke History delves into an incredibly rich cultural island history that includes Algonquian indians, pilots, fishermen, pirates, lifesavers, soldiers and more who played a part in the islands fascinating centuries-old story.
On Hatteras, join a ranger for Ocean Beach Explorers, a hands-on, activity-based exploration of the natural environments of the island's ocean side. Children 13 and younger must be accompanied by an adult, and all participants should come prepared to get wet. Water shoes are required; no flip-flops or Crocs. Bug spray and sunscreen are recommended.
The Outer Banks is the only place I have lived since leaving college in Blacksburg, Va., where people still regularly comment about the night sky. And that's because of the incredible, panoramic view afforded by the darkest night sky to be found east of the Mississippi River. The ranger-led Night Sky Over Hatteras program explains how mariners used stars to navigate before the days of GPS and radar and identifies constellations and other features of the nighttime sky. Bring blankets, chairs, bug spray and telescopes for this evening on the beach.
Night Life, another nighttime program encourages you to leave your flashlight in your pocket and join a ranger for a short walk along the tide line and the water's edge to search for glowing marine plankton and other night life and learn why protecting the dark of night is valuable to both people and wildlife.
While you're in the neighborhood...
The Graveyard of the Atlantic Museum, located in Hatteras Village just past the ferry docks, offers programming this week for both kids and adults. Sandcastles: Sea Crafts for Kids! is a free, hands-on craft-making program packaged with bits of maritime history for inspiration and education. Scheduled for Thursday, May 22 from 10:30 a.m. to 12 p.m., all ages are welcome and all necessary supplies will be furnished.
History buffs will appreciate author and local historian Drew Pullen's free presentation of Diving Deep: The Civil War on Hatteras Island on Friday, May 23 from 2 to 3 p.m. For more information about these or other programs, call (252) 986-2995 or visit the Museum website.
Arts and Crafts Festival
Outer Banks Woman's Club's 2014 Outer Banks Spring Festival of Art and Crafts combines the indoors with the outdoors this Saturday (from 9 a.m. to 5 p.m.) and Sunday (from 9 a.m. to 3 p.m.) as 45 vendors display a selection of art, jewelry and wood crafts at the Baum Senior Center in Kill Devil Hills, one block behind the Kill Devil Hills Post Office. While you're there, take in the beautiful grounds, complete with a butterfly walk and elegant sculpture.

Take me out to the ball game...
And, finally, baseball returns to Outer Banks summer evenings as the Outer Banks Daredevils take the field Monday, May 26 at 7 p.m. at First Flight Baseball Complex adjacent to First Flight High School in Kill Devil Hills. The Daredevils are one of six teams in the Tidewater Summer League, a NCAA- and Major League Baseball-sanctioned league offering collegiate players the opportunity to refine skills in a wood bat environment in preparation for pro level play. Players come from Division I, II and III as well as NAIA and junior college schools. Admission is $5/adults, $4/seniors and students and ages 12 and younger admitted free. Visit the Daredevils website for the full season schedule.

This week you have a chance to win a $35 gift certificate to Lee Robinson General Store & a $35 gift certificate to the Dolphin Den Restaurant!
For more information about Lee Robinson General Store, check out their Facebook page.
For more information about Dolphin Den Restaurant check out their website.
Last Week's Winner
Congratulations to Candace King!!!
You won a night stay with Oasis Suites Hotel and a surf lesson from Farmdog Surf School!
For more information about Oasis Suites Hotel, check out their website.
For more information about Farmdog Surf School check out their website.