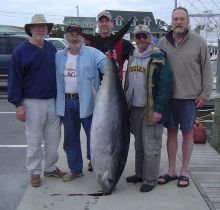 It's general knowledge that the Outer Banks's winter months are synonymous with the term "off-season." While this phrase sparks images of uncrowded roads and empty beaches, one Outer Banks activity that reels in its share of popularity is winter fishing.
Photo: Bite Me Sportfishing
Unless you have your own fishing boat and vast knowledge of these waters, chartering a fishing trip is the surest route to catching those biting beauties. Many of the Outer Banks charter fishing boat captains grew up on the Outer Banks, and they know these waters like the back of their hands. They and their mates know how to best position you for a successful fishing trip. And most of their boats come tricked out with the latest technology and gadgets, ranging from air-controlled cabins to flat-screened TVs that'll enhance your experience on the water. The number of charter fishing boats/captains offering trips and services certainly decreases during the off-season, but you'll still find some charters offering trips year-round.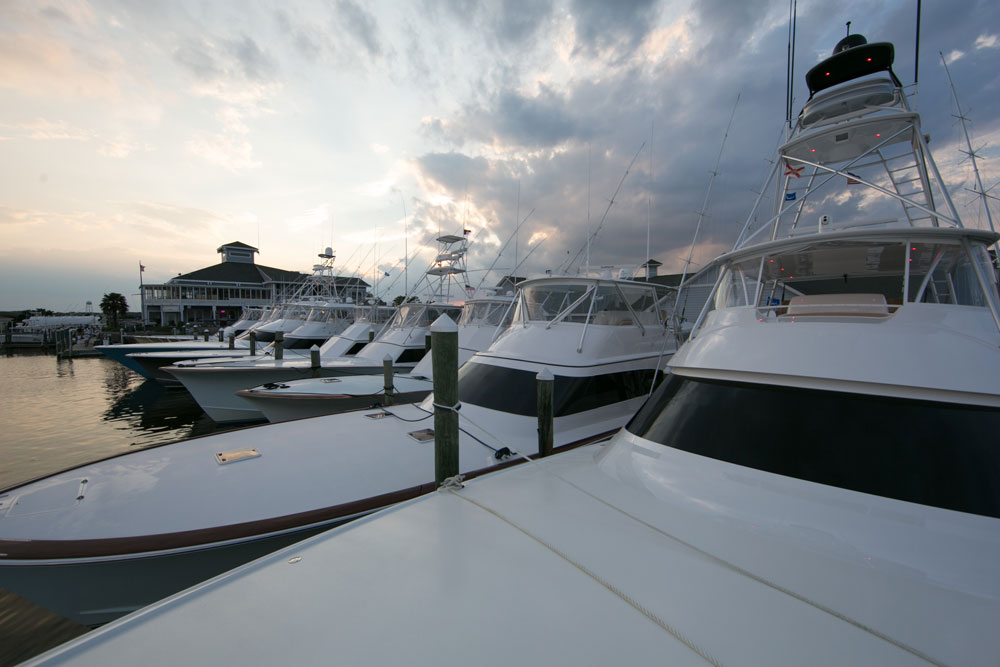 You'll find charter fishing boats docked in marinas in Wanchese, Manteo, Hatteras and Ocracoke. Many docks will also clean your fish for you, putting you in good shape to get home and fry up a fresh-catch dinner.
Photo at right: Pirates Cove Marina
Much of the appeal of Outer Banks charter fishing comes from these islands' proximity to the Gulf Stream. In a little over an hour, you'll find yourself in the Gulf Stream where the tuna reside pass through. Some charter fishing boats let you choose between half and full day trips, so you can pick the one that works best for your schedule allows (or however long you think you can brave the cold!).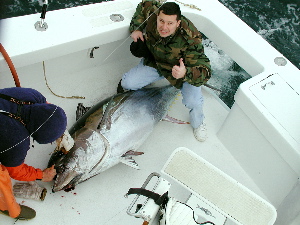 However, it's not necessary to travel far to find a fishing scene. In fact, many fishing charters in the winter hang closer to the shore. The colder temperatures draw the striped bass into shallower waters, where they hang around until April. They're most often found in the Lower Roanoke River and Albemarle Sound. If a striped bass is what you're after, be sure you're up to date on all the regulations for catching it. You can brush up on the guidelines here.
Photo at left: TW's Bait & Tackle
Spending a day on the water is a great Outer Banks activity for the weekend or an excuse for playing hooky from work or school. How will you know when it's a good time to get out on the water? Marina staff, charter boat captains and tackle shops post fishing reports, which include alerts of bad weather conditions, tuna activity and fresh catches from the day. Keep your eye on these reports and be ready to hit the deck at a moment's notice.
Photo at right: Phideaux Fishing Charters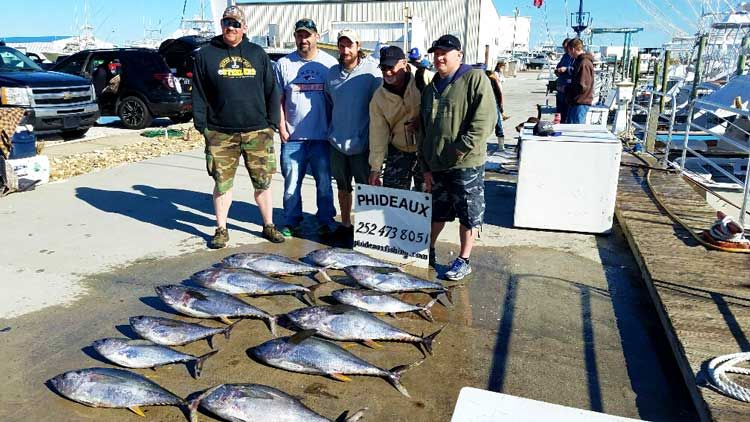 In addition to checking the fishing reports and weather conditions, be sure to check out our Coupons listings for some of the deals you can get when you take an Outer Banks charter fishing trip this winter.  
---
It's easy to hole up indoors and await the return of the summer months' warm weather and increased activities, but don't forget that winter fishing offers an opportunity for adventure, fresh air and a potentially delicious meal at the end of it all. If staying ashore is more of your scene, browse through our Daytime Events listings for other fun ways to fill your day. When you're ready for a little live music, dancing or trivia, our Nightlife listings guide you to evening entertainment happenings throughout the Outer Banks.