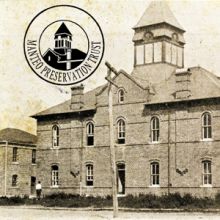 It's odd how memory works and how quickly we take for granted that the way a place appears today is the way it has always been. Those new to Outer Banks history often look in astonishment at old navigational maps showing misshapen islands and inlets where none exist today, pitying the ignorant old mariners who had tried to survive by those "faulty" maps. Of course, many of those maps were relatively accurate for their time, showing the islands and inlets as they actually existed then. It's our knowledge of the past that is faulty. I'm frequently struck by my inability to accurately locate the sites of old Outer Banks establishments I visited in person not so very long ago. Where, exactly, WAS The Carolinian located? Shortly after moving to the Outer Banks in the early 1990s, I discovered The Atlantis and enjoyed seeing a number of the great bands that routinely played the joint. And, yet, I can stand in the middle of the Beach Road today and...not a clue.
The old Dare County Courthouse in downtown Manteo is another example. It still stands, of course, looking for all the world like the quaint old turn of the last century structure it is. Today it houses the Dare County Arts Council gallery and offices and has become the cultural center of the town. Locals and visitors pass by it and through it year round, admiring its continued presence and value to the community, often while viewing the latest awe-inspiring art or listening to talented musicians performing under the shelter of its white-columned, two-story front porch. But how many folks remember that the courthouse once boasted an impressive belfry? And chimneys? And attic windows?
It's true. The courthouse's original belfry, chimneys and windowed gables existed from 1904 until damage from the violent Hurricane of 1933 caused them to be removed. But, while the chimneys and attic windows might be gone forever, the Manteo Preservation Trust has plans to restore the belfry to the courthouse as part of an effort to gain National Historic Site status for the structure. The support structure and the original bell still exist in the courthouse's attic space. The Manteo Preservation Trust has committed to paying half of the projected $38,500 cost, with the remainder acquired through a grants and fundraising. It is hoped that the work can be contracted in January and finished in time to help the Dare County Arts Council and the County of Dare celebrate the long awaited re-opening of the second floor of the old courthouse in May.
And that's where you can help! Donations in any amount may be mailed to Manteo Preservation Trust, P.O. Box 234, Manteo, NC 27954. For more information contact Bebe Woody, MPT Chair at bebewoody@whitedoeinn.com or Sarah Benson, MPT Vice-Chair at sandr@aol.com. Manteo Preservation Trust is a nonprofit 501(c)(3), and donations are tax-deductible in accordance with the tax laws. For more information on Manteo Preservation Trust visit their Facebook page.
The NC Aquarium Never Slows Down
The North Carolina Aquarium on Roanoke Island keeps thing in high gear in 2014 with a multitude of diverse programs and activities. Those mischievous, playful otters take center stage in the Otter Quarters Tour and Happy Otter Hour programs. The Otter Quarters Tour takes you behind the scenes to view enrichment toys, otter snacks and the living quarters of these aquatic mammals.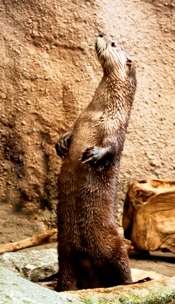 During the Happy Otter Hour program you'll learn about otter behavior and biology while you design an enrichment toy to be shared with the otters while you watch! The Aquarium's Shark Tank Tour includes a visit behind the 285,000-gallon Graveyard of the Atlantic Exhibit, a peek into the dive locker and the out-of-site holding tank, plus an overhead view of the tank, the largest exhibit in the Aquarium. The Lights Out at the Aquarium Tour answers the question of what the animals do when night falls and the lights go out. While on this guided tour you'll see the animals as they appear and behave after dark and have an opportunity to test your own ability to "go nocturnal" with interactive games. Consult the Aquarium website for dates, times, prices and recommended ages for these and other activities and programs.
After Dark Classes Benefit Residents and Local Charities
Each year we look forward to Southern Shores' All Saints Episcopal Church brightening the wintry doldrums with its After Dark at All Saints educational programming. Now in its fifth year, the After Dark program features a variety of classes (more than 70 in all!) for all ages and interests, ranging from cooking how-tos, crafts and hobbies to flowers and plants, health and fitness, and general interest topics from artisanal cheeses to dog training to history and foreign languages. All proceeds go to benefit local charities. Registration is ongoing, and classes will begin Monday, Feb. 3 through Thursday, Feb. 27. Base prices are $20/per class with some classes requiring additional fees for supplies or other educational materials. A complete course listing and registration form are available at the All Saints website. Registration forms can be dropped off Monday through Friday from 9 a.m. to 4 p.m. at the All Saints Episcopal Church office at 40 Pintail Trail in Southern Shores. For more information call (252) 261-6674 or e-mail allsaints@allsaints-eastcarolina.org.
History
Civil War buffs and fans of Outer Banks history will want to visit the Graveyard of the Atlantic Museum in Hatteras village Friday, Jan. 10 from 2 to 3 p.m. for Civil War Shorts, an entertaining and informative presentation given by local historian Drew Pullen about Hatteras Island's Civil War experience. Pullen is the author of The Civil War on Hatteras Island and The Civil War on Roanoke Island. Both books will be available in the Museum's Meekins Chandlery Gift Shop, and the author will be happy to autograph copies for attendees. The program will be repeated Friday, Jan. 17 from 2 to 3 p.m.
Friday, Jan. 10 is the last day to submit work to the Outer Banks History Center's 25th Anniversary show - An Eye for Art, a Heart for History - that will run from the free opening reception Friday, Feb. 28 at 5:30 p.m. through the show's closing on Dec. 31, 2014. Attendees of the opening reception will be eligible to vote for the People's Choice Award. Submitted works can be 2- or 3-dimensional and do not have to be recent creations. However, they must be available for sale. The entry fee is $25 for up to 3 works, and $1,200 in awards will be distributed.
C is for Cookie!
We can all begin channeling our inner Cookie Monster on Saturday, Jan. 11 when the local Girl Scouts initiate their annual door-to-door order taking tour as part of the 2014 Girl Scout Cookie Program. At just $3.50 per box, who can resist? And why would you?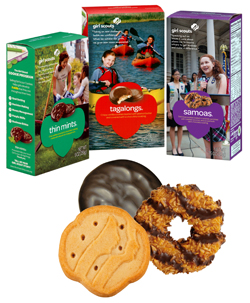 It should be noted, however, that the program is about far more than putting cookies in the hands of those of us who crave them. It turns out that the Cookie Program is the nation's leading financial literacy and entrepreneurial program for young girls, teaching five skills necessary for leadership: goal setting, decision making, money management, people skills and business ethics. Cookie delivery from door-to-door sales begins Feb. 20 with cookie booth sales beginning February 23. What if you can't find a cookie booth? Never fear, the Cookie Locator app is available for download from the iTunes Store and the Android Marketplace. Ah, technology, isn't it sweet? Yes, it is...especially if you enjoy it with milk and cookies!
Wedding Expo
The Outer Banks is considered one of THE East Coast wedding destinations, and the 2014 Wedding Weekend & Expo is your opportunity to see why. The Expo, held at First Flight High School in Kill Devil Hills, will feature wedding and reception venues, caterers and restaurants with food samples, various hospitality industry and wedding vendors, and entertainment providers for three days: Friday, Jan. 17 from 11 a.m. to 4 p.m.; Saturday, Jan. 18 from 9 a.m. to 5 p.m.; and Sunday, Jan. 19 from 9 a.m. to 3 p.m. Tickets are $20/person and can be purchased through the Wedding Expo website. If you're inland considering the Outer Banks for your destination wedding or a local planning the wedding of your dreams, the Wedding Expo should be your first stop.
Taste of the Beach Tickets
Tickets are currently on sale for 2014 Taste of the Beach events and must be purchased for each individual event that you wish to attend. Visit the event website for a complete list of events and to purchase tickets.