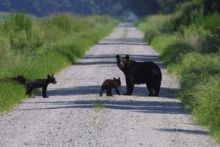 With gas and food prices soaring, the cost of vacationing has undeniably gone up this summer. But that doesn't mean you can't have any fun. Some of the best things to do on the Outer Banks are free, as you're about to see.
Photo: Bear watching at Alligator River National Wildlife Refuge, courtesy Alligator River National Wildlife Refuge.
The Beach
This one might seem obvious, but in many other beach towns on the East Coast, parking at beach accesses is definitely not free. Here on the Outer Banks, from Corolla to Ocracoke, beach access parking is completely free. As in, not one parking meter in sight, and that's something to appreciate. (Keep in mind that beach-going in your vehicle north of Corolla and in Cape Hatteras National Seashore does require a permit, so that's not free.) Access to the sound is free as well, but parking is more difficult to find. One good place to find soundside parking is on the north end of Roanoke Island at the west end of the old Manns Harbor Bridge. Next to the N.C. Aquarium on Roanoke Island, there's also parking at the Old Swimming Hole. Another good beach with a soundside feel (but it's technically ocean) is on the south side of the Basnight Bridge over Oregon Inlet. Park in the parking lot near the old Life-Saving Station, and you'll find a nice cozy cove with calm water.
Wildlife Watching
Alligator River National Wildlife Refuge, on the Dare County mainland about 15 minutes from Manteo, is a hotspot for viewing wild black bears. The refuge is home to hundreds of bears, and if you drive the refuge roads around dusk, you can usually spot them out in the refuge fields or walking along the roadsides. There is no charge to enter the refuge. The refuge staff also offers a free Bear Necessities program. Other wildlife you could possibly see includes bobcats, otters, birds and, if you're really lucky, the elusive endangered red wolf. On the way to the refuge, keep your eye on the ditches and creeks by the U.S. Highway 64 roadside as alligators are sometimes spotted there. If you take the Highway 264 route to the refuge, you have a better chance of seeing an alligator in the creeks.
Like Alligator River National Wildlife Refuge, Pea Island National Wildlife Refuge on Hatteras Island is full of wildlife and free to visit. If you enjoy birding, this is a great place to go, especially at dawn or dusk. Park at the visitors center on N.C. Highway 12 and walk around North Pond trail, and you'll definitely spot a wealth of birdlife.
One of the most popular wildlife-watching activities on the Outer Banks is wild horse watching. This is best done on a guided tour, but you can do it for free – only if you have a 4WD vehicle. If you do, you can drive north of Corolla onto the sand beach and onto the backroads behind the beach to look for wild horses. Remember that feeding, interacting, harrassing or getting within 50 feet of a wild horse is illegal. Even apples and carrots can be deadly to the horses, so don't try to lure them closer with food. Make sure you deflate your tires and that you brush up on the tips for driving in sand. Make sure not to stop your car on the beach – if you want to park and hang out on the beach, you'll need a permit. But driving up there is free.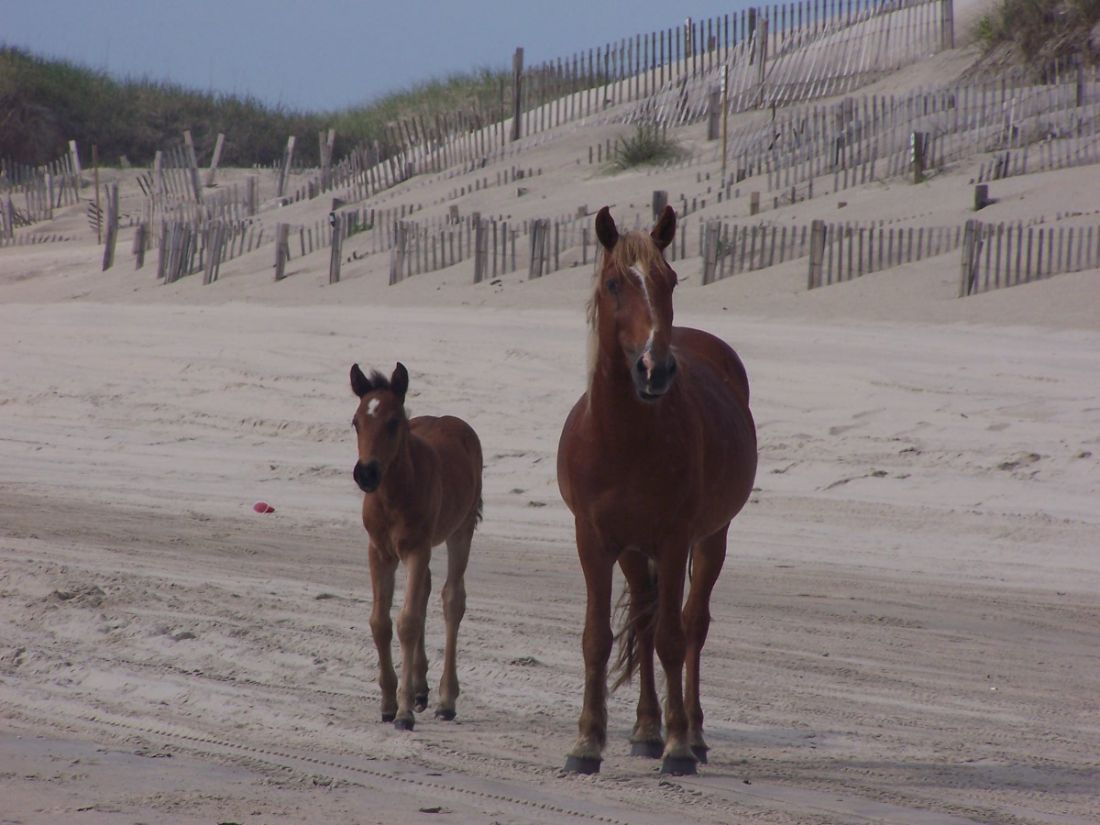 Photo: Wild horses on the beach north of Corolla, courtesy of Corolla Wild Horse Fund.
Outdoor Yoga & Fitness Classes
There are several opportunities for free outdoor yoga or fitness on the Outer Banks this summer.
Yoga with a Lifeguard
Duck Town Park, Duck
Mondays, 7 a.m.
Yoga in the Park
Dowdy Park, Nags Head
Tuesdays, 7:30 a.m.

Namaste at the Beach
Jennette's Pier, Nags Head
Tuesdays, 7:30 a.m.
Yoga on the Green
Duck Town Park, Duck
Tuesdays, 7:30 a.m.
Dynamic Flow on the Green
Duck Town Park, Duck
Wednesdays, 7:30 a.m.
Namaste on the Sound
North Carolina Aquarium on Roanoke Island, Manteo
Wednesdays, 5:45 p.m.
Yoga at Historic Corolla Park
Corolla
Thursdays, 7 a.m.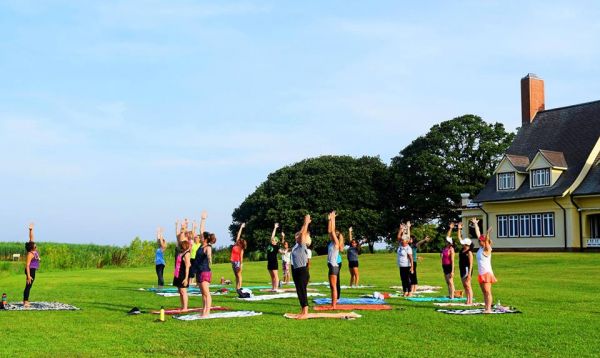 Photo: Free yoga on lawn in Historic Corolla Park, courtesy of Whalehead in Corolla.
Attractions
A few of the Outer Banks attractions are free to visit.
In Corolla, Outer Banks Center for Wildlife Education and Currituck Maritime Museum do not charge admission. Explore these two neighboring attractions, then spend some time in Historic Corolla Park and Historic Corolla Village. In the village you'll find the Corolla Wild Horse Museum, also with free admission.
It's totally free to visit Jockeys Ridge State Park in Nags Head. You can tour the museum and visitors center, then climb on the giant sand dunes. Kids love rolling or sandboarding down the hills, and it's just fun to hike around and enjoy views of the sound or ocean. Sunset is a very popular time to visit for good reason. The sand is not so hot, and the views of the sun setting over Roanoke Sound are incredible. Nags Head also has Jennette's Pier on the oceanfront, where you can see their small aquariums full of fish. It costs a couple of bucks to walk on the pier, but it's worth it.
On Roanoke Island, it's free to visit Fort Raleigh National Historic Site to learn about the history of Roanoke Island. Across the road, you can visit the family-friendly National Wildlife Refuges Visitors Center to learn about the 11 refuges in northeastern North Carolina. In downtown Manteo, you can visit Roanoke Island Maritime Museum and Roanoke Marshes Lighthouse for free. Just across Highway 64 you can visit Pea Island Cookhouse Museum Tuesday, Wednesday and Thursday to learn about the history of the Pea Island Life-Saving Station and the only African American keeper and crew in the history of the U.S. Life-Saving Service.
Just south of Nags Head, a nice treat is to tour the Bodie Island Lighthouse site. It costs money to climb the lighthouse, but you can visit the museum and explore the nature trails on the site for free. And this is a great location for snapping photographs. If you go at dusk, you'll see deer walking amongst the pine trees as you drive down the road toward the lighthouse – always an exciting sight for kids.
On Hatteras Island, it's free to visit the Graveyard of the Atlantic Museum, which chronicles maritime history and shipwrecks on the Outer Banks. Another fun freebie on Hatteras is a free ferry ride across Hatteras Inlet to Ocracoke Island. The car ferry trip is completely free, but the passenger ferry has a small charge.
On Ocracoke Island, it's free to go to the Ocracoke Preservation Society Museum as well as the Ocracoke Lighthouse grounds, the Ocracoke Pony Pens and Springers Point Nature Preserve.

Graveyard of the Atlantic Museum in Hatteras is the place to learn about the maritime and shipwreck history of the Outer Banks, courtesy of Graveyard of the Atlantic Museum.
Free Live Music
The Town of Duck offers free Concerts on the Green in Duck Town Park on Thursdays at 6:30 p.m. Coolers, picnics and leashed pets are welcome; bring your own seating.
If you're going out to dinner (which is obviously not free), you can always pick a place that offers live music as a bonus. A lot of local restaurants, breweries, wine bars etc. have live music outdoors or in the bar for customers to enjoy while they wait for a table or while they dine. See our extensive list of places to see free live music here.
Family-Friendly Programs
The Town of Duck has free family programming in Duck Town Park on many weekday mornings – story times, magic shows, nature programs and more. See the calendar here. 
Cape Hatteras National Seashore offers free family-friendly programs with a ranger. You can do things like crabbing and surf fishing or learn about turtles, lighthouses, the Ocracoke ponies and more. See all the events here. 
Here's to some of the free things in life! For more ideas on what to do while you're on the Outer Banks, see our Daytime and Nightlife pages.