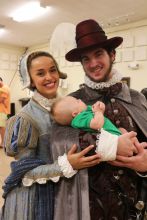 Various figures and objects play into the images of the Outer Banks towns we see today. Whether it's Blackbeard for Ocracoke, the Wright brothers for Kill Devil Hills or Virginia Dare for Manteo, the towns welcome them as part of their history and continue to wrap these characters into the cultures they present today. This week you'll find events that celebrate people and things that played a vital role in the formation of Outer Banks towns' heritages. Check out these events and activities to understand why these towns get so excited over people, fruit and music.
Photo: Live babies will perform in The Lost Colony on Friday, August 18.
Virginia Dare's 430th Birthday 
430 years ago this Friday, Virginia Dare, the daughter of lost colonists Eleanor and Ananias Dare, became the first English child born in the New World. Celebrate her birthday on Roanoke Island on Friday, August 18. In addition to reducing the admission price for the day to $4.30 for adults and free for children, The Elizabethan Gardens will have activities including a Virginia Dare Birthday Plant Clearance (take 30% off your favorite leafy beauties in the greenhouse), a Southern picnic lunch on the Great Lawn starting at noon, ice cream and birthday cake and much more. Younger visitors are designated as "Roanoke Explorers" and can learn about their surrounding ecosystem in the special programs. This event lasts all day on Friday.
The National Park Service and Roanoke Island Historical Association will host Virginia Dare Faire in Fort Raleigh National Historic Site (near the entrance to The Elizabethan Gardens) from 10 a.m. to 1 p.m. The festival is free and includes cast members from The Lost Colony, games and activities, photo opportunities, entertainers, music, treats and much more.
On Friday night, The Lost Colony will stage its special annual Virginia Dare Baby Night, with live babies playing the role of Virginia Dare and other special festivities.
Photo: Virginia Dare statue, The Elizabethan Gardens
Ocracoke Fig Festival
Ah, the fig. That sweet, tender, bulbous fruit was introduced to Ocracoke Island 200 years ago. Today nine varieties of them can be found on the island, and the Ocracokers hold the fruit dear to their identities and local culture. From secret recipes for the preserves to the largest fig tree, it should come as no surprise that figs play a role large enough to merit a festival. This year's Fig Festival will be held on Friday night and all day Saturday, August 19, in Ocracoke Village. Learn about the history of figs, and check out the booths for fig tastings, a fig cake bake-off, crafts and games. Don't forget to bring your dancing shoes too for an Ocracoke square dance with music provided by Molasses Creek. The Fig Festival's events are free and open to all. Come out and let Ocracokers convince you why figs are fun.
Outer Banks Summer Send-Off
Bearded Face Productions and Outer Banks Visitors Bureau are sponsoring the OBX Summer Send-Off music festival to benefit the Mustang Outreach Program, which encourages the pursuit and development of music and cultural art in Dare County and Currituck County schools. Join four bands (JJ Grey and Mofro, The Record Company, Travers Brothership, and Ruth Wyand and the Tribe of One) and local vendors at Roanoke Island Festival Park on Wednesday, August 23, from 3 to 10 p.m. for a rockin' good time. With bands hailing from all around the region, you'll listen to some killer tunes while checking out local vendors selling arts and crafts and munch on food and brews provided by the area's restaurants. Bring a chair, blanket or tarp to sit on, and just enjoy the music, the company and the breeze off of the water. Children ages 12 and younger receive free admission to this event, and adults can purchase tickets and register for parking here.
Photo: JJ Grey and Mofro, Facebook
---
That's not all that's happening on the Outer Banks this week. Try your hand at various competitions and tournaments or sample the foodie opportunities listed in our Daytime Events listings. For live music, dancing, karaoke, comedy and more, our Nightlife listings tell you where the parties (both lively and laidback) are always happening.