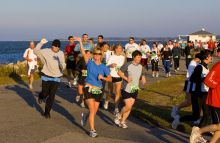 When I look at this selection of events, it becomes apparent to me how many of them reveal wonderful qualities that are vital to this nation's identity: the arts, sports, history, service, the fusion of cultures and, most importantly, community. America prides itself in being somewhat of a melting pot of people and cultures, and similarly this week's events, when combined together, make a melting pot of a dish you won't want to pass up.
Rotating Art Show: Fiber Guild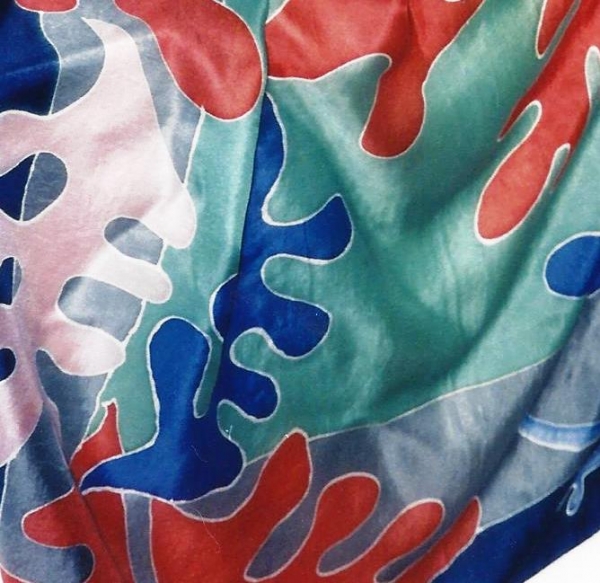 In case you haven't heard, the Town of Duck Wall Décor Committee (yes, this is actually a committee!) is starting a series of art shows at Duck Town Hall. Appropriately called the Rotating Art Shows, this series features a new artist/exhibit on a rotation each week. This week you can marvel at creations and displays by the Outer Banks Fiber Guild. The exhibit showcases years' worth of work by members of the guild using fibers' colors, textures and designs to craft works of art. If you love art with every fiber of your being, swing by Duck Town Hall's first floor conference room anytime between 9 a.m. and 4 p.m. this week. This event is free and open to the public.
History Teas: Pirate Tea, Tour and Talk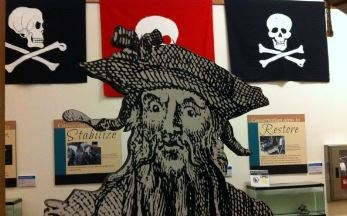 I have a professor who emphasizes the importance of gustatory learning, or building a lesson around food. What's not to like? You, too, can find a something similar at the Graveyard of the Atlantic Museum this Thursday with their Pirate Tea, Tour and Talk. This event is part of the museum's History Tea series, and it builds this session around the anniversary of Blackbeard's death in November of 1718. The exhibit features artifacts from the Queen Anne's Revenge that you can view while enjoying food that might've been eaten during this infamous pirate's era. And if you want to make it really authentic, come dressed in your finest 1700s garb. The Pirate Tea, Tour and Talk is from 5:30 to 7:30 p.m. on Thursday. It's free to attend, but make sure you call (252) 986-2295 in advance to reserve a space.
Outer Banks Veterans Week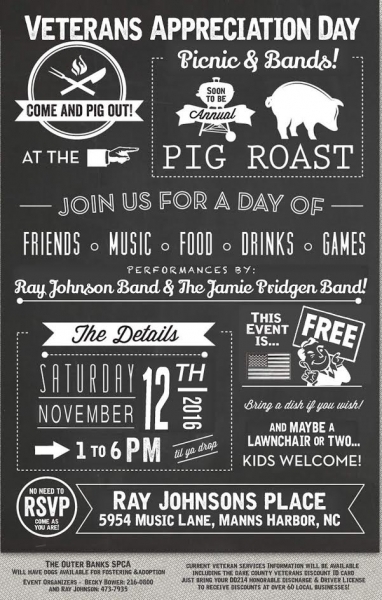 Take the time this week to remember and honor those who served or are serving our country with the Outer Banks Veterans Week. This "week" (which actually spans over 11 days) you'll find events all over the Outer Banks leading up to Veterans Day, when every town honors service members in their own way. From art festivities to concerts, there's a little bit of everything. The events conclude with the Veteran's Appreciation Day Picnic at Ray Johnson's place in Mann's Harbor. Complete with live music from the Ray Johnson Band and the Jamie Pridgen Band, it's a day of food, friends and appreciation. To learn more about the other events, visit the Outer Banks Veterans Week website.
The Dining Room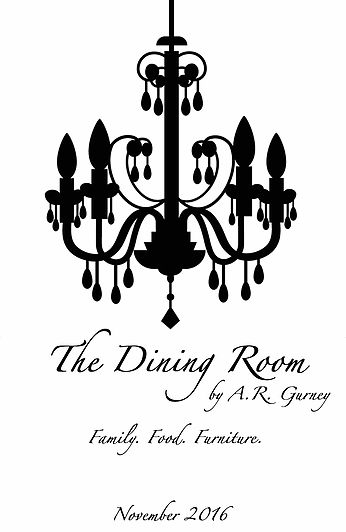 Daylight Savings has begun, and the days are suddenly much shorter. What are you going to do in all of those nighttime hours? Why not spend the evening being entertained by the Theatre of Dare's newest production: The Dining Room. This play, written by A.R. Gurney, examines the vanishing society of upper middle-class WASP, all through a single set, a dining room. As the story unfolds, actors flex their thespian muscles by portraying a variety of different characters that bring something new to the plot. Performances of The Dining Room will be held at the COA auditorium on Friday and Saturday at 7 p.m. Ticket prices range from $6-$11 and can be purchased here.
Festival Latino De Ocracoke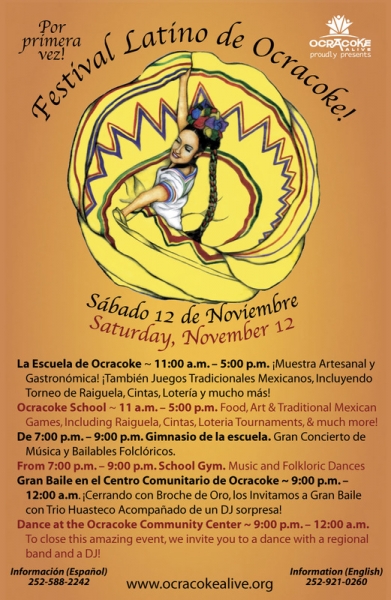 Experience and celebrate Latino culture at the annual Festival Latino De Ocracoke happening this Saturday. This festival features events happening around Ocracoke Island, and you're invited to appreciate Mexican food, dance, music and games. Taste how the food differs between the east and west coasts and listen to the regional distinctions in the music. The first round of festivities focuses on food, art and traditional Mexican games like Raiguela, Cintas and Loteria tounraments, all of which you'll find at Ocracoke School from 11 a.m. until 5 p.m. Afterward, slip on your dancing shoes and head to the school gym for music and folk dances from 7 until 9 p.m. Finish off the festival with a dance at the Ocracoke Community Center from 9 p.m. until midnight. The Festival Latino De Ocracoke's events are free and open to the public, but donations are appreciated.
The Outer Banks Marathon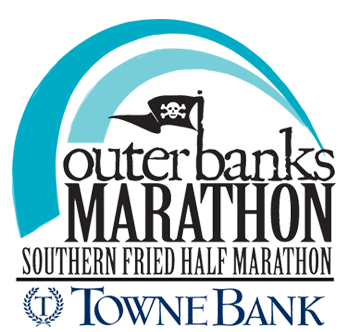 It's that time of year again — the time that runners all over the Outer Banks have been preparing for: the Outer Banks Marathon and Southern Fried Half Marathon. This weekend-long event begins Saturday with the Outer Banks 8K, Buccaneer 5K, Family Fun Run and the Diaper Dash. These events are fun for runners of all ages and levels. The races will be held at First Flight High School's track, and the 8K and 5K courses will include off-campus terrain. After the run, check out the fun and games happening around the track.
On Sunday put your months of training to the test with the Outer Banks Marathon or the Southern Fried Half Marathon. The Marathon is a Boston qualifying race, and the first wave of competitors begins at 7:20 a.m. The course starts on the Woods Road in Kitty Hawk, and runners must make it over the Roanoke Sound bridge before 1:30 p.m., at which time it will be re-opened to motorists. The Southern Fried Half Marathon's course leads from Jockey's Ridge State Park to Manteo's waterfront. The half marathon lasts from 7 to 11:30 a.m., and the runners will start in waves. If any of these events have you ready to lace up your running shoes, register now on the event's website.
---
For more information about other happenings this week, be sure to check out our Daytime Events listing. There are lots of activities to enjoy including exhibits, tours and gatherings. When you're ready for a little after-dinner entertainment, our Nightlife listings direct you toward live music, trivia nights and more at local restaurants and businesses.