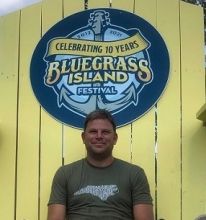 This week bluegrass fans are descending on Roanoke Island for the 10th annual Bluegrass Island Festival. With a lineup of acclaimed regional and national musicians, people are coming from all over the country not only for the music, but also for the amazing island setting at Roanoke Island Festival Park.
Roanoke Island Festival Park, which is actually on a 22-acre island just across from the Manteo waterfront, is a fantastic setting for a festival, with plentiful parking, a lush and spacious lawn for seating, a beautiful covered stage for the bands and amazing views of Roanoke Sound just beyond the stage. The musicians love playing at Roanoke Island Festival Park as much as the attendees enjoy watching them.
With attendees staying in Manteo and side events happening around town, the festival spills over into Downtown Manteo, giving the whole town a lively energy. Downtown Manteo has so much to offer all the festival attendees and performers, making it the perfect festival town – accommodations within walking distance of the event, shops, restaurants, a brewery, a distillery, a wine bar, activities, attractions and more.
Cory Hemilright, the event's organizer (pictured above), started the festival as a sort of passion project where he played on his dream of bringing bluegrass music to the Outer Banks. Cory grew up locally with bluegrass roots. As a child he listened to his grandfather's banjo music on the back porch of his house, and later when he lived in Bristol, TN, bluegrass musicians visited his cabin to sit for a spell and share some music. He missed the mountain music when he moved back to the Outer Banks and thought that the style could find an unexpected but successful home here by the beach.
His plans for the first year were for a humble daylong event, but then bluegrass star Rhonda Vincent became interested in performing at the festival and things blew up from there. That first festival turned heads in the bluegrass world, bringing in more big names and even bigger audiences with each consecutive year. It has experienced a rapid rise in popularity in the past nine years and now holds a reputation as one of the premier bluegrass festivals in the country.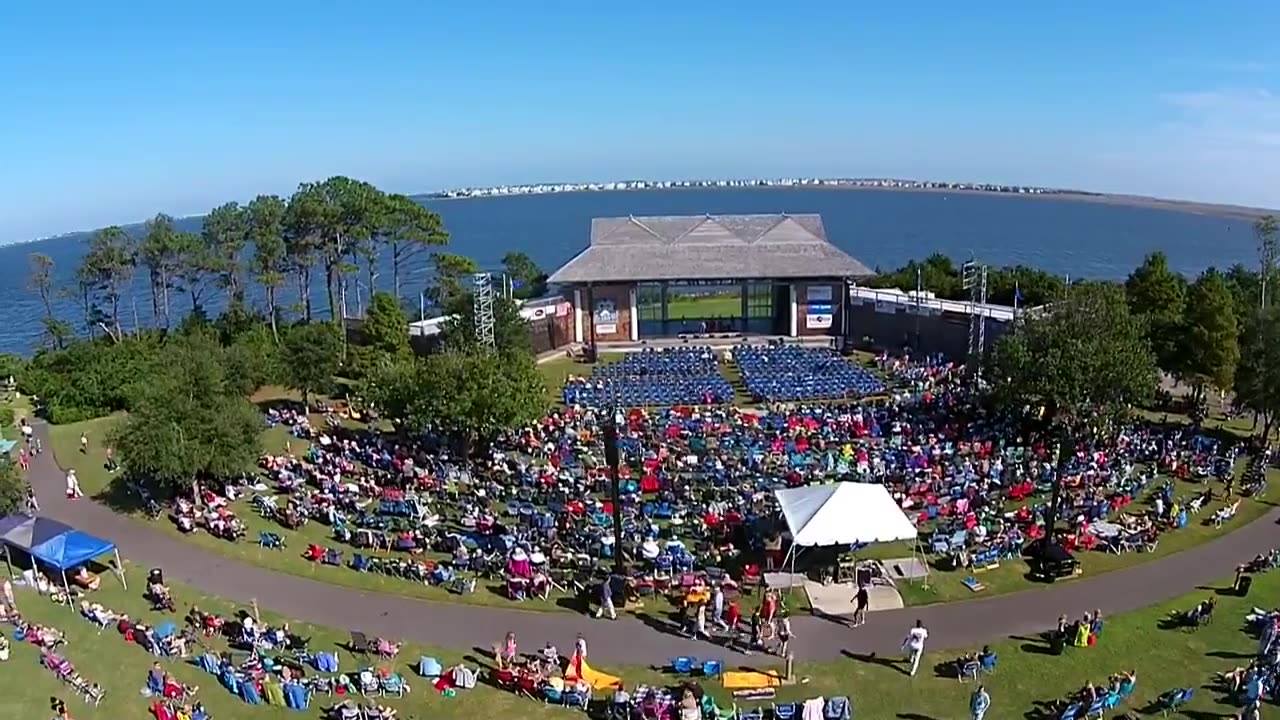 Photo: Roanoke Island Festival Park during Bluegrass Island Festival. This photo and top photo of festival founder Cory Hemilright courtesy of Bluegrass Island Festival's Facebook page.
Music lovers eagerly anticipate Bluegrass Island Festival's annual return to Roanoke Island Festival Park, where they enjoy the talents of regionally and nationally renowned bands against the breathtaking backdrop of the Shallowbag Bay. Hemilright calls it Mountain Music By the Sea. It's not just local bluegrass fans who get excited, though. Bluegrass Island Festival is known to attract music lovers of all genres from around the country and some from around the world. With great music by talented musicians in a beautiful setting, you don't have to be a bluegrass aficionado to appreciate what these musicians are putting out there. 
One of the big-name acts at this year's festival is Appalachian Road Show. The group was named 2021 International Bluegrass Music (IBMA) Association New Artist of the year and Instrumental Group of the Year, and members of the group have won numerous Grammy and IBMA awards. They're playing the festival on Saturday evening.
The festival kicks off on Thursday, October 21 at Bluegrass Island Trading Company, the festival's home base and a year-round store at 107 Budleigh Street. At 12:30 p.m. under the nearby Magnolia Pavilion, there's Bluegrass Bingo. At 3:30 p.m. there's a Bluegrass Island Cruise on Crystal Dawn, but it's sold out. At 6 p.m., Sideline will play for free on the lawn by the pavilion.
The main festival is held Friday, October 22 and Saturday, October 23. On site at Roanoke Island Festival Park, you'll find food vendors offering seafood, tacos, burgers, vegan and vegetarian, sweets and a lot more. Beer and wine will be for sale on site, but you can't bring your own coolers and food. Indoor restrooms are available on site. 
Here's the lineup for this year's festival:
Schedule: Friday, October 22
12:45 p.m. Backline
2:30 p.m. Amanda Cook
4:15 p.m. Sideline
6 p.m. The Dillards
7:45 p.m. Rhonda Vincent & The Rage
9:30 p.m. Scythian
11:30 p.m. Late Night Jam with Sideline behind Tranquil House Inn in downtown Manteo (bring your instruments)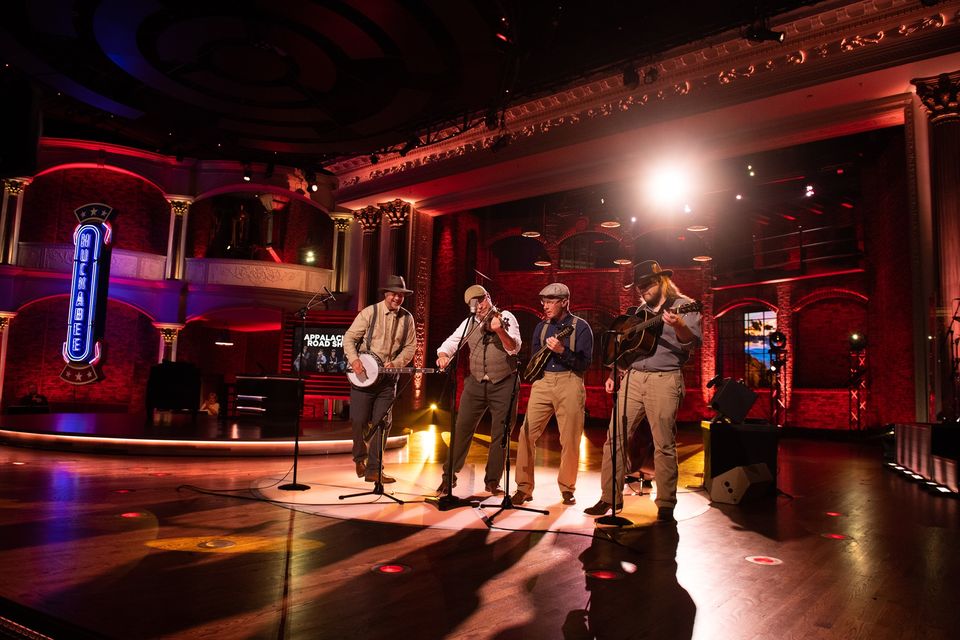 Appalachian Road Show will perform at Bluegrass Island Festival on Saturday night. Photo courtesy of Appalachian Road Show's Facebook page.
Schedule: Saturday, October 23
10:30 a.m. Corn Hole Tournament
11 a.m. Deeper Shade of Blue
12:45 p.m. Larry Stephenson Band
2:30 p.m. Blue Highway
4:15 p.m. Lonesome River Band
6 p.m. BooGrass – Costume Contest and Pumpkin Carving Contest with prizes
7:45 p.m. Appalachian Road Show
9:30 p.m. Sideline
Tickets
Tickets for this event sell fast, but there are some remaining. You can buy a two-day ticket for $110 or a Friday-only or Saturday-only ticket for $55. VIP tickets are available, which include a festival pass, reserved seating in a reclining Adirondack chair, preferred parking and a VIP BBQ Shindig on Thursday, but as of this writing there were only a few VIP tickets left. A few Backstage VIP Passes were also available, which include on-stage seating, backstage access, snacks, preferred parking and the VIP BBQ Shindig.
Tickets are already on sale for the 2022 event, set for October 20 to 22.
For more information, visit bluegrassisland.com.