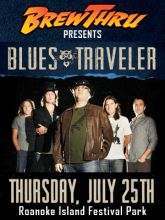 The Outer Banks will be the site of a major musical treat this summer when Brew Thru presents Grammy Award-winning band Blues Traveler at Roanoke Island Festival Park Amphitheater in Manteo on Thursday, July 25. Joining Blues Traveler at one of the East Coast's most beautiful outdoor venues will be special guests The Pat McGee Band and Matt McGuire & The Wilders. Tickets are on sale now and can be purchased at any Brew Thru location or online at the Brew Thru website. Adult tickets are $30 in advance, $35 at the gate. Tickets are $20 for children age 7 to 12. Gates open at 5 p.m. A sell-out is expected, so make sure to get your tickets today!
Famous for their electrifying live shows, Blues Traveler's Outer Banks appearance is part of a summer tour in support of their 11th studio album, Suzie Cracks the Whip. In the 18 years since the Grammy-winning single "Runaround" became the longest-charting single in the history of the Billboard charts, Blues Traveler has recorded a number of additional hits (including "Hook," "Carolina Blues," "But Anyway" and "The Mountains Win Again"), created a string of gold and platinum albums and tour extensively, playing an average of 250 live shows a year. Blues Traveler has long been known for their artful use of segues, multiple song mash-ups and extensive instrumental jams in their live performances.
The band is excited about the new music on Suzie Cracks the Whip, which guitarist Chan Kinchla calls "the best all-around record we've made since Four...It was a loose, fun atmosphere, like a songwriting party. That energy shines through in the music."
Blues Traveler's one-time tour mates, Virginia's own Pat McGee Band, will contribute another energetic punch of quality musicianship and great songs. Leader Pat McGee has been writing, recording and touring relentlessly since the mid-1990s and has built a loyal fan base on the strength of dynamic, crowd-pleasing live performances. Says McGee, "There's nothing like connecting with your audience. Live performance is king and should be respected more than anything you do in your career." McGee recently released his latest album, No Wrong Way to Make It Right.
Bringing a soulful and eclectic jam band tone to the stage will be Outer Banks favorite Matt McGuire (who recently opened for Rusted Root) performing with local musicians The Wilders (Kevin Roughton, Stephan Carbocci, Jacob Richardson and Doug Dino). McGuire, a hugely talented guitarist and vocalist, has a large and dedicated local following and plays the Outer Banks regularly, both with bands and as a solo artist. McGuire's recent performances with The Wilders have become the stuff of local legend, featuring some of the best live music to be heard on an Outer Banks stage.
Philip Foreman, president of Brew Thru, is extremely excited about the potential of this concert as the first stepping stone to a full concert series in 2014. "The ability to attract big name musical acts to an exceptional venue like Roanoke Island Festival Park is something that Outer Banks locals and visitors alike have sought for years," says Foreman.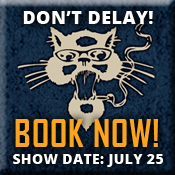 This may well be the summer's signature musical event. Don't miss it! Get your tickets today at your nearest Brew Thru location or online at the Brew Thru website.
This event is made possible by Brew Thru, Outer Banks This Week, Beach 104, WVOD 99.1 The Sound, Classic Rock 104.9/92.3, Roanoke Island Festival Park and Friends of Elizabeth II.