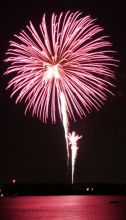 Phenomenal! Bruce Hornsby and The Noisemakers put on one of the best shows I've seen in a long, long time. From the stagecraft to Hornsby's highly literate songwriting to the talents of the individual band members to the sound mix, there simply was no weak link in their performance during the first of the season's Brew Thru Live summer concerts. The Pat McGee Band put on an upbeat, high energy gig that exceeded the high expectations raised by their impressive performance as openers for Blues Traveler last summer. Their set just blew by! And the openers...ChessBoxer...A-maz-ing! I'm still not sure how that much fantastic music came from a mere fiddle/banjo duo. Virtuoso stuff.
On par with the talent onstage was the venue itself. I do not know what specific intentions the park's original designers had for the space, but a concert like last night's show on a balmy spring or summer evening is EXACTLY what this venue was built for, whether the designers intended it or not. As the evening progressed and the sky turned from blue to violet to deep purple, it became difficult to imagine a more perfect venue for a concert. When the sun set behind billowy clouds and stars began to twinkle and blaze overhead, the musicians onstage were silhouetted against the incomparable Outer Banks backdrop of the Roanoke Sound, mirroring the sunset sky above. Later, after daylight had fully faded to night, a squadron of small boats, running lights a-glimmer, provided an on-the-water counterpart to the audience on the island side of the stage.
Awe-inspiring musicianship, a gorgeous night, a beautiful venue and all shared with good friends. Last night was about as good as it gets...Which is to say, pretty near perfect!
This, then, is your cue to get tickets for the next two shows of the Brew Thru Live summer concert series, both of them coming right on the heels of the Fourth of July weekend. On Thursday, July 10 the Festival Park stage hosts the band Live with special guests Cracker and Formula followed by The Gin Blossoms with special guests The Spin Doctors and Scars on 45 on Thursday, July 17. Live, Cracker, The Gin Blossoms and The Spin Doctors racked up a lot of hits between during the 1990s (the alt-rock band Cracker, formed by former Camper Van Beethoven frontman David Lowery, remains one of my favorites to this day). A simple Google search of any of these bands delivers a stunning array of memorable songs that blanketed 1990s radio. So, don't wait to get your tickets. Once word gets around about Bruce Hornsby's performance at Festival Park, the Outer Banks very own world-class performance venue, delay may lead to disappointment. And we don't want that, do we?
Tickets are on sale now and can be purchased at any Brew Thru location or online at the Brew Thru website. General admission adult tickets are $35; priority seating adult tickets are $45. VIP Parking is available for $20/vehicle. Children 7 and younger will be admitted FREE.
See you at the next show!
---
4th Festivities on the Outer Banks
With the 4th of July only a week away, now is the perfect time for a rundown of Independence Day-related events happening throughout the Outer Banks:
Daytime Events
For some folks, it seems the Fourth of July holiday simply provides an additional opportunity to rise early and put several kilometers under foot while the rest of us are still quietly shuffling zombie-like around the kitchen, savoring our first cup of coffee and waiting for the French toast to brown. If you're one of these folks, you'll find a slew of kindred spirits gathered at the Kill Devil Hills Town Hall beginning at 5:30 a.m. for the 3rd Annual Sun Realty Outer Banks Firecracker & Freedom 5K Run (7 a.m.), the Old Glory Mile (7 a.m.) and the Little Sparkler Fun Run (7:45 a.m.). The full course can be viewed here. The event supports of the Operation Wounded Warrior Project. For more information on registration and entry fees visit the website or text (252) 489-8239.
The Town of Duck's free Fourth of July festivities have been named one of the country's Top 10 Best Small Town 4th of July Celebrations by ABC News. Events center around a one-mile parade that begins at 9 a.m. The parade route begins at the crest of the Scarborough Lane hill heading toward the ocean, then continues down Ocean Way before turning onto Christopher Drive (Duck Road/Hwy. 12 is not part of the parade route). After the parade mosey on over to Duck Town Park, located at 1200 Duck Road, for a community social featuring live music by the band Just Playin' Dixieland, refreshments and the awarding of parade trophies. For more information visit the Town of Duck website.
In Roanoke Island, stop by Island Farm just outside Manteo between 10 a.m. and 4 p.m. and experience Independence Day 1850, a circa 1850s-style celebration of our nation's beginning. Bring a picnic lunch to enjoy on the grassy lawn as you and Island Farm commemorate our nation's birth with musket-fire, period games, slices of refreshing watermelon and a reading of the Declaration of Independence at 2 p.m. Ox-wagon rides, a favorite kids' activity, will take place from 10 a.m. to 12 p.m. and again from 1 until 3 p.m. Admission is $6/person with children 5 and younger admitted free.
The Town of Manteo's pre-fireworks Independence Day celebrations start at 3 p.m. and continue until dark. Festivities begin with the singing of the national anthem followed by performances by The Lost Colony Choir and Echoes of Heritage, the Wacky Hat Contest, the Decorated Bike Contest and Apple Pie Contest and then more music from The Spiritual 80s Band at 4 p.m. and Old Enough to Know Better at 6 p.m. For more information call (252) 473-2133 or visit the Town of Manteo website.
Down on Hatteras Island festivities begin in Hatteras Village at 1 p.m. with the kick-off of the 5th Annual Fourth in the Village and continue through 11 p.m. Highlights include great holiday food, an art show, a golf cart parade and more! Popular band The Cashmere Jungle Lords will perform from 7 to 11 p.m.
And on Ocracoke Island the Old Time Ocracoke Parade headlines a day-long schedule of events too numerous to list here. A complete list of events and times can be found here.
Boom! Flash! Ooooo! Ahhhhh! Fireworks!
Here's the lowdown on local fireworks this Fourth, organized from north to south:
Corolla - The fun begins at 5 p.m. at Whalehead in Historic Corolla with food, family-friendly activities for all ages and musical entertainment. Arrive early to find the best location for your blankets and chairs and then settle in for a fireworks extravaganza beginning at dusk. Admission and parking are free!
Kill Devil Hills - Fourth of July fireworks return to Kill Devil Hills' Avalon Fishing Pier at Milepost 6 on the Beach Road after a four-year absence. The free fireworks display is scheduled to begin at 8:30 p.m.
Nags Head - Nags Head's Independence Day Fireworks Extravaganza, a free fireworks show performed by Zambelli Fireworks, will be held at Nags Head Fishing Pier at Milepost 11.5 on the Beach Road at 9:25 p.m. The rain date will be held on Saturday, July 5. Visit the Town of Nags Head website for more information.
Manteo - After an afternoon of Fourth fun in downtown Manteo, the focus switches to Roanoke Island Festival Park for a concert of patriotic orchestral standards by the United States Air Force Heritage of America Band at 8 p.m. followed by fireworks beginning at 9:30 p.m. Gates open at 6 p.m. The fireworks event and parking are both free with parking available at Roanoke Island Festival Park until the lot is full (handicap parking is available). Parking space can also be found in downtown Manteo and many folks choose to watch the fireworks from the boardwalk of Manteo's beautiful waterfront.
Hatteras Island - Our neighbors to the south get their Fourth of July fireworks fix on the Avon Pier at 9 p.m. Parking for the fireworks is limited so walk or ride a bike if you can.