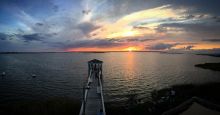 Photo: Sunset at Miller's Waterfront Restaurant
This week is one of the best times of year to be on the Outer Banks. The weather is dreamy (get a full report here), all of the businesses and attractions are open and the crowds have yet to arrive.
This means you can have a stretch of beach all to yourself. You can eat at pretty much any restaurant in any town at any time you please. You can breeze through Food Lion without waiting in line. You can do all the outdoor things you love without the searing heat. You can even turn left on the Bypass without the fear of getting T-boned.
I personally have been taking full advantage of this moderate weather and lull before the crowds. My family and I camped at the National Park Service's Cape Point Campground (see photo at right) in Buxton this weekend and enjoyed a serene experience with only a few other campers and slept great in the cool night air. We had the nearby hiking trails to ourselves, and the beach was not crowded at all. And let me tell you – the ocean is much warmer in Buxton than it is in Nags Head!
Another marvel from this week was scoring a table for 12 on the soundside deck at Miller's Waterfront Restaurant in Nags Head  — at sunset! This is going to be extremely difficult to do without a wait after this weekend. Now I just need to get to Fish Heads at Outer Banks Pier this week before the crowds. I know a lot of locals who are scurrying to get into their favorite restaurants before the crowds come next weekend.
Check out our Dining Promotions section to get some ideas on where to eat this week — and score a great deal.
Festivals and more festivals
This weekend is also when the locals throw their last-hurrah-before-Memorial-Day parties and festivals. It is truly a busy weekend around here. Here are a few suggestions for things to do.
If you have an hour free on Saturday morning, join Surfrider Foundation's Outer Banks chapter at Hands Across the Sand to stand in solidarity with changing our nation's energy policies and ensuring a sustainable planet. Yes, the offshore drilling issue is back on in North Carolina, and this event is part of taking a stand against it. All you have to do for this event is show up at the Ocean Bay Beach Access in KDH, line up, hold hands with two people and smile for the drone. Arrive by 10:30 a.m.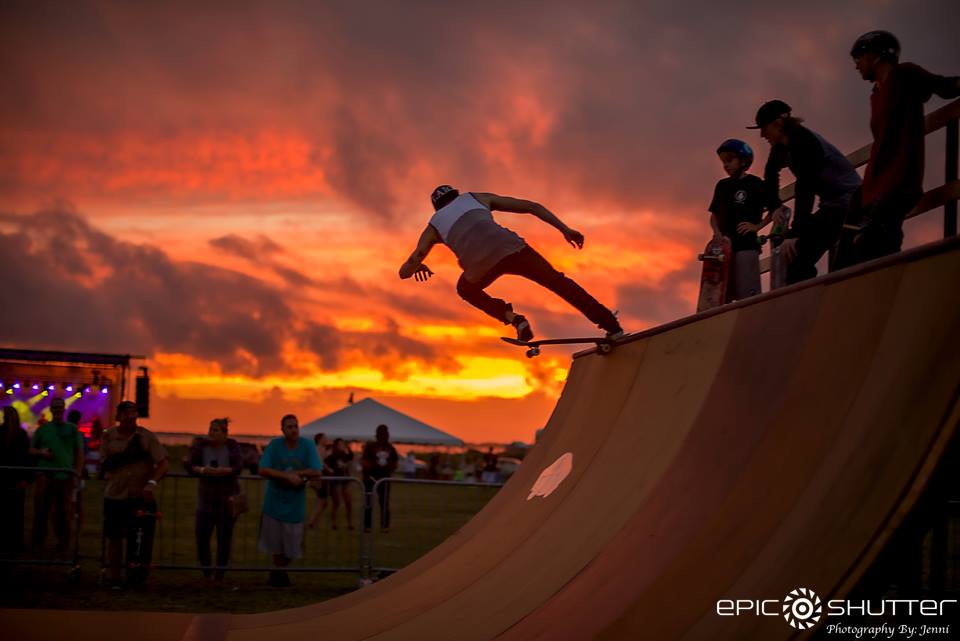 The hot, talk-of-the-town event this weekend is Dare2Care OBX Shred Fest at the Soundside Event Site in Nags Head. Held on Saturday from 1:30 to 8:30 p.m., Shred Fest features professional skateboarders and BMX riders on half-pipes,  Roller Derby, a kids' zone, art vendors, food, beverages and music all day long. Bands include Pharcyde, Southern Culture on the Skids, Manday Huge, Ruth Wyand and other local acts. This is a benefit for veterans and the special needs community.
Locals are also excited about Buns N Rosés from the creative, fun-loving crew at Sanctuary Vineyards in Jarvisburg. This Saturday event combines North Carolina wines and beers, a barbecue cookoff and '80s rock music with live bands K.O.D.E . and Teaze. Sanctuary will be releasing new wines, including several new rosés. Hours are 12 to 6 p.m.
Other events for the weekend include the Coastal Gardening Festival in KDH and Kitty Hawk Kites' 45th annual Hang Gliding Spectacular at Jockey's Ridge State Park. 
Keep in mind that this is a very small sample of events for the week. You can find many more options in our Daytime and Nightlife listings.
Get out there and have some fun this week!