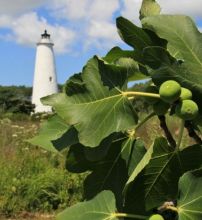 The people of Ocracoke Island are always celebrating something, and now is the time of year when they celebrate a most humble fruit, the fig, with a festival that includes a bake-off, music, dancing, art and fun.
Why celebrate the fig? Figs grow in abundance on the island, and early August is when most of the varieties are at their most bountiful. Many island yards have a fig tree, big ones that have been there for eons, and many of the island's old-timers and longtime residents use the bounty to make fig cakes and preserves. The islanders are quite protective of their figs, which is why you might spot a sign near a tree warning "No pick'um the figums." Try to resist the temptation to reach over into someone's yard to nab a fig, but if there's a tree in your rental yard, of course they're yours to eat.
Tenth-generation islander and local fig expert Chester Lynn has counted 16 varieties of figs on the island. Figs grow well in the island's sandy soil and mild climate. Some of the varieties found on the island include brown, pound, sugar, Celeste, lemon, turkey, blue, Portsmouth and late, among others. You can find locally made fig preserves in many of the island shops and fig cake and other fig dishes in the local restaurants. 1718 Brewing, the island's brewery, even has a wheat beer brewed with local figs called Notorious F.I.G.
The celebration of the fig started with a bake-off at the island's Fourth of July festival way back when, then grew into a small festival in 2014. Now the event has grown into a three-day festival sponsored by Ocracoke Preservation Soceity. It's held this weekend — August 4, 5 and 6.
The big news of the 2022 festival is the presence of N.C. star chef Ricky Moore of Saltbox Seafood Joint in Durham, who was recently nominated for a James Beard Award. On Thursday, August 4, Moore is preparing a fig feast, but this event is already sold out. The fact that Moore is headlining a dinner on the island is a pretty big deal. He'll be using Ocracoke's locally caught seafood and island-harvested figs for the dinner.
The Fig Cake Bake-off is the highlight of the weekend. It's divided into three categories: Traditional Fig Cake, Innovative (any dessert with figs in it), and a Youth Fig Bake-off for ages 16 and younger.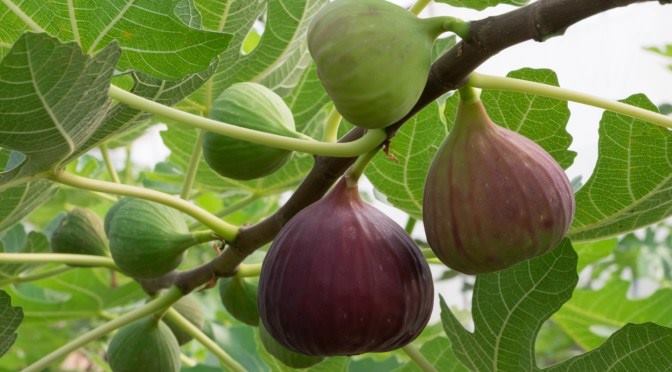 Here's the lineup for the Ocracoke Fig Festival Weekend.
Thursday, August 4
10 a.m. Fig Festival t-shirts and merch go on sale at Ocracoke Preservation Society
1 p.m. Ocracoke Figs Porch Talk and Book Signing with Chester Lynn at Ocracoke Preservation Society
Friday, August 5
10 a.m. to 6 p.m. Figtastic Vendor Booths inside and outside at Berkley Barn. You'll find fig cakes, fig preserves, fig art, fig drinks and more.
11 a.m. Propagating and growing figs workshop with Gene Fox at Berkley Barn
12 p.m. Pirate Stories and Songs with Capt. Rob and Fiddler Dave at Berkley Barn
1 to 3 p.m. Chef Ricky Moore will sign copies of his book Saltbox Seafood Joint Cookbook at Ocracoke Preservation Society
1 to 7 p.m. Live music with local musicians at Berkley Barn
3 to 11 p.m. Cash bar with beer, wine and soft drinks at Berkley Barn
3 to 5 p.m. Fig Preserves Contest at Berkley Barn. Tasting tickets and ballots are $3 each.
7 p.m. Fig Preserves awards at Berkley Barn
7 to 8 p.m. Traditional Ocracoke Square Dance with Molasses Creek at Berkley Barn
8 to 11 p.m. Live music with Raygun Ruby at Berkley Barn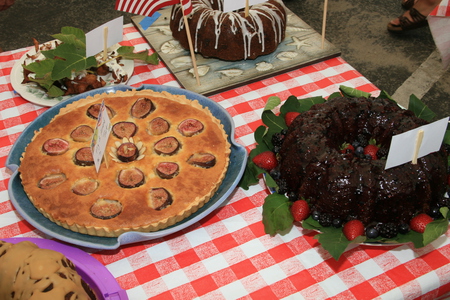 Saturday, August 6
10 a.m. to 6 p.m. Silent Auction and Figtastic Vendor Booths at Berkley Barn (auction end at 5 p.m.)
11 a.m. Fig cakes go on display
11:30 a.m. Fig Cake Bake-Off judging by Ricky Moore
12 p.m. Fig Cake awards and serving of the cakes
1 p.m. to midnight: Cash bar with beer, wine and sodas
1 to 4 p.m. Kids' Crafts
1 p.m. All About Ocracoke Figs Q&A and book signing with Chester Lynn
2 p.m. Q&A with Chef Ricky Moore
3 to 7 p.m. Live music with Coyote, Molasses Creek, Brooke & Nick and more
7 to 9 p.m. Acoustic music with Martin Garrish and Friends
8 p.m. Raffle Drawings
9 p.m. to midnight: Live music with Ocracoke Rockers
Around town during the week, the local restaurants get in the spirit by offering fig-infused menu items, both sweet and savory. You can buy fig preserves at the festival or around town in some of the local shops. The Fig Festival is sponsored by Ocracoke Preservation Society, which is dedicated to the preservation of the island's cultural and historical heritage.
If you're planning to travel to Ocracoke for the festival, get to the Hatteras ferries as early as you can. It's going to be a busy weekend on the island, and daytrippers should plan accordingly.
If you can't make it to the festival, try making your own fig cake this weekend.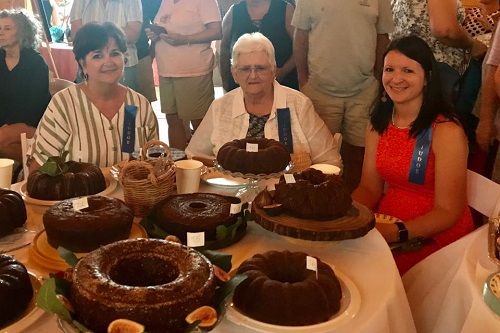 Traditional Ocracoke Island Fig Cake
People have been eating fig cake on the island for hundreds of years. But it was in the 1960s that Ocracoke resident Margaret Garrish created what is now considered the official Ocracoke Fig Cake. She was trying to make a date cake, but there were no dates available on the island, so she used a jar of fig preserves. This recipe is courtesy of the Ocracoke Preservation Museum.
3 eggs
1½ c. sugar
1 c. salad (vegetable) oil
½ c. buttermilk
2 c. flour
1 tsp. salt
1¼ tsp. ground cinnamon
½ tsp. ground cloves
½ tsp. ground nutmeg
1½ tsp. baking soda dissolved in 1 Tbsp. warm water
1½ tsp. vanilla
1 c. fig preserves
1½ c. chopped nuts 
Beat three eggs; add sugar and oil. Sift the dry ingredients. Add dry ingredients to egg mixture alternatively with buttermilk. Add vanilla and fold in fig preserves and nuts. Pour into a greased and floured loaf pan and bake at 325 degrees F for 45 minutes, or in a greased and floured bundt pan at 350 degrees just a little longer. You can also add a second cup of fig preserves and bake a little longer, approximately one hour.