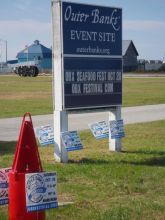 The big news on the Outer Banks this weekend is the inaugural Outer Banks Seafood Festival. It's an idea that was a long time in coming, and it's finally here. Morehead City has been hosting the wildly successful North Carolina Seafood Festival for 26 years, so obviously the model works, and it's certainly going to be a popular event here as well.
Getting the Outer Banks Seafood Festival off the ground here took the efforts of four organizations - Outer Banks Chamber of Commerce, Outer Banks Visitors Bureau, Outer Banks Catch and Outer Banks Restaurant Association. A committee of 20 met for a year to form the event. Their basic model was to provide a fun and educational experience promoting, honoring and celebrating our coastal seafood heritage and communities. And they've planned a fun-filled day around that theme. On Saturday, October 20 from 11 a.m. to 6 p.m., the festival will feature local restaurants preparing seafood and more seafood (plus land food) along with live music, wine and beer, craft booths, cooking demos, cook-offs, children's activities and tons of locals and visitors gathered on the lawn by the Roanoke Sound. There will also be educational sessions about the area's fishing heritage and the challenges that fishermen face today in bringing the freshest fish to market.
People around here are excited about this event. Sponsors and volunteers jumped in to help immediately - the presenting sponsor is Towne Bank of Currituck - and the Town of Nags Head offered the beautiful 10-acre soundfront Windmill Point site for the event.
The participating restaurants will serve their signature dishes and house specialties made only from locally caught fish and seafood. Restaurants include Bad Bean, Bambino's Little Italy, Basnight's Lone Cedar, Black Pelican, Boardriders Grill, Captain George's, Coastal Provisions, Cosmos, Darrell's, Dirty Dicks, Mulligan's Raw Bar & Grille, Ocean Boulevard, Red Sky Café, Sam & Omie's, Steamers Shellfish To Go and The Brine and Bottle. The organizers are stressing that there will be foods other than seafood available too.
Each restaurant will be serving small portion samplings. Restaurants will accept only festival food tickets, not cash, and tickets will be sold in $1 increments. You can buy food tickets in advance to prevent standing in line at the festival to buy them. A 20 pack of food tickets in advance is $18 ($19.62 with service fee) and can be purchased online at www.brownpapertickets.com.
Admission to the festival is free, and that includes entertainment and activities. Otherwise, bring cash for food and beverages and for shopping at the arts and crafts booths. Parking at the site will be limited and will cost $10 a car. Free shuttle services will be provided.
With local personality Bill Rea serving as master of ceremonies, the entertainment lineup includes live music beginning at 11 a.m., the national anthem and a ceremony at noon, and music by The Blind Prophets at 1 p.m., Aquarium at 2 p.m., Old Enough to Know Better at 3 p.m., Molasses Creek at 4 p.m. and The Crowd at 5 p.m.
The Seafood Festival isn't all we have going on around here this week. Check the Daytime Events and Nightlife & Events sections for many more ideas, from fundraisers to walkathons to live late-night music.
When you wake up Saturday morning, head to Applebees for a pancake fundraiser for my young friend Willa Brown, a fifth-grader at Nags Head Elementary School. Willa is raising money so she can attend the Presidential Inauguration with the People to People program. Pancakes will be served from 8 to 10 a.m.
Still need to get your Halloween pumpkins? Island Farm in Manteo is holding weekly Pumpkin Patch events on Saturdays in October. Come to the farm and take an ox-drawn wagon ride to the farm's pumpkin patch to find your perfect pumpkin to take home. Admission is $6; children ages 5 and younger go for free. Pumpkins are an additional $4. Other activities included are make your own corn husk doll, candle making, children's 19th-century toys and games, stuff a scarecrow, a scarecrow photo booth for taking your own photos and interacting with the farms animals. Wagon hay rides take place from 10:30 a.m. to 12:30 p.m. and again from 1:30 to 3:30 p.m.
In preparation for the Halloween, Island Farm is also presenting its popular spooky evening lantern tours known as Draped in Black: Victorian Death Rituals. Held on Friday and Saturday nights this weekend and next, the tours with costumed interpreters take you on a night-time journey into the home of a grieving widow, exploring the peculiar ways Victorian families mourned the loss of a loved one. Listen to stories of the farm's former residents and travel by lantern light to their final resting place in a 1800s graveyard. Cost is $10 per person. Reservations are not required. This event takes place on October 19, 20, 26 and 27 from 7 until 9 p.m. Each tour last 20 to 25 minutes, with the last tour at 8:35 p.m.
If your kids are big trick or treating fans, you'll want to hit the North Carolina Aquarium at Roanoke Island's 10th annual Trick-or-Treat Under the Sea event. For the first time, the Aquarium will host two full evenings of Halloween fun from 6 to 8:30 p.m. on October 24 and 25. That's next week, but I'm telling you now so you can go ahead and get your tickets. This is always a sellout event. Tickets are $8 or $6 for aquarium members.
Also in the planning ahead file, note that next Wednesday is the Wildfest Celebration at the Wright Brothers National Memorial in Kill Devil Hills. Held from 9 a.m. to 2 p.m., the event features educational booths and activities for children.
If you have some extra time to volunteer, keep in mind that the Outer Banks Marathon weekend is coming up on Nov. 10 and 11, and Outer Banks Sporting Events is in real need of volunteers. The races and events over the weekend benefit two local organizations: The Outer Banks Relief Foundation and the Dare Education Foundation. Thousands of volunteers are needed to staff and set up water stations, work the Expos and offer support to runners at the starts and finishes. There's a lot of energy surrounding these events, and volunteering is always fun, plus you get a Race Crew shirt. CIick here to sign up to volunteer.
I hope you have a great week! It looks like we have some stupendous fall weather coming up. Let's all get out there and enjoy it!

This week you have a chance to win a $50 Gift Certificate to Ocean Annie's and a $35 Gift Certificate to Tortugas' Lie!
For more information about Ocean Annie's Craft Gallery, check out their website.
For more information about Tortugas' Lie, check out their website.
Last Week's Winner
Congratulations to Chris Massey-Skeens‎!!!

You won a two night stay at the Days Inn & Suites Mariner and a $35 gift certificate to The Black Pelican Oceanfront Cafe!
For more information about Days Inn & Suites Marine, check out their website.
For more information about Black Pelican Oceanfront Cafe, check out their website.