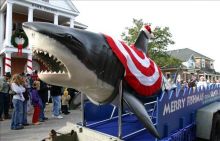 I keep expecting things to slow down around here. But Outer Bankers are going strong. * I don't know the official tourism numbers, but Thanksgiving week seemed really busy here, don't you think? * I met several visitors last week in my Thanksgiving holiday adventures: at the Outer Banks Gobbler 5K in Nags Head on Thanksgiving, atop Jockey's Ridge for sand-boarding, on the beach, walking in Nags Head Woods, at dinner in Manteo. All of the people I met who love this place so much gave me a good reminder of how lucky we are to live here. Sometimes I'm almost hesitant to say that we live here to people who are obviously on vacation, especially families with kids who are sad about leaving. It seems like I'm just rubbing it in. And I don't want to make them feel bad by bragging that we get to go to the beach after school! * But those people who are sad to leave always seem interested to know that it's possible to make a living here in paradise. They always want to know what we do to earn money, what the schools are like and what the off-season is like. * Well, people, I'm here to tell you: most of us have several jobs, our schools are top-notch, and our off-season is busy!...
This is one of my favorite weekends of the year on the Outer Banks - the Christmas season kick off. Outer Bankers are fired up to celebrate the holidays in a big way -- and to help make sure that everyone else here has a good holiday, too. Take a look at what's going on around here this week...
The first week in December is always Outer Banks Hotline's Festival of Trees (23rd annual in 2011). Festival of Trees celebrates the holiday season with twinkling lights, festive musical performances, treats, craft activities for children, a visit with Santa complete with a souvenir photo, and shopping for one-of-a-kind gifts. The culmination of the Festival is an auction of donated, decorated Christmas Trees and Holiday Objects at a catered Gala Holiday Social. At the same time, it's a major fund-raiser for the crisis intervention programs of the Outer Banks Hotline for victims of domestic and sexual abuse. * On Thursday and Friday, the Holiday Bazaar at 108 Budleigh in Manteo will have gift items for sale (the best of the best of the donations to Hotline's thrift shops). They also have story times and opportunities to meet Santa, cookies and punch and musical performances. * On Saturday, the big Holiday Social and Silent Auction is the incredible Jeannette's Pier oceanfront event room in Nags Head. The social begins at 6:30 p.m. (tickets required) and the benefit auction of decorated trees begins at 8 p.m....
The Town of Manteo's celebration starts with Lighting of the Town Tree on Friday night at 6 p.m. Head downtown for carols, cider, a yule log and, of course, the illumination of the waterfront tree. Friday night also happens to be Manteo's last First Friday celebration in 2011, so downtown will be extra vibrant with the shops and restaurants staying open late, live music and more people than usual milling about. * While you're downtown, be sure to stop by Hotline's Bazaar at 108 Budleigh; 1587 to see an Open House for two local jewelers and a potter - Denise Turner, Karen Brown and Cody Dough; and Roanoke Island Festival Park to attend the reception (6 to 8 p.m.) of their December art show called Art and Spirit: Sacred Works by Sixty Artists. The show will be on display through the month of December...
On Saturday morning it's the 40th annual Town of Manteo Christmas Parade. If you love small-town character and charm, this is the event for you. They're calling it the Big Little Town Parade this year, which is an apt description. From decorated trash trucks to marching bands to dance troupes and costumed interpreters, this is a sweet parade that everyone loves. * Be sure to stop by the Creef Boat House on Fernando Street before or after the parade to have your photos made with Santa (it's a fund-raiser for Manteo Elementary School)...
This year Duck is getting in on the town-wide holiday celebration thing, too, with the First Annual Duck Yuletide Celebration. On Friday night from 5 to 8 p.m., several eateries in Duck are hosting the Duck Tapas Crawl. It's a pay-as-you-go crawl, with as many as seven participating restaurants. On Saturday the merchants of Duck are celebrating with holiday sales, refreshments and decorations. At 3 p.m., the celebration will culminate with the arrival of Santa Claus and the lighting of the town tree on the Duck Town Green. The town will be collecting items for the Beach Food Pantry on Saturday at the park...
Another big celebration this weekend is The Elizabethan Gardens' Grand Illuminations - the official kick-off of their month-long winter wonderland light show known as WinterLights. At 6 p.m. on Saturday, the spectacular light show in the gardens will be lit for the first time, and until 9 p.m. they'll have holiday foods and festive drink on the Great Lawn (fire pits, too!) and inside the Embellished Hall. They're also having a gift shop sale and plant sale. Tickets for Illuminations are $14 for adults, $9 for youth and $6 for children 5 and younger. WinterLights runs throughout the month, Tuesday through Saturday from 6 to 9 p.m. (with exceptions for Christmas Eve etc.)...
One of my favorite things in the holiday season is the Dare County Arts Council's Holiday Small Works Show. They have more than 500 works of art smaller than 16" by 16" -- something to fit every budget, including paintings, pottery, glass, jewelry, fiber, metal, mixed media and wood. The smaller size of these works makes them perfect for gift giving. The opening reception is Friday from 6 to 8 p.m. at DCAC's temporary gallery next to TRIO in Kitty Hawk. Regular gallery hours are Monday through Friday 10 a.m. to 5 p.m. and Saturday noon to 4 p.m....
This weekend is the opening of the Theatre of Dare's latest show, Harvey, a comedy. It's about a man who has an imaginary friend that's a rabbit, and the problems that ensue with his family and friends. (It was a Jimmy Stewart movie in the '50s.) Performances are Friday and Saturday at 7:30 p.m. and Sunday at 2 p.m. at the COA Roanoke Island campus in Manteo. Tickets are $10 for adults and $5 for students. It also plays next weekend...
Want to help the people on Hatteras affected by Hurricane Irene and get your exercise too? The Team Kilmarlic Jingle Bell Charity 5K and Fun Run - Help for Hatteras is a 5K starting at 10 a.m. at Kilmarlic on the Currituck mainland. The .5 mile kids Fun Run starts at 11 a.m. Volunteers are needed too...
Down in Hatteras, holiday things are starting to happen. On Saturday, the Hatteras UMC Community Preschool will host its annual Breakfast with Santa event at the Hatteras Civic Center. Cost is $8 for adults and $6 for children, and there are two breakfast servings, one at 8:30 a.m. and one at 10 a.m. Get your kids' pictures made with Santa and do some holiday crafting too...
The Hatteras Connection Seafood Dinner Fundraiser is set for Tuesday, Dec. 6 at the Hatteras Village Civic Center from 5 to 7 p.m. Enjoy local fish, seafood chowder, roasted potatoes, cole slaw, corn bread, iced tea and dessert for just $10 and a donation to the food pantry (nonperishable food item or personal care item). Local fishermen are donating the fish and local chefs and talented home cooks are preparing the food. The event raises money to stock the Hatteras Island Food Pantry shelves through the winter. For ticket locations, you can email Susan West at ridgeroad@earthlink.net...
Roanoke Island Festival Park is looking for and training volunteers at a Volunteer Orientation on Wednesday, Dec. 7 from 10 a.m. to noon. They need costumed interpreters, greeters, gift shop associates, Elizabeth II crew members and more. Call (252) 475-1500 ext. 229 for info...
Just for a bit of good news in the world, here's a very cool thing that some students from Cape Hatteras Secondary School have done. The DECA club has organized an event called Irene's Giving Tree. They organized a collection of donations of Christmas decorations for families affected by Hurricane Irene. They don't need any more decorations; they actually got way more than they expected. But they're giving them out to select island families on Monday. They're inviting other families who might need decorations to come to the Rodanthe-Waves-Salvo Community Center from 6:30 to 8 p.m. to pick up what's left. And they'll have refreshments for anyone who wants to stop by and visit. Call (252) 995-5730 ext. 3352 for details...
Keep looking around our site for more things to do. The By Day and By Night sections are loaded with events, and the Shopping section is absolutely loaded with sale information. Go check it out. I'll see you later, out there at all this fun stuff coming up...