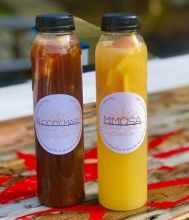 Cocktails to go? Yes! It's a thing in North Carolina, and several Outer Banks restaurants are on board.
In an effort to help people avoid settings that can spread the virus, while at the same time giving bars and restaurants a financial boost, Governor Roy Cooper in December authorized N.C. ABC Commission to allow mixed drinks to be delivered or carried out as an alternative to in-person consumption. Restaurants, bars, hotels, private clubs and some distilleries with certain ABC permits can offer this service through January 31. Bottled wine and beer have been available to go for a while now, and most restaurants are offering that option with takeout and delivery food.
Photo: Red Sky Cafe's tasty mimosas and Bloody Marys are perfectly packaged for take-out.
A couple of things to note:
You still have to prove you are older than 21 with an ID.
The buyer must be the recipient.
You can only purchase one drink at a time (it can be a double). More than one drink order can be delivered to a house, but each purchaser must be present to receive a drink.
If you appear intoxicated, the seller or driver can refuse to give it to you. 
Bottles of liquor cannot be delivered, but bottled beer and wine can.
You do not have to order food to get cocktails delivered or for take-out.
Delivery and carry-out cocktails are available until 2 a.m. and you can leave your house to pick it up, even after the 10 p.m. curfew. But sales of alcohol to enjoy on premise still have to end by 9 p.m.
Open container laws are still in effect. You can't drink or have an open drink in your car. The cocktail container must be kept sealed in the passenger area of the car while it's being transported.
Read the FAQs on the state's website here. 
Now, what to order?
We checked around to find out which Outer Banks restaurants are offering this service, and here's what we found out. Not all restaurants that are open this winter are offering take-out cocktails. The ones that are said they could make just about anything anyone wants. Here's a list of the places we know of and a recommendation on what to order. There may be a few other restaurants offering take-out cocktails that didn't make our list, so be sure to check with your favorite establishment.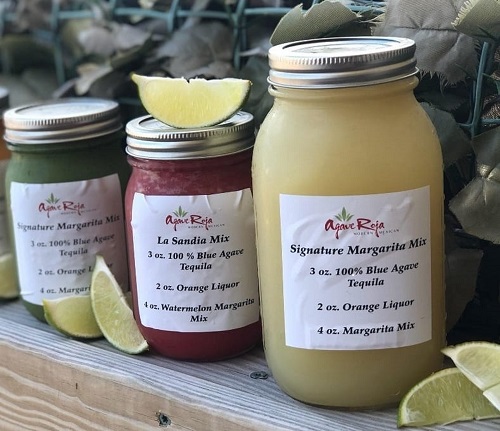 Agave Roja's signature margarita mixes are available by the pint or quart (add your own alcohol) or by the drink to take home.
Agave Roja, Corolla
Margarita. They make amazing margaritas with fresh, seasonal ingredients. You can also order their Signature Margarita Mix by the pint or quart and add your own tequila and orange liqueur at home.
Red Sky Cafe/NC Coast Grill and Bar, Duck
Bloody Marys and Mimosas. These sister restaurants craft excellent cocktails, and their homemade bloody Mary mix is spot on.
Art's Place
Cranberry Margarita or Caramel Mimosa. Those are the specials at Art's this week.
Ocean Boulevard
Martinis. They'll put any mixed drink in a labeled container, but their martinis are just so dang delicious.
Chili Peppers Coastal Grill & Pupuseria
Fresh Orange Crush. The bartenders will make whatever you like, but we especially like their Orange Crush and Blood Orange Crush.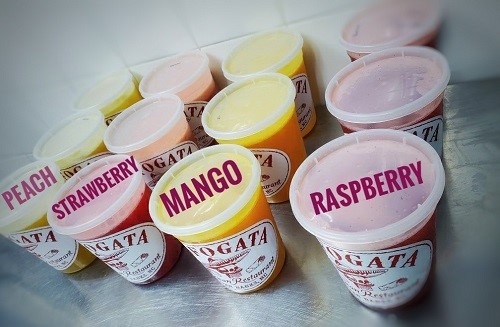 La Fogata's margaritas and other mixed drinks are available for takeout.
La Fogata Mexican Restaurant Kitty Hawk
Margarita. Being a Mexican restaurant, they're known for their margaritas and cheladas. They also offer margarita mix without the liquor.
Plaza Azteca Mexican Restaurant
Margarita. Again, it's a Mexican restaurant and people love their margaritas. 
Ortega'z Southwestern Grill & Wine Bar
Mules. Ortega'z margaritas are great, but their Moscow mule concoctions are standouts.
Cheers!
Remember: Outer Banks COVID-19 cases are high, but in-restaurant dining is still allowed. Please continue to support the local restaurants with take-out or dine-in, but when do you go out, wear your mask and practice precautions.