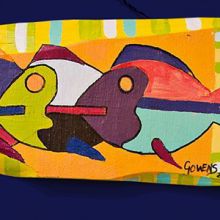 After months of dully schlepping our way through the gray doldrums of Winter, possibly the best thing about the advent of Spring, even better than the warming temperatures, is the sudden explosion of big, bold, saturated colors emerging from the dark brown earth and the branches of otherwise bare trees. Abruptly, our monochrome-adjusted eyes are greeted by lavender crocuses, buttery yellow daffodils, tangerine-tinted tulips and exquisitely pink redbud blossoms. And it makes you…happy!
A similar reaction is common to people viewing the work of Manteo folk artist, Gina Owens, on exhibit now through April 28 in the Dare County Arts Council Gallery in Downtown Manteo. Owens, a self-taught artist who was raised on Roanoke Island and has family roots on the island going back seven generations, paints in a distinctive colorful and bold style, often using old, washed-ashore buoys and plank wood sourced right from the island as a substrate. Owens work, painted with both house paint and acrylics, is widely collected, and in May 2014 she was awarded an honorable mention at the 17th Annual Mollie Fearing Memorial Art Show.
"My great passions," says Owens, "are my love for God, my son, and gardening, and last but not least my art work. It is done with care, lively and vibrant colors that I hope excites and brings peace along with a smile to the viewer." Indeed, it is difficult to imagine viewing Owens' art without a smile gracing your face. The fish, people and flowers populating her paintings seem to come from a simpler, more colorful, more carefree place — a place saturated with Caribbean-esque pigments.
Gallery hours are 10 a.m-5p.m., Tuesday through Friday and noon-4 p.m. on Saturday. The gallery is closed Sunday and Monday. If you can't get to the exhibit during gallery hours, you still have a chance to see some of Owens' festive work. Just take a leisurely drive around Manteo's residential neighborhoods and you'll notice Owens' paintings lending a friendly and welcoming pop of color to front porches, gates, gardens and picket fences all around town.
---
Oceans cover more than 70 percent of the Earth's surface, and humanity's fascination with the seas rivals the depths of the deepest ocean trench. From the epic poetry of Homer's Iliad to Melville's Moby Dick and Hemingway's The Old Man and the Sea, the briny deep has been the setting for many of our greatest stories. And yet as much as 95 percent of this underwater world remains unexplored. Thoroughly evolved for life on land, human bodies can only tolerate a brief and shallow submerging of a few fathoms before the water's massive pressure and our desperate need for oxygen forces us back to the surface.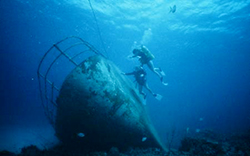 This is where the professional diver steps into the picture, and on Friday and Saturday, April 10 and 11 from 9 a.m. to 5 p.m. each day the Graveyard of the Atlantic Museum in Hatteras Village honors these underwater explorers with its free Underwater Heritage Symposium: A Salute to Pioneers of Diving. A panel of 12 professional diving peers will pay homage to divers who have impacted their profession through their passion for diving, documenting shipwrecks, lecturing and writing and mentoring of inexperienced divers. Presenters include Gary Gentile, Jim Bunch, Bobby Purifoy, Bill Palmer, Joe Poe, Dave Sommers, Ann Sommers, Larry Cox, Marc Corbett, Pam Malec Landrum, Matt Landrum and JT Barker. Meet the experts, listen to their amazing adventures and have books signed by the authors.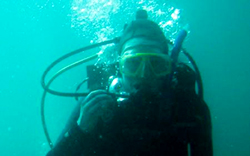 On Tuesday, April 14 at 2 p.m. experienced local diver Pam Landrum joins the ranks of Salty Dawgs Lecture Series presenters with her free talk Diving the Graveyard of the Atlantic. Landrum, a teacher, diving guide, NAUI instructor and biologist with a background as a naturalist with the National Park Service, will share her experiences diving wrecks in the infamous Graveyard of the Atlantic. She operates Roanoke Island Outfitters in Manteo, NC, and is the author of Guide to Sea Kayaking in North Carolina.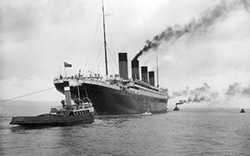 The story of the Titanic began as an Industrial Age tale of the exploits of technology and the supposed taming of Nature. It ended, of course, with Nature having the final word and the mangled Titanic resting at the bottom of the sea, far beyond the reach of even the most accomplished deep sea divers. To learn how the story transformed from hugely humbling human tragedy to century-old legend take in Dave Alberg's free presentation at the museum Tuesday, April 14 at 5:30 p.m. beginning with tea and a tour of the Titanic exhibit followed by the presentation. Alberg, the Sanctuary Superintendent of NOAA's Monitor National Marine Sanctuary, served as the U.S. government representative on the 2010 joint expedition to the Titanic. For more information on these or any other museum events call (252) 986-2995, e-mail maryellen.riddle@ncdcr.gov or visit the museum's website.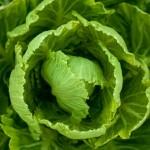 Who doesn't appreciate the intense, fresh flavors from a summertime vegetable garden? But many of us, including apartment dwellers like myself, lack the real estate for a traditional garden. The want of a yard, however, needn't quash your gardening dreams, as the growing things experts at The Elizabethan Gardens prove with their Salad Container Gardening workshop Saturday, April 11 from 11 a.m. to 1 p.m. They'll teach you everything you need to know to plant and enjoy a fresh summer salad, all from a space-saving container! The Gardens will supply the containers, soil and plants to get you started and a fresh salad lunch will be served to all participants. Pre-registration is required. For more information call (252) 473-3234 or visit The Gardens' website. The workshop is $25/person for Members; $30/person non-Members.
Live Local Music


This Friday's live music mix finds Joey Bouza holding court at the Beachside Bistro deck from 6 to 9 p.m., live entertainment at Awful Arthurs in Kill Devil Hills (also beginning at 6 p.m.) and Karl Werne's impressive solo guitar playing and smooth vocals at Trio in Kitty Hawk at 7:30 p.m. Longtime local favorite Kevin Wilder's relaxing vibe welcomes guests to Peppercorns Restaurant and Lounge in Kill Devil Hills at 8:30 p.m., Forever Adolescents rock out at Basnight's Lone Cedar on the Nags Head/Manteo Causeway beginning at 9 p.m. and Kaboom Box begins a two-night engagement playing dance/rock covers at Kelly's Outer Banks Restaurant & Tavern in Nags Head at 10 p.m. The island scene livens up with singer/songwriter Joey Wood playing a mix of original compositions and classic rock covers at Poor Richard's After Hours Pub in Manteo from 8 to 11 p.m., the Ocracoke Jazz Society performing at Howard's Pub in Ocracoke at 7 p.m. and the versatile and entertaining Jeremy Russell playing for folks at Gaffer's Sports Pub in Ocracoke at 9 p.m.
On Saturday you can catch Rick Agudelo on the Beachside Bistro deck at 6 p.m., the multi-faceted Karl Werne returning for a second night at Trio at 7:30 p.m. and reggae performer Iron Lion bringing the Jamaican groove to the Outer Banks Brewing Station in Kill Devil Hills at 10:30 p.m. Kaboom Box delivers a second night of energetic, dance/rock fun to Kelly's in Nags Head at 10 p.m. Down on the Nags Head/Manteo Causeway you'll find Jared Place performing simple and tuneful songs about life, family, love, home, heaven and other complexities at 9 p.m. and L.A. native Steve Hauser brings his singer/songwriter craft and lead guitar chops to Poor Richard's After Hours Pub in Manteo at 8 p.m.
If you're out and about on Ocracoke Island on Wednesday evening stop in at Dajio at 7 p.m. for a beautiful melding of bluegrass, folk and country courtesy of Marcy Brenner and Martin Garrish.