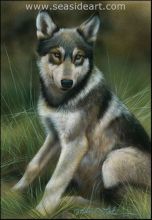 When is the last time you did something outside of your comfort zone? Something that you have never done before? With people you've never met before? In a place you've never been before? * I admit it. My life has gotten kind of small here on this island. Except for travel to a new place once or twice a year, I tend to do the same activities, follow the same routines and hang out with the same people...
So I've been challenging myself to try new things this winter. * One step I've taken outside of my comfort zone is to start teaching yoga to kids. I've taught to adults for 11 years, but teaching yoga to 6, 7 and 8 year olds is like stepping onto a different planet - I have to learn by doing and go with the flow. * Next on my list to try is Zumba. I'm actually a little anxious about it because I feel like I have no rhythm, but that's all the more reason to go...
The Sweetheart 8K (5 miles) on Saturday in Manteo is in my comfort zone, but I'll be there anyway. If you haven't already registered for this run, go to www.outerbanksrunningclub.org for information. There's also a 1-Mile Fun Run. The race starts at George Washington Creef Memorial Park at 9 a.m. and benefits the Mt. Olivet Food Pantry...
But after the race, here's something I could do that I've never done before: eating oysters in Stumpy Point. The 26th Annual Stumpy Point Oyster Feast is on Saturday from noon to 5 p.m. I've always wanted to go but I've never made the effort. The feast features fried and steamed oysters, fried fish and trimmings for $25 for adults and $10 for children. There's also a bake sale. It's held at Bayview Chapel in Stumpy Point (which isn't very big so it shouldn't be hard to find the church, right?). Call (252) 473-5869 if you need information...
I also want to check out these three art shows and see something new: The Frank Stick Memorial Art Show at Glenn Eure's Ghost Fleet Gallery in Nags Head and the Animals in Art Show at Seaside Gallery in Nags Head. The Frank Stick Show has 126 pieces of art - and congratulations to Owen Perry Sullivan for winning best in show for a copper, enamel and sterling piece called "Resurfaced Vessel." * The Animals in Art exhibit at Seaside is going on all month, and 10 percent of animal art sales will go to the Outer Banks SPCA (see the attached photo of "Content -- Young Wolf" a watercolor by Rebecca Latham). The show features local as well as nationally acclaimed artists and offers art in a variety of price ranges, from $3 and up. The opening reception for this show is on Thursday from 5 to 8 p.m. * Tin, The Element of Surprise Exhibit is in the Professional Arts Gallery at the College of the Albemarle's Roanoke Island Campus. (I'm ashamed to say I haven't even been to the gallery yet! I AM GOING!) * This exhibit also has been shown in Illinois, Montana and at East Carolina University and features nationally known artists working in the unusual medium of tin. An opening reception will be held on Thursday from 5 to 7 p.m. and the show will run through March 11. The gallery is open Monday through Wednesday from 10 a.m. to 5 p.m. and Thursday from 10 a.m. to 8 p.m. For info call (252) 475-9248...
There are a lot of diverse things to do on the Outer Banks this week, from Valentine's dances to history forums to art classes to learning how to keep kids off drugs. Pick one that's not in your comfort zone and shake up your winter by doing something new...
Fishing might pay off this week. Anglers are catching not only stripers but also tuna. Last week, charters out of Oregon Inlet Fishing Center caught two bluefin tuna each weighing more than 200 lbs...
Here's one that could really liven up your winter: A weekly Drop-In Painting Studio with Fay Davis Edwards. It's every Tuesday from 6:30 to 8:30 p.m. starting this Tuesday, at the Dare County Arts Council Gallery in Manteo. Cost is $30 per session or $120 per month for members ($40/$160 for nonmembers). Call (252) 473-5558 for info...
If you like Outer Banks history you should know about the Currituck Heritage Park Winter Educational Series. The theme of the series this year is Corolla In Retrospect - The Shipwreck Series, and on Wednesday the discussion title is Blackout! Local experts and residents will talk about the Outer Banks during wartime, when German U-boats were lurking off the Outer Banks and many ships were lost in the Graveyard of the Atlantic. Blackout! will be held at the Outer Banks Center for Wildlife Education at 9:30 a.m. and it's free. Reservations can be requested at (252) 453-9040 ext. 3...
On Wednesday, legendary country-music singer/songwriter David Allan Coe is playing at Kelly's. He's a famous outlaw type, and that's got to make for an out-of-the-ordinary show for the Outer Banks. Coe plays at 10:30 p.m. and there's an opening act at 8 p.m. Call (252) 441-4116 for info...
On Wednesday, stretch your kids' creativity in new direction with a Jewelry-Making Class at Bells & Whistles in Kitty Hawk. From 3 to 4:30 p.m., kids can make a simple beaded crystal or pearl bracelet with jewelry designer Denise Turner. Cost is $20, and this class is for ages are 5 and older, but parents are welcome to stay and play too. Call (252) 441-9310...
On Thursday, Dare County Arts Council is hosting a Literary Open Mic Night. Local writers and poets will read their works at Glenn Eure's Ghost Fleet Gallery in Nags Head from 6:30 to 8:30 p.m....
Thursday there's a Community Yoga class at the Unitarian Universalist Meeting House in Kitty Hawk. For only $5, you can take a yoga class with instructor Ticia Valentine. For info, call (252) 441-4477. * Speaking of yoga, Outer Banks Yoga in Kitty Hawk is hosting an interesting workshop on Saturday: an Oracle Card Workshop from 11 a.m. to 1 p.m. For $35, you'll learn about oracle cards, learn how to read them and get your own set. Call (805) 423-4824 for info...
To get you in the Valentine's mood a little early, OBX Relay for Life is hosting a Valentine's Dance on Saturday at the Kitty Hawk Pier House next to the Hilton Garden Inn. It's a semiformal affair with a band, hors d'eouvres and a cash bar. Tickets cost $50 per couple, and rooms at the Hilton are only $69 for party guests. Babysitting is available. To get tickets, call (252) 267-3837. * Another early Valentine's date idea is a Cooking Class at Outer Banks Epicurean. On Friday, they're hosting a Latin Lovers class with Chef Eric Drexler at 6 p.m. Watch, create, taste and eat a yummy South American dinner and enjoy wine for $89 per couple. On Saturday at 3 p.m. there's Crepes of Love, a savory and sweet crepe-making class, for $25 per person ($35 with wine). Call (252) 480-0005 for info...
For your personal betterment, here are a few more things going on this week:
Got teenagers? On Tuesday Dare County Children and Youth Partnership will present Drugs Exposed, an interactive workshop for parents of middle and high school students. Parents will take a look at a mock teenage bedroom, learn about the new drug culture and trends and learn about resources for parents and teens. It will be held at the Outer Banks Family YMCA at 6:30 p.m., and childcare will be available. Call (252) 441-0614...
The Dare County branch of the League of Women Voters is hosting an Estate Planning 101 workshop on Wednesday from 2 to 4 p.m. at the Baum Center in KDH. Attorney Jean-Louise Dixon and Julia Taft will discuss estate planning, wills, living wills, powers of attorney, Medicare, Medicaid and estate taxes. Sounds like weighty but necessary information! Email Audrey Esposito at saesposito36@gmail.com to info or to register...
The Outer Banks Birth Network is hosting Myths about Pregnancy and Birth Explained, a workshop for moms and moms-to-be on Thursday from 7 to 9 p.m. at the KDH Library meeting room. Join them to discuss everything you ever wanted to know about pregnancy, birth and postpartum but were afraid to ask. A panel of birth professionals will be on hand to discuss. Call (252) 207-5601 for info...
And here's a final head's up: Roadwork on N.C. 12 on Bodie Island will require closing the road from Whalebone Junction to the intersection of Old Oregon Inlet Road for three weeks starting on Sunday. All southbound traffic will be diverted to Old Oregon Inlet Road. Crews will be widening shoulders, paving a portion of N.C. 12 and the Bodie Island Lighthouse Road and replacing drain pipes and water lines. Expect delays....
Keep looking around the site. Outer Banks This Week has paired up with OBTV 12, and you can now see Outer Banks-related videos on our site. See the purple Video Link tab...