The Outer Banks' bridges get a lot of love. For locals, they're a beautiful metaphor for interconnected histories, cultures and communities shared between these islands. To visitors, the bridges represent that final cusp between them and a beach vacation – thrilling for new vacationers and sparking reminiscent feelings of coming home for returning visitors.
Lately it seems all the focus has been on the Herbert C. Bonner Bridge (referred to as the Bonner Bridge). This 55-year-old bridge is finally getting the update it's been overdue for since the 1980s. For almost three years now, people have marveled at the new bridge that runs alongside Bonner Bridge and towers above it. It's exciting to see – almost like a giant roller coaster track sweeping above Oregon Inlet – but for the area, the bridge itself is an engineering feat. The high-durability concrete and reinforced stainless steel in the structure are designed to withstand the corrosion from the sea-salty air for up to 100 years!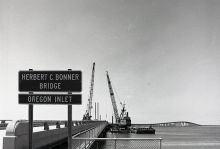 After much anticipation and waiting, local officials plan to open the bridge within the next couple of weeks. Locals are planning a warm welcome for the area's newest sensation. This Saturday, February 9, a community walk is organized to parade across the bridge. This almost-impromptu event will commemorate the bridge's much-anticipated completion (and also because so many of us just like finding reasons to celebrate anything as a community). Traffic will be rerouted during this time, so people of all ages can check out the bridge (by foot) safely.
A brief address and opening remarks will kick off the community's 2.8-mile walk, held on the bridge's north end at 10 a.m. From there, the bridge will be open until 4 p.m. to walkers and cyclists (no skaters, scooters or roller blades, please). A blessing of gratitude and laying of the wreath for the bridge, scheduled for 11 a.m., will honor the ways locals' lives are affected (for better and worse) by Oregon Inlet.
This event was inspired by the community walk across the Virginia Dare Bridge in 2002. At the time of its opening, this 5.2-mile bridge was the longest in the Carolinas – an addition definitely worth celebrating.
Photo courtesy of N.C. Department of Transportation
When you wake up this Saturday, slip on your walking shoes, bundle up and join your neighbors to say hello to the Outer Banks' newest bridge. For other events happening this weekend, check out our Daytime Events listings. Our Nightlife listings guide you to live music performances, DJ parties and trivia nights at the restaurants and bars.