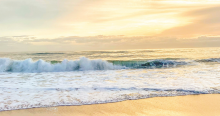 The pandemic has been ongoing for seven months now, and it's starting to wear some of us down. Current numbers in Dare County and North Carolina show that the virus is not letting up, and caution is still very much needed to stop the spread (wear those masks!). The pandemic has brought many changes to people's lives, including altered routines, financial pressure and social isolation. Many people are experiencing stress, anxiety, fear, sadness and loneliness, not to mention health concerns.
A new service is Dare County is helping ease COVID-induced strains. Two Community Health Workers with Vidant Community Health Improvement have been assigned to Dare County to serve as a link to social and health services. These two women can help people find services related to medical needs, food, financial hardships, transportation and job assistance. The Dare County Community Health Workers can be reached for any issues and concerns you're having. Here is their contact information: Julie Tortelli: (252) 256-3480, julie.tortelli@vidanthealth.com and Cindy Reise (252) 256-3479, cindy.reise@vidanthealth.com.
Health, medical and mental health professionals have many recommendations for coping during an ongoing crisis. I'm going to list a few of them here and make a few recommendations for ways you can take care of yourself on the Outer Banks during the pandemic.
Take Care of Your Body & Mind
Keeping your body healthy not only ensures a strong immune system, but also keeps you in a positive place mentally. The top tips for taking care of your health are to eat well, drink lots of water, drink alcohol in moderation or not at all, get plenty of sleep, exercise daily and get plenty of fresh air.
Fresh air and exercise go hand-in-hand on the Outer Banks. My favorite place to exercise during the pandemic has been Nags Head Woods. Walking and running among the trees is one of the best mood elevators I know, second only to doing anything at the beach. Kitty Hawk Woods, Buxton Woods, Springers Point and all of the other beloved hiking trails and places to exercise outdoors are listed here.
The Outer Banks could not be a better place for taking care of your body and mind. From standup paddleboarding and surfing to cycling and swimming, lifting weights and Pilates to spearfishing and skateboarding, there is an exercise opportunity for everyone. Find a list of all the fun things to do here. And all that exercise just might take care of any sleep problems you might be having.
When it comes to eating well, the Outer Banks has so many tasty options. One of my favorites these past few months has been Freshfit Cafe on the Nags Head/Manteo Causeway. Smoothies, detox juices, coffee, bowls, wraps – they have everything you could want for healthy breakfasts, lunches and snacks. They make eating well seriously easy, the soundfront location is gorgeous and the owners and staff are knowledgeable and super-friendly. It's definitely not the only healthy restaurant on the Outer Banks, so scroll through more options here. One place to procure healthy produce and products in one location is Secotan Market. You'll find fresh produce, free-range meats and eggs, fresh-baked goods, ferments and kombucha, body care products and so much more. It's held on Saturday from 9 a.m. to noon in Wanchese and Thursdays from 10 a.m. to noon at Waveriders in Nags Head.
Ease Your Stress
A pandemic, catastrophic natural events, racial tensions, political fighting – the news cycle is exhausting. All that doomscrolling can wear you down emotionally and physically, so anything you do outside in nature away from your computer or phone is a step toward sanity. Fishing, walking barefoot on the sand, swimming, sailing, climbing dunes – there are plenty of options for unwinding outdoors. Yoga classes are also abundant on the Outer Banks, and an hour of stretching, breathwork and meditation will push your reset buttons. One place I've been unwinding is at Ascension Studio in Kill Devil Hills; I love the Mandalas and Messages classes in which you learn to draw mandalas, an activity that will make you forget all your worries.
Another place to ease your stress is at All Saints Episcopal Church's Labyrinth. Wednesdays at noon through November 4, the church hosts Walking the Labyrinth for Peaceful Pre- and Post-Election Life. Each week has a different meditative and prayerful theme. The walk takes between 20 minutes and an hour. Wear a mask. For information call Wayne Barry at (434) 996-6479. You'll find it at 40 Pintail Trail in Southern Shores.

All Saints Episcopal Church's Labyrinth in Southern Shores.
Another way to ease stress is through journaling and self-reflection. Local writer and life coach Dyanne Kelley's book, Soulfire Woman: How to Torch Your Past, Ignite Your Present, and Set Your Soul on Fire, can help you analyze and transform your past to make way for a brighter future. You can buy it at Downtown Books in Manteo or Duck's Cottage Books and Coffee in Duck.
Connect with Others
It can be hard to connect with friends during a pandemic, but it's not impossible. Do something outside. Grab a coffee and sit on the beach. Have a beer or two in the Outer Banks Brewing Station back yard or enjoy lunch or dinner with a friend on the patio at a local restaurant. There's even a bit of live music and trivia going on around town; see our Nightlife section. Climb the Currituck Beach Lighthouse with a friend, or take a kid to pick out a pumpkin at the Island Farm Pumpkin Patch on Saturday. Click here for other Daytime event ideas.
Do Something for Others
Helping others always makes you feel better. Volunteer opportunities are limited because of the pandemic, but there are still many ways to help. A great resource for finding volunteer opportunities is OBX Common Good.
The Outer Banks Angel Gift Program begins Friday, November 6. It provides clothes, toys and gifts for children who are in need in the Outer Banks community. Take an angel from one of the angel trees between November 6 and 30 and purchase gifts for the child/children. Trees can be found at OBX Chevrolet Buick, OBX Frozen Yogurt, Publix, Outer Banks Family YMCA and Walmart. For information you can email gfwc.obwc.nc@gmail.com or call (252) 455-0163. To donate you can send a check to OBWC P.O. Box 102, Kill Devil Hills NC 27948. 
Seek Help
You do not have to struggle alone. If you're feeling overwhelmed, lonely, anxious or afraid and you're having trouble coping, reach out to the Community Health Workers mentioned above or try these resources:
The Hope4NC Helpline (855) 587-3463 connects North Carolinians to mental health and resilience supports that help them cope and build resilience during times of crisis. As part of the state's recent hurricane recovery efforts it served more than 4,400 people in the most impacted counties, and now it is being made available to everyone in North Carolina's 100 counties during the COVID-19 crisis. Hope4NC is available 24 hours per day, seven days a week to speak to a live person.
The Hope4Healers Helpline (919) 226-2002 is a new initiative in partnership with the North Carolina Psychological Foundation. It provides mental health and resilience supports for healthcare professionals, emergency medical specialists, first responders, other staff who work in healthcare settings and their families throughout the state who are experiencing stress from being on the front lines of the state's COVID-19 response. Hope4Healers is also available 24 hours per day, seven days a week for people to reach out for support; they will be contacted quickly by a licensed mental health professional for follow-up.
Dare County has a list of other telehealth and resources at these links.
What are your favorite ways to unwind and relax on the Outer Banks? What are your secrets for coping with the pandemic? Please share your thoughts and ideas in the comments below.