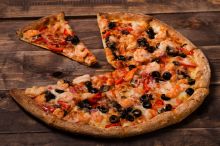 Update for March 23, 2020
Uncle Ike's is offering take-out and delivery, Monday through Saturday 11 a.m.-9 p.m., Sunday 12-5 p.m.
UPDATE FOR MARCH 19, 2020
It's All Gravy is offering take-out.
Lucky 12 Tavern has decided to close until the ban is lifted.
Outer Banks This Week is your live update source, and during these interesting times we will be your feet on the ground to bring you the latest updates on what the current scene is here locally. We're starting with restaurants, but we'll give you regular updates on every COVID-19-associated event or info we discover. 
 
Stay calm. Call your loved ones. Support each other. 
 
On March 17, North Caroline issued a government mandate closing all restaurants and bars for dine-in service. In the wake of this decision, many Outer Banks restaurants are shifting to carry-out and/or delivery service. This list will be updated daily as more and more restaurants develop their to-go models to fit the current climate. Take note that some places modified their business hours or menus, so call ahead for more details when ordering.
As of March 17, you'll find carry-out/curbside/delivery options from the following:
Carry-Out
Bad Bean Baja Grill
Basnight's Lone Cedar Cafe
Coastal Provisions
Dare Devil's Pizza
Darrell's
Fat Crabs Rib Company
The Hungry Pelican
Khan's Mongolian Grill
Lifesaving Station
Lost Colony Brewery and Cafe
North Banks Restaurant
O'Neal's Sea Harvest
Ocean Boulevard
Oh My Dog
Outer Banks Brewing Station
Pamlico Deli
Pizzazz Pizza
Sandbars
The Village Table & Tavern
Tortugas' Lie
Trio Restaurant & Market
Carry-Out/Delivery
Avenue Waterfront Grille (takeout and curbside delivery)
Black Pelican (Corolla to Manteo)
Cosmo's Pizzeria (between Point Harbor and milepost 6)
Country Deli
FreshFit Cafe (delivery offered in Roanoke Island and as far south as Kill Devil Hills)
Goombay's Grille & Raw Bar (mileposts 1-14)
La Fogata (Southern Shores to Kill Devil Hills)
Lucky 12 Tavern (Whalebone Junction to Kitty Hawk line)
Mulligan's Grille (Whalebone Junction to Colington Road)
NC Coast Grill & Bar (Corolla to Kill Devil Hills)
New York Pizza Pub (Oregon Inlet; Pirate's Cove Marina to Kitty Hawk/Southern Shores line; Colington Harbor)
Poor Richard's Sandwich Shop
Sundogs Raw Bar & Grill
Uncle Ike's Sandbar & Grill
The Landing Grill
Stay tuned to this list for more updates made live everyday.