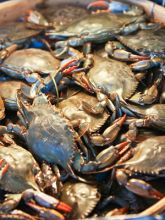 A vacation is the perfect time to break with routine and try new things, and you'd be hard-pressed to find a more uniquely Outer Banks adventure than the Blue Crab Kayak and Cook package, a hybrid eco-tour and culinary experience offered by Outer Banks Restaurant Tours on Tuesday, August 13 from 7:45 a.m. to 11 a.m. Beginning with a morning kayak excursion led by Kitty Hawk Kayaks' expert guides, you'll paddle pristine creeks in Kitty Hawk's maritime forest, learning about the maritime forest ecosystem and why it is a perfect environment for the growth and development of the blue crab. After working up an appetite, you'll gather at Outer Banks Epicurean in the nearby Outer Banks Wedding Library for a private crab cooking demonstration by Amy Huggins Gaw, local food educator, personal chef, caterer and purveyor of hand-harvested Outer Banks Sea Salt. Outer Banks Sea Salt was recently featured in Our State Magazine and seen on Food Network's Diners, Drive-Ins and Dives with Guy Fieri. Participants will receive a small complimentary sample of Outer Banks Sea Salt to take home! The Blue Crab Kayak and Cook tour is $99/person and pre-registration is required. The tour is appropriate for ages 10 and older; minors younger than 18 must be accompanied by a parent at all times.
Community
Bookshelf getting a little crowded? Mine was until my last move when I was forced to consider the prospect of toting all those books up five flights of stairs to the new apartment. It didn't take long for me to devise an alternative, and off I went to donate a sizable portion of my collection to various schools, libraries and thrift stores where the tomes could benefit others as they'd benefited me. Why not lighten the load and share your own literary surplus with the Dare Literacy Council? Beginning Wednesday, Aug. 7 and continuing until Thursday, Oct. 10 books can be dropped off at a number of collection points located throughout the Outer Banks: Thomas Baum Senior Center in Kill Devil Hills; Ace Hardware, PNC Bank, OBX Bank and Bushin Kan Karate in Kitty Hawk; Dare County Government Center and Ace Hardware in Manteo; Ace Hardware and OBX Bank in Nags Head; and Gateway Bank and the UPS Store located in Southern Shores. The Dare Literacy Council's Book Sale fundraiser will be held Saturday, Oct. 12 from 9 a.m. to 3 p.m. at Dare County Family Recreation Park in Kill Devil Hills. For more information about the book sale, volunteering or arranging the pick-up of large donations call (252) 216-7773.
Food for Thought, Inc. hosts its Seventh Annual Summertime Shindig Friday, August 9 from 4 p.m. to 7 p.m. The awareness-raising Shindig takes place at the Food for Thought facility on Hwy. 64 in Manteo and includes a fish fry, entertainment, crafts and educational materials about healthy eating. Tickets are $8/adult, $5/child age 12 and younger. Food for Thought is an all-volunteer nonprofit organization that provides healthy weekend meals to children meeting specific criteria in Dare County.
Art
The historic Manteo Waterfront will be the site of the 32nd Annual New World Festival of the Arts on Wednesday, August 14 from 10 a.m. to 6 p.m. and Thursday, August 15 from 10 a.m. to 5 p.m. Celebrating its 32nd year, the juried show welcomes more than 80 artists from throughout the country who will be exhibiting original works in watercolor, oil and acrylics, graphic media, charcoal and pencil drawings, photography, jewelry, sculpture, pottery and more. Admission to the festival is free, and the artists' works are for sale. Free parking will be available at the College of the Albemarle campus on Highway 64 with a shuttle running both days. On Wednesday, two shuttles will run from 11 a.m. to 3 p.m. The College of the Albemarle is only a brief and scenic walk from the waterfront art show for those who choose to combine a little on-foot sightseeing with their art viewing. I should also note that Manteo's picturesque waterfront downtown is chock full of boutiques, galleries, book shops and great restaurants. Sailing charters and dolphin tours regularly put out from the marina. And with the number of activities and attractions available on Roanoke Island (including Roanoke Island Festival Park, the North Carolina Aquarium, Fort Raleigh National Historic Site, The Lost Colony and The Elizabethan Gardens), you'll find it easy to make a full day of it.
Culture and History
The 10th Annual Roanoke Island American Indian Cultural Festival and Powwow is a two-day festival that takes place on the Airport Pavilion Lawn on Airport Road across from the North Carolina Aquarium. The event presents an incredible opportunity to learn more about Native American culture and history, those of tribes originating along the Outer Banks and eastern North Carolina and from tribes located across the nation. Beginning around noon on Saturday, August 10 and Sunday, August 11 representatives of each tribe, dressed in tribal regalia, will entertain and educate through the use of traditional and contemporary American Indian music, dance, visual arts, storytelling, backwoods survival demonstrations and crafts. At several times during the day, the Master of Ceremonies will invite the public to participate in social dances. Educational displays will exhibit artifacts used and traded by Native Americans. Authentic foods will be available for purchase as well as typical festival fare. Veterans and all current servicemen and servicewomen will be honored. There will even be health screenings offered. Admission is $5/adults, $3/children 13 and younger, with children younger than 2 admitted free.
Civil War buffs will want to check out local author Drew Pullen's informative power point presentation, "Hatteras Island During the Civil War," Wednesday, August 14 at 2 p.m. at the Graveyard of the Atlantic Museum in Hatteras. The free lecture provides visitors with a comprehensive view of why, when and how Civil War action occurred on Hatteras and the Outer Banks.
Kids
Surfing for Autism is a yearly Outer Banks event that introduces children with autism or Asperger's Syndrome to the thrilling sport of surfing. This year's event takes place at Jennette's Pier on Saturday, August 10 beginning at 8 a.m. Each participating child is assigned two surfers and a skilled therapist or teacher as they learn surfing skills and discover a new way to have fun in the sun. This is an event that can change lives.
Combining education with adventure, the Fisheries Science Week-long Camp is all about the fish! Campers aged 8 to 13 will not only learn how to fish, but will also be taught about the environments in which different species of fish live, feed and spawn. Participants will also learn how fisheries science data is collected before trying their hand at collecting and analyzing their own data. Along the way, campers dissect fish and spend time in the field exploring the world of fish up close and personal. The camp costs $200 and runs Monday, August 12 through Friday, August 16 from 9 a.m. to 4 p.m. each day. Pre-registration is required. Campers should bring a bag lunch and personal items such as sun screen, hat, water shoes, swim suit, etc. For more information call (252) 255-1501.