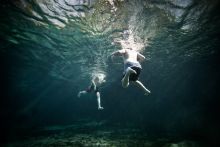 I constantly admire the creativity that's alive here on the Outer Banks. * This week I spent an hour with local artist Beth Burns talking about her fiber art for an article I'm writing. Beth raises her own sheep (the ones at Island Farm on Roanoke Island) and uses their wool to weave indulgent scarves, shawls and, soon, Roanoke Island Blankets. * Talking with her made me long to find an artistic endeavor. I have creative outlets in writing, creating new yoga sequences and playing with kids, but I don't really consistently create anything with my hands (typing doesn't count). * My friends have been urging me to come to a guided painting class with painter Marcia Cline at Good For You Studio in downtown Manteo or with Katy Caroline at ARTspace in Southern Shores. Or I could choose from jewelry-making classes, music lessons, photography classes and more. But I tend to procrastinate on this subject, so I may just be an admirer of art for a little while longer...
And there are tons of places on the Outer Banks to admire the creativity of others. If you've got that inclination, too, start on Roanoke Island. At Roanoke Island Festival Park this month, you can see the very cool Underwater Photography by Chris Hannant. Over at the Dare County Arts Council, see the paintings of Ann Rubino and the photography of Linda Kidd. Plus you can check out several other galleries in town. The Manteo Farmers Market on Saturday mornings has become as much an art/creativity showplace as it is a place to buy vegetables (you can usually find Beth Burns there, plus a lot of other local artists), and the Manteo Wine & Art Festival on Thursday evenings is a good place to see some local artwork while enjoying a sip of wine. It's from 4 to 8 p.m. behind the DCAC gallery...
I can't mention every awesome gallery that's worth looking into on the Outer Banks; there are so many great ones. * But here are a few highlights I do want to mention: Glenn Eure's Ghost Fleet Gallery in Nags Head has a show this month by local photographer Ray Matthews. It's called Chasing the Light, and it's a good one. * Seaside Art Gallery in Nags Head (on the Beach Road) is celebrating its 50th anniversary this year. If you've never been in there, you should go. It's been around for 50 years for a reason, and you'll be surprised at some of the big-name artists you'll find in there. Seaside has wine and cheese events on Wednesday nights from 6 to 9 p.m. in the summer. * The Sunset Art Show on Wednesdays from 4 to 8 p.m. in the Marketplace in Southern Shores is also a fun place to see local art. They've got music (Kirsten Thien band this week), food and lots of local artists...
If you want to get the kids (or adults) involved, head to KDH Cooperative in Kill Devil Hills. Not only is this an eclectic local gallery, but it's also a studio with amazing classes. * Found Colony Art School is a new place on Roanoke Island offering lots of classes (call 252-256-3034). * Down in Avon, Studio 12 is offering art classes, too. * Hatteras and Ocracoke islands are home to an incredible number of art galleries, some upscale, some rustic working studios, some in the artists' sheds, and all worth checking out...
Duck and Corolla have numerous galleries, and it's worth an entire day of shopping to scout them out. One of my favorites is Greenleaf Gallery in Duck. This month, they've got a exhibition of paintings by Outer Banks residents Glenn Dodenhoff and Lisa Cooper...
Not all art is of the 2D/3D variety. You can appreciate the art of performance on the Outer Banks too. The Lost Colony is a great place to appreciate, obviously, acting and dance, but it's also really fun to appreciate the art of costumes (designed by Tony Award winner William Ivey Long) and the performance art of fight scenes. The Lost Colony has some incredible fight scenes. And the cast of The Lost Colony does a show for kids, Pirates! A Boy at Sea, at Roanoke Island Festival Park on Wednesday and Thursday at 2 p.m., plus they do a family show in Duck Town Park on Tuesdays at 10 a.m. * The N.C. Marionette Theater is performance art at its tiniest on the Outer Banks, but it's fascinating nonetheless. The marionette group is presenting its show Tom Benn and Blackbeard the Pirate at the Whalehead Club on Thursdays at 2 p.m. for free. I saw this performance this winter and was awed at how much love and dedication the puppeteers (forgive me if it's the wrong term!) put into the performances. * At Roanoke Island Festival Park early next week (Monday and Tuesday), you can see the performance art of Elizabeth R and Company with The Diary of Adam & Eve. The play is based on a short story by Mark Twain, and the actors are professionals. See this one at 2 p.m. for the price of admission to the park...
I could keep going on and on with ways to enjoy the arts on the Outer Banks. Live musical performances (don't miss local favorites The Walker Brothers at the Whalehead Club on Thursday or Greg Shelton Band in Duck Town Park on Thursday or any of the acts that are playing on decks and in restaurants up and down the Outer Banks) is one way to appreciate creativity. Even if they're playing covers, you can appreciate how they're arranging them. * For the ultimate creative experience, don't miss Southern Culture on the Skids at Port O' Call this Wednesday and Thursday. * Comedy, too, is a creative endeavor, and this week the Comedy Club of the OBX has David Kaye telling hilarious tales of his dysfunctional family and blue collar upbringing in Pittsburgh. * And if you're just sitting on the beach, you can appreciate creativity by admiring the way people express themselves through tattoos...
Check out our By Day and By Night listings for a full rundown of everything that's going on around here this week. Hope you have some time! It's a long list!...
A couple more things and then I'll be off: Kitty Hawk Kites is holding its Wright Kite Festival at the Wright Brothers National Memorial this weekend. The two-day festival features enormous kites, kite demos, games, kids' kite making and a lot more. * Cape Hatteras Lighthouse has its Full Moon Tour on Friday at 8:30 p.m. and 9:30 p.m., but get your tickets well in advance...
And, finally, Beth Burns, the artist I told you about, told me that people are feeding her sheep too much. When you're riding by their pens on the Roanoke Island bike path, resist the urge to feed the poor things. They're getting too fat. Just like seagulls and wild horses, they have their own natural diet and don't need human food!...
Have a great week!...