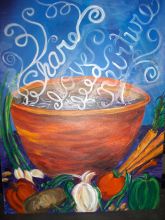 Whoever said that living on the Outer Banks is a trade off of culture for nature? * Okay, maybe I've said that once or twice, but now I take it back. * This week, Outer Bankers have the choice of a solo tenor singing performance, a documentary film, a poetry seminar, an astrology class, cooking classes, wine tastings, continuing education classes, national musical acts, health seminars, art shows and more. * We've got the right amount of culture and if we want to keep it coming, we've got to go out and support it when it's here (hint, hint, that means YOU and ME!)...
The Outer Banks Forum for the Performing Arts is bringing award-winning vocalist Franc D'Ambrosio to town on Saturday. D'Ambrosio is best known for his starring role in The Phantom of the Opera (he played the phantom more than 2,000 times). His one-man shows are highly praised, and he'll put on the show at First Flight High School on Saturday at 7 p.m. Tickets cost $25 for adults and $12 for students. For tickets or info, call (252) 255-2274...
Those of you with young girls in your life need to go see the documentary film A Girl's Life with Rachel Simmons at Kelly's on Tuesday. Presented by the local Peace and Justice Interfaith Coalition as part of its film series, the film follows four American girls between the ages of 12 and 18 and chronicles the struggles girls have growing up in America today. Girls have more opportunities today than their mothers and grandmothers, but they're losing their confidence in middle school. How can we stop this? A discussion with local professionals who work with girls will follow the film. The film starts at 7 p.m. at Kelly's. Kids older than 12 are welcome with an adult...
On Sunday, the North Carolina Aquarium on Roanoke Island is celebrating Black History Month with a program about the first slave to publish a book of poetry. George Moses Horton: Uncovering and Celebrating Lost Black History will be presented by Marjorie Hudson, who studies Horton's life and writings. Horton's writings were inspired by slavery, his rural surroundings, love, war and the trials of life. Hudson will read a selection of poems. It's at 2 p.m. at the Aquarium and it's free...
If you've got your head in the stars, you'll love the Astrology of Attraction with Jean Wiley on Saturday from 11 a.m. to 2 p.m. at Outer Banks Yoga. For $70, you'll learn how to have happy relationships (now that sounds like a deal) and get a personal chart from Jean. To register contact Jean at (252) 655-1300 or jean@jeanwiley.com...
It's the last week of After Dark at All Saints continuing education classes at All Saints Episcopal Church in Kitty Hawk, so if you've got some extra time this week you should sign up for a class. Local experts teach these classes and all the proceeds go to local charities. This week's classes include Strengthen, Tone and Stretch with Aubrey Remige, Line Dancing with Sharon and David Jones, Vegetable Gardening on the Outer Banks with Bob Schultz and Mary Jane Slesinski, Shop Thrift Savvy with Deb Kasten and Pat Wilson, Baklava cooking with Robin Carey, Heart Healthy Cooking with Dottie Mann and Maureen McGrath, Ikebana flower arranging with Ruthie Charlton and Compost Happens with Rhana Paris. Fees are $20 per person. See www.allsaints-eastcarolina.org for info and to register...
There's some good live music this week. * I'm excited to see Yarn at Outer Banks Brewing Station on Saturday. I've only heard them on YouTube, but they're Americana/Roots musicians from Brooklyn, so they sound interesting. * Friday night, Brewing Station has a double feature with The Influence and Sun Domingo. * Kelly's has party band Butter on Friday and Saturday nights, as well as open mic on Wednesday and Jazz, Manicures and Martinis on Thursday...
For foodies and winos (and I mean wino in the best way possible), Outer Banks Epicurean is offering a Homemade Pasta Cooking Class on Saturday from 3 to 4:30 p.m. The dish is Butternut Squash and Sausage Raviolis, and you can take the class with wine or without. Call 480-0005 to register. * Wine lovers should check The Wine Specialists' Free Wine and Cheese Tastings on Wednesdays from 5 to 8 p.m. They also offer wine tastings all day long on Saturdays. They're located in Kitty Hawk. * Chip's Wine and Beer in Kill Devil Hills offers its wine tastings on Fridays from 4 to 6 p.m...
Want to help a good cause? Here's a great way to raise money for the local food pantries: The Empty Bowls Charity Dinner at Kitty Hawk Elementary School (don't you love KHES art teacher Ticia Valentine's promotional art at the top of this page?). It's happening on Thursday from 5 to 7 p.m. Come pick out a handmade ceramic bowl and enjoy it filled with soup and bread. Take the bowl home as a reminder that your help is always needed to fill bowls of others around the world. A minimum donation of $10 is requested. There will also be a silent and live auction. * On Monday (Feb. 21), North Carolina Coastal Federation needs people to help bag recycled oysters for the ongoing shoreline restoration project at Jockey's Ridge State Park. Help is needed from 2 to 4 p.m. and you should meet at the Jockey's Ridge parking lot. The restoration project includes building an offshore sill using empty oyster shells that have been put into net bags. The sill will protect the shoreline from waves. This spring , marsh grasses will be planted behind the sill to help hold sediment in place. This natural form of shoreline stabilization enhances shallow water fisheries habitat. Call 252-473-1607...
Two health-related seminars are happening this week on the Outer Banks. * Is Genetic Testing Different Than Other Medical Tests? is a free community Lunch and Learn Workshop presented by UNC Health Care and The Outer Banks Hospital on Friday at noon at the Outer Banks Cancer Resource Center. To register, call (252) 449-9184. * Caring Effectively for a Person with Dementia is a ongoing program held on Tuesday at Holy Redeemer in Kitty Hawk. From February 15 to March 29, the program will help caregivers. Time is 7 to 9 p.m. Call (252) 480-3354 for info and to register...
A couple more things: Nature lovers, get ready for a Full Moon Night Hike in Nags Head Woods with an N.C. Aquarium educator. Cost is $7 per person. Call (252) 473-3494 ext. 232 to register. * Art lovers go to Glenn Eure's Ghost Fleet Gallery in Nags Head to see the annual Frank Stick Memorial Art Show, Seaside Art Gallery for the Animals in Art show, COA-Roanoke Island's Art Gallery for the Tin: The Element of Surprise show, and Dare County Arts Council in Manteo for the great February show with Lisa Godrey and Tracy Bell...
A couple of reminders: February 21 was supposed to be a school holiday but it's now a makeup day for the snow day the kids had on the 10th. * If you haven't registered for the Flying Pirate Half-Marathon or the First Flight 5K on April 9 and 10, do it now and start your training! * Oh, and plan some outdoor time this week. It's supposed to in the mid to upper 50s and possibly even the 60s on Thursday, Friday and Saturday...