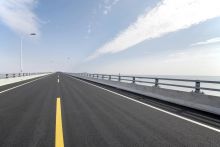 Winter weekends, beautiful weather and the need for social distancing create the perfect setup for a daytrip drive into the country. Good music and a change of scenery will do wonders for your mind and soul. Dress in layers and grab your camera or phone (and don't forget your mask) – we're heading to mainland Currituck. Good food, a little shopping, outdoor adventures and even a real-live, safely distanced event at Sanctuary Vineyards are on the agenda.
Tip: Gas up when you get there, as gas is a little cheaper on the other side of the Wright Memorial Bridge.
Most people only experience mainland Currituck County via U.S. Highway 168 when they're on the way to or from the beach. And that's OK because there is a lot to see along the main highway. Driving down that road you'll get views of the sound and Intracoastal Waterway, see farms and old houses and get a glimpse of quiet rural living.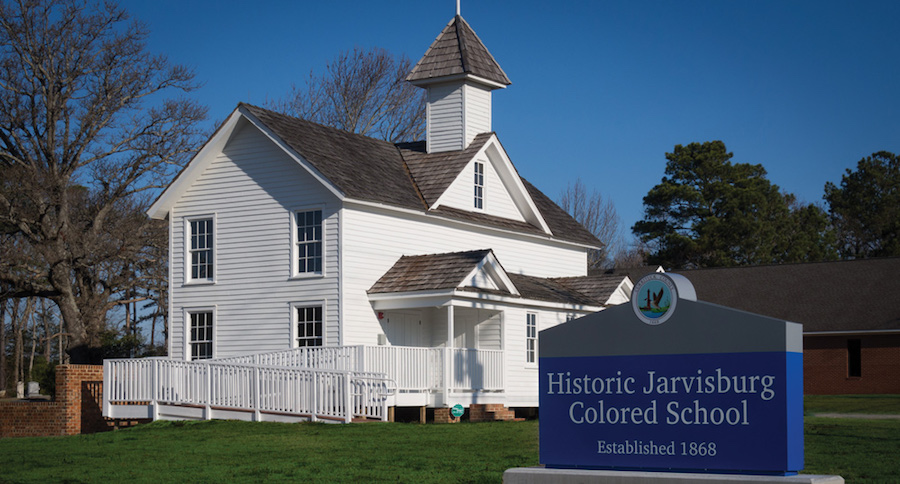 The restored Historic Jarvisburg Colored School is one of the sights along U.S. Highway 168. Photo: VisitCurrituck.com
You could easily make a nice day out of hopping among stops on U.S. Highway 168. The weather is just mild enough to enjoy a round of golf at one of the five mainland Currituck golf courses. You could stop in the local shops, places like Lammers Stained Glass, Cast Stone Studio, Soundfeet Shoes, Harley Davidson, Currituck Feed and Seed, furniture stores, thrift stores, sporting goods stores, a waterfront bait and tackle shop and so much more. If you think you don't need to go inside a feed store, you should go anyway. It's a fascinating cross-section of Currituck life, and they have more than you think, including fresh eggs. You can also make a stop at Diggers Dungeon, home of the Gravedigger monster truck. They have a gift shop and diner and frequent displays of the monster trucks in action.
Eating is always a pleasure in Currituck, and Highway 168 is where you'll find most of the local restaurants. Weeping Radish Farm Brewery & Butchery is a favorite for locally brewed beer, real German-style brats and meals and souvenirs from North Carolina's oldest microbrewery. There's also Currituck BBQ for eastern North Carolina-style barbecue, Masala Bay Grill for Indian food, Frog Island Seafood for local seafood, Wise Guys Pies for pizza, BJ's Carolina Café, Mutt & Jeff's and Simply Southern Kitchen for country cooking and many more, including several national fast food chains. One of my favorite Currituck mainland stops (and I'm not alone) is Cindy's Kitchen in Coinjock. You go to the Citgo gas station and convenience store next to the building that says Cindy's Kitchen, and inside you will find their incredible biscuits and baked goods. I have only ever tried the 12-layer chocolate cake, mind you, but everything else looks really incredible.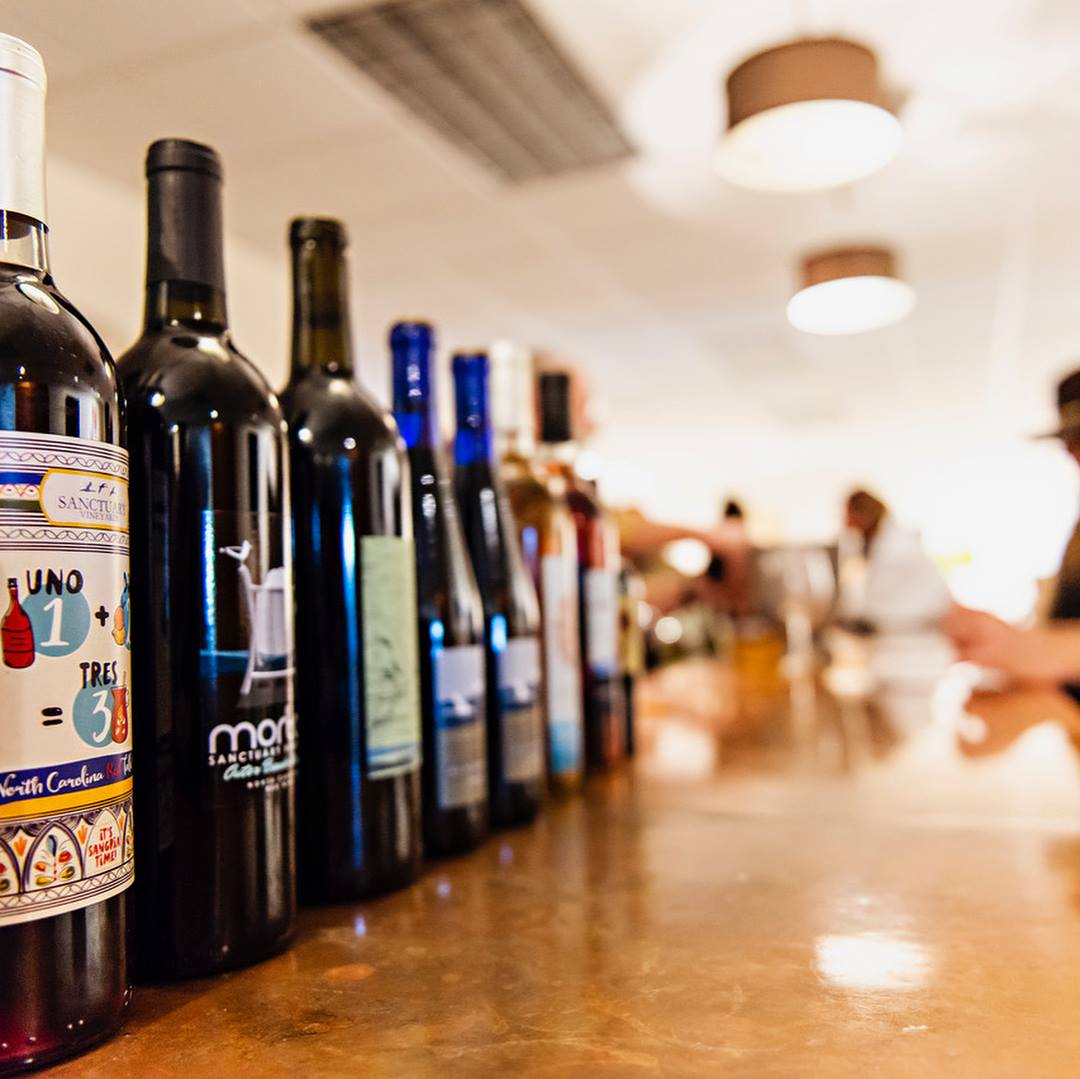 Tasting wines at Sanctuary Vineyards. Photo: Sanctuary Vineyards Facebook
This weekend there's a special eating treat at Sanctuary Vineyards in Jarvisburg. Sanctuary is an award-winning winery with gorgeous vineyards, impressive wines and a welcoming tasting room, so it's always worth a stop. On Saturday, January 16, and Sunday, January 17, they are hosting an event called Chowder and Chill(i). They'll be offering socially distanced fun with chili and clam chowder from Coinjock Marina, live music and wine specials in an outdoor heated tent and patio area. To keep groups small, there will be three sessions over the two days, and advanced ticket purchase is required. Tickets cost $20. Find more details and purchase tickets here.
If you want to go a little deeper in Currituck and have more of an adventure, turn off of Highway 168 and explore the back roads. Venture along to the east toward the Currituck Sound for drives through Aydlett and Grandy, or head west into the farmlands of Sligo and Shawboro. I can't really tell you where to go precisely; you just have to be willing to venture off the main road and know that you might hit some dead ends and have to backtrack once in a while.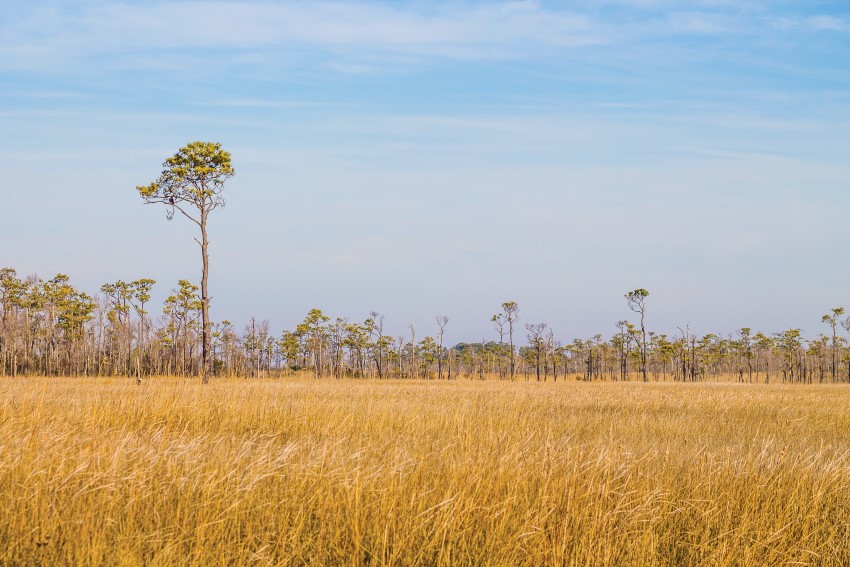 The Knotts Island landscape is low and marshy and often populated with birds and wildlife.
One of the off-the-main-highway places I can recommend is Coinjock Marina & Restaurant on Waterlily Road. It's very popular among the locals and those in the know, but if you're new to the area, it's a good find. Many people from the Outer Banks drive up just for the experience of a meal there. It's on the ICW so it's also a popular spot for boaters, of course. It's a fun place for lunch, dinner or drinks, inside or out by the water. They're known for their prime rib and seafood. Another restaurant to check out is Barry's Walnut Island Restaurant in Grandy. It's got nice live oak trees, water views and indoor and outdoor seating. You'll join a crowd of locals for dinner.
If you really want to head off the beaten path, make your way to Knotts Island. You'll take a free, 40-minute ferry ride from Currituck, and there's not a lot to do once you get there except drive around and look at the beautiful landscape, winter birds and old houses. You can take walk in Mackay Island National Wildlife Refuge, stop at the Village Market for lunch and snacks then get back on the ferry.
The Knotts Island Ferry crosses Currituck Sound between Knotts Island and the Currituck community. Photo: WTKR
There's way more to Currituck County than this, and the best way to find it is to get out and discover it on your own. I hope you go, and I hope you have fun!