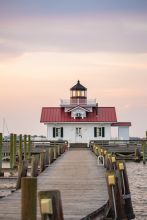 Looking for a charming little town where you can park the car and spend the day poking around on foot? Downtown Manteo is that place. This town has it all – a walkable waterfront with docks and boats, parks, attractions, restaurants, stores, watersports activities, boat tours, beautiful homes to admire and more … literally enough activities to keep all ages entertained all day. Here's a guide for creating a great day in Downtown Manteo.
Getting There
If you're headed to Downtown Manteo from the beaches, you'll need to cross the Nags Head/Manteo Causeway and the Washington Baum Bridge. At the big intersection with the CVS on the corner, veer off to the right onto Highway 64/264 into Manteo. From Highway 64/264, turn right onto Fernando, Agona, Budleigh or Sir Walter Raleigh streets to get downtown. There's plenty of street parking and parking lots, including a new parking lot and greenspace on Budleigh Street. Plan to leave your car for the duration of your visit. If you're visiting Roanoke Island Festival Park, and you should, there's plenty of shaded parking there (it's just across the from the waterfront on its own little island) and you can walk downtown from there after your visit.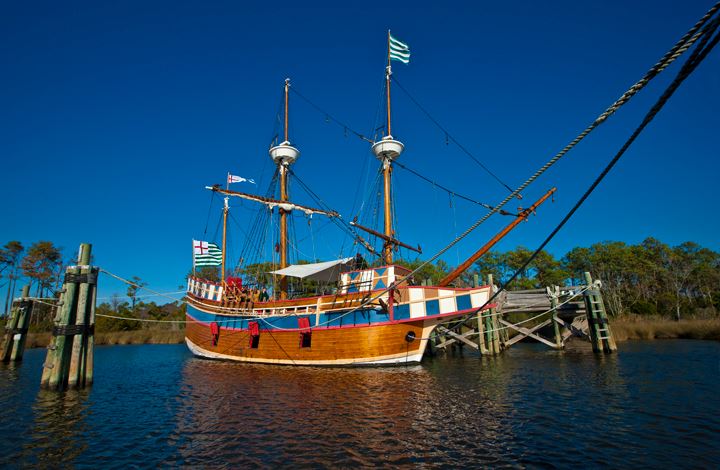 You can see Elizabeth II from the Downtown Manteo waterfront or climb aboard at Roanoke Island Festival Park.
Start with the Attractions
Roanoke Island Festival Park is a good place to start, especially if you have children with you. Since part of this attraction is outside, it's best to go before the hottest part of they day. Festival Park is where you can learn about the early English settlements of Roanoke Island by touring the Elizabeth II representative sailing ship, visiting the Settlement Site and American Indian Town and playing in the Adventure Museum.
After Festival Park, walk across the bridge to the downtown area (or drive over and park again). Follow the waterfront boardwalk past the boats at the town docks. As you round the corner, you'll find the waterfront playground. Just past there are Roanoke Marshes Lighthouse and Roanoke Island Maritime Museum, both of which are free to tour at your own pace. If you come on a Saturday, this is where you find the Downtown Manteo Market from 9 a.m. to noon.
If you still have the time and energy to explore, walk around the quiet side streets to look at the beautiful homes, inns and nicely landscaped yards.
Find Your Refreshments
When your throat is dry and your belly rumbling, Manteo has something for everyone. You can dine with a waterfront view at Poor Richard's Sandwich Shop, Olives A Greek Kitchen and Avenue Waterfront Grille. You can enjoy sidewalk or indoor dining at Lost Colony Brewery and Café, Ortega'z Southwestern Grill and Hungry Pelican. Sweets and snacks can be found at Laughing Lollipop, Frosties, Mackeys Ferry Peanuts and Big Buck's Ice Cream. Coffee and refreshments are available at Charis Coffee Co. and Island Perk Coffee Shop. For adult refreshments, check out the offerings at Lost Colony Brewery and Outer Banks Distilling. Coming this summer is a wine bar, Nouvines, on Budleigh Street.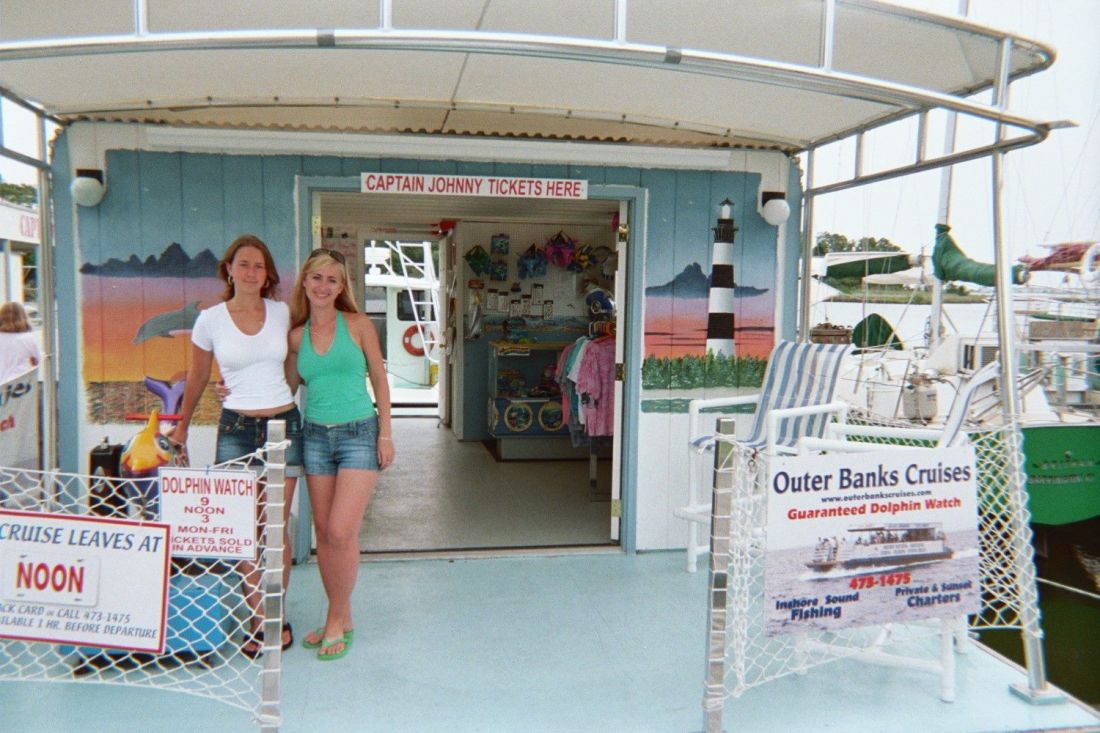 You can book a dolphin tour with Captain Johnny's Outer Banks Dolphin Cruises on the Manteo waterfront.

Book Some Activities
Getting on the water is easy in Downtown Manteo. On the waterfront boardwalk you can book a dolphin tour with Captain Johnny's Dolphin Watch or book a sailing tour on the Downeast Rover or a charter with Sail Outer Banks. At Kitty Hawk Kites you can arrange kayaking or standup paddleboarding tours or rentals or rent bicycles. At OBX on the Fly, you can set up a fishing charter. Arts lovers can take arts and crafts workshops and classes at Water Street Studio and Island Shop Boutique. If it's a tour you're looking for, Roanoke Island Rickshaws will pick you and do the work of cycling you around downtown to see all the sights.
Check Out the Shops
One of Downtown Manteo's biggest draws is the shopping. It's fun to explore the independently owned shops and boutiques with friendly staff who enjoying meeting their customers. There are too many shops to name here, but trust us when we say there's plenty to explore: art galleries, a pottery studio, an independent bookstore, women's clothing boutiques, fly-fishing store, souvenir shops, gift shops, foodie favorites, an antique store, home décor stores and more. Dare County Arts Council, in the historic Dare County Courthouse, is a great place to see a wide variety of locally made art.
After Dinner Activities
If you stick around in Manteo through the dinner hour, don't go straight home. The Pioneer Theatre, which has been showing movies in Manteo for more than 100 years, is a must-do Manteo experience. They show one current movie nightly at 7 p.m. Even if you don't like the movie, the nostalgia and popcorn are worth it. Historic Manteo Candlelight Walking Tour and Outer Banks Ghost Tours offer walking tours through town. Avenue Grille offers occasional live music, and Poor Richard's stays open the latest with trivia and live music in the bar.

Roanoke Island Inn is a beautiful accommodation in Downtown Manteo.
You Don't Have to Leave
You might find Manteo so charming that you never want to leave, and you don't have to. Downtown Manteo accommodations include Roanoke Island Inn, White Doe Inn, Tranquil House Inn, Cameron House Next Door and Scarborough House Inn, and there are other accommodations options nearby.
If you want to learn more about visiting Downtown Manteo and Roanoke Island, everything you need to know can be found on our online Roanoke Island Guide. 
To find out what's going on in Manteo when you're visiting, look through the Daytime and Nightlife events on our site as well.