Who says crab pots only have one use? It must be Christmastime on the Outer Banks because the crab pot trees have gone up and the sound waters are alight with boats draped in holiday lights. The start of December means it's officially time for the town parades, tree lightings, eggnog tastings and all-around merry festivities associated with the Christmas holiday. There are some truly great charitable groups at work this season too, so remember the spirit of giving while visiting with Mr. Claus and walking through the larger than life lights displays that will be up all season.
Manteo Christmas Boat Parade and Tree Lighting
First Friday in Manteo is going to be unlike any other this time around with the special additions of the Christmas Boat Parade and the Christmas Tree Lighting. This is a small-town celebration that you definitely do not want to miss – I'm not. Something about seeing the boats all strung with lights in Shallowbag Bay will make you genuinely appreciate our lifestyle on the water. This First Friday, the last celebration of its kind until spring, there will be live music on every corner, artisans selling their crafts, hot chocolate and all kinds of delicious Christmas treats. Many shops and restaurants host individual celebrations inside their establishments, offering their own live music and special sales. After the boat parade, the town tree lighting will take place in front of the historic old courthouse, and it is no small production -- lots of music and merriment. Sometimes it even snows right in front of the courthouse, as if by some magic! The event kicks off a whole weekend of holiday festivities that all members of the family can enjoy. First Friday runs from 5 to 8 p.m. on Friday, December 4 in downtown Manteo with the boat parade beginning at 5:30 p.m. and the tree lighting taking place at 6 p.m. The celebration is free to attend.
Manteo's Big Little Town Christmas Parade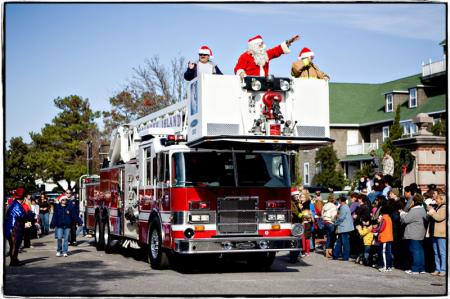 Come Saturday morning, the streets of downtown Manteo will be overflowing with cheerful crowds for the 44th Annual Big Little Town Christmas Parade. Holiday floats, marchers and entire bands will traverse the historic Manteo waterfront, and of course jolly old St. Nick will be there too. Look for him at the boathouse after the parade, which begins at 10 a.m. on Saturday, December 5. There will also be an opportunity for photos with Santa at Manteo Elementary School following the parade.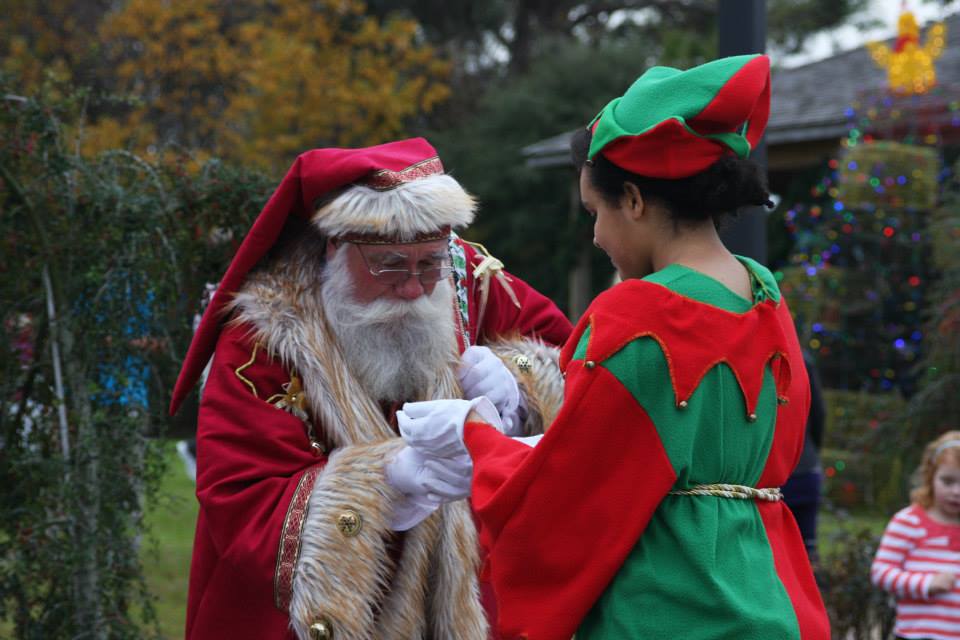 Duck Yuletide Celebration
Heading up the beach to my other favorite small town for holiday festivities, make sure you plan to attend the annual Duck Yuletide Celebration this Saturday, December 5. Santa Claus will be arriving via a big, red fire truck – he traded in his sleigh for this one – and there will be live holiday music by Emme St. James & Her Jazz Gentlemen and hot cocoa for all. The celebration culminates in the lighting of the Town Crab Pot Tree, and if you take a walk on the Duck Boardwalk you can catch the sunset too. And trust me, the best Outer Banks sunsets always seem to appear in the wintertime. The Duck Yuletide Celebration runs from 3 to 5 p.m. and is free to attend.
Outer Banks Hotline Festival of Trees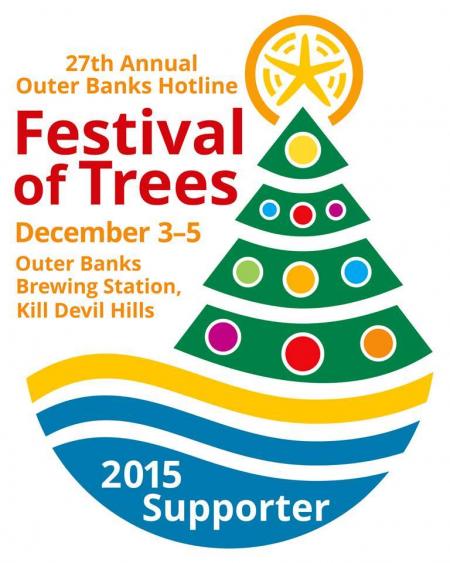 Festival of Trees is a unique community fundraiser and all-around very exciting event to attend that supports services and resources to address domestic and sexual violence on the Outer Banks. A full weekend of events includes festive musical performances, a Holiday Bazaar featuring local artists and craftsmen, Pictures with Santa, a gala and benefit auction and, of course, gorgeous displays of decorated trees. The Holiday Bazaar is open all weekend with items half-price on Saturday, December 5 from 9 a.m. to 3 p.m., and Santa will be taking requests from good little boys and girls on Thursday, December 3 from 6 to 9 p.m. Festival of Trees culminates with the dazzling Gala Holiday Social and Benefit Auction, where the donated trees and holiday items will be auctioned to benefit Outer Banks Hotline's crisis services. The gala takes place on Saturday, December 5 at 6:30 p.m. and is $25 to attend.
Holiday Tour of Homes
This year's 10th annual tour will showcase some of the locations of Manteo  that exemplify history and creative style. Find holiday inspiration while visiting 10 homes and sites on Roanoke Island with the Manteo Preservation Trust. The Holiday Tour of Homes will begin at the brand new Outer Banks Distilling in Manteo on Saturday, December 5 at 1 p.m. Tickets are $20 and can be purchased the day of.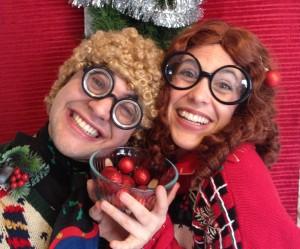 A Dickens Tale & Christmas With Santa
Two wonderful holiday productions by Bright Star Touring Theatre are coming to Manteo this weekend. Join Old Scrooge, bumbling Bob Cratchit, one hilarious beggar woman and all the delightful ghostly visitors in a beloved retelling of the Charles Dickens classic, A Christmas Carol. An unsuspecting student will have the opportunity to join actors onstage and play the role of Tiny Tim. A Dickens Tale will play on Saturday, December 5 at 3:30 p.m. at the Roanoke Island Festival Park Indoor Theatre. Tickets are $5, and ages 5 and younger are free.
Later in the evening, the spirit of the most wonderful time of the year will be overflowing in a hysterical comedy titled Christmas with Santa. Two lovable elves, Scrunchie and Bangles, have accidentally misplaced some of Santa's presents. When Santa finds out about the mishap, he teaches the well-meaning elves that the real gift of the season is the people and friends we celebrate it with. Packed full of sing-a-long tunes, this show is the perfect way to get audiences of all ages into the Christmas spirit. The show starts at 7 p.m. at the Roanoke Island Festival Park Indoor Theatre. Tickets are $5, and ages 5 and younger are free.
Live music, karaoke and trivia are on the nightlife lineup this week, along with a seriously fun Champagne Showdown associated with the Outer Banks Festival of Trees. Check out all of the after dark happenings on our Nightlife & Events page, and plan your night out this holiday season.