The Lost Colony has been an Outer Banks performing arts institution for more than three-quarters of a century. Since its first staging in 1937, millions have visited Roanoke Island's Waterside Theatre to experience Pulitzer Prize-winning playwright Paul Green's vision of the 117 English men, women and children whose effort to establish a colony on Roanoke Island ended with their mysterious disappearance into the vast American wilderness. In the decades since that first show many Lost Colony audiences have faced their own not inconsiderable challenge of getting to the theater on time despite heavy summertime traffic and the need to eat dinner prior to attending the play. If only there was some mechanism for arriving early to find convenient parking and enjoy a nice meal close to the theater, perhaps with the opportunity of a pre-show peek backstage.
Enter The Lost Colony's pre-show Character Dinners on Tuesday and Wednesday evenings! Held in the newly renovated, spacious and air-conditioned Sound Stage Theatre, Character Dinners package an early arrival with easy parking, an extensive Italian-style buffet dinner and a chance to meet and have your picture taken with Lost Colony actors in costume, all set against the stunning backdrop of the beautiful Albemarle Sound. Character Dinners are a truly unique Outer Banks experience, and you'll want to purchase tickets in advance as the dining venue will accommodate only 200 people per night.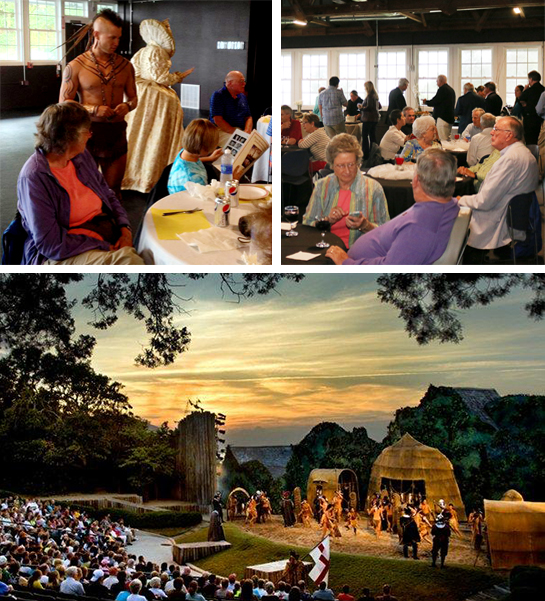 The gates of the Waterside Theatre open at 6 p.m., giving Character Dinner participants the opportunity to wander the well-kept grounds, refresh themselves or peruse the gift shop.
At 6:30 p.m. you'll venture backstage for an exclusive backstage meal featuring numerous pasta options including options including a vegetarian marinara, salads, breads and desserts, while cast members in costume visit the diners. Character Dinner tickets can be purchased through The Lost Colony website and are available for both adults ($50) and children ($28). Please note: VIP tickets are not Character Dinner tickets.
Following dinner, approximately 7:15 p.m., step out for a private backstage tour that features areas not included on the regular public tour.
At 8 p.m. it's show time! Grab your seat and settle in for a stirring tale of drama, comedy, adventure and survival in the New World told through both acting and song.
Immediately after the show, at approximately 10:15 p.m., Character Dinner attendees are invited to gather in the rainshelter for a Meet and Greet with the cast.
From the satisfying pre-show meal to the real actors you'll meet who will soon be performing onstage to the backstage tour full of insight into the intricacies of a large-scale theatrical production, the Character Dinner will make your family's visit to The Lost Colony an experience of a lifetime! The remaining Character Dinner dates this season are July 23, 29, 30 and August 5, 6, 12, 13, 19, 20. Please see The Lost Colony website for more details on show tickets, seating options, pricing and more.
________________________________________________________________________
Five hundred years after the disappearance of Roanoke Island's first colonists the cause of their demise remains a mystery. But the success of The Lost Colony, playwright Paul Green's dramatic rendering of what might have happened, is no mystery at all.
For 77 years The Lost Colony has wowed audiences with its unique mixture of historical conjecture, drama, adventure, tragedy, song and dance. Each season more than 200 actors, technicians, designers and community volunteers bring Green's story, the nation's longest-running outdoor symphonic drama, to life for audiences that typically include both visitors and locals.
This season, which runs through August 22, is no different. A large and talented cast capitalizes on an open-to-the-stars stage three times larger than a typical Broadway stage to create a long-vanished world that includes an Indian village and an English port city, showcases the dazzling pageantry of the Elizabethan court and depicts how the to-the-death conflict between the 16th-century superpower of Spain and the up-and-coming English affected both nobility and commoners. Indian rituals and dances, thrilling sword fights and chaotic battles meld with romance, laughter, songs and celebrations to tell the story of people seeking opportunity far from England's wars and suffocating class system.
Since its beginnings more than 70 years ago, The Lost Colony has seen more than 5,000 actors and technicians pursue their craft in Waterside Theatre, among them such well-known personalities as actors Andy Griffith and Terrance Mann, five-time Tony Award-winning stage and film costumer William Ivey Long and former North Carolina state senator Marc Basnight. In 2013 the show received a Tony Honors Award for Excellence in Theater, the highest award presented for excellence in the American theater.
Like many Roanoke Islanders, I've seen the show enough times over the years that keeping count requires all my fingers and most of my toes. But, even for those of us who know the story and much of the dialogue by heart, The Lost Colony remains one of those seminal stories of striving against all odds that never really grows old. The show is a spectacle rare in our age of Facebook, Netflix and cell phones, and it is an experience that should not be missed.
The Lost Colony is performed Monday through Saturday at 8 p.m. each evening except for Monday nights when the show begins a half hour earlier at 7:30 p.m. Tickets can be purchased online at The Lost Colony website.