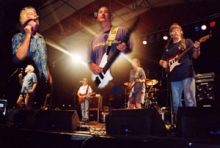 If you're at least 50 years old, as soon as a Lovin' Spoonful song comes on, you can sing along with every single word. "Do you believe in magic, in a young girl's heart, how the music can free her, whenever it starts...." Go ahead, sing the rest right now, out loud! Because you need to get ready to sing along with all their favorite songs when they preform right here at the Lost Colony's Waterside Theatre on Sunday, July 20 at 8 p.m. The popular group will bring its Good Time Music sound to Manteo as part of The Lost Colony's PNC Presents: Live at the Waterside Concert Series.
The Lovin' Spoonful was the States' answer to the early 1960s British Invasion that included groups such as the Beatles, The Who, The Rolling Stones and The Yardbirds. Their sound combined the rock background of two of their members, Steve Boone and Joe Butler, with the folk leanings of the two other band members, John Sebastian and Zal Yanovsky. Adding in a touch of country on some tunes, the band became famous with such songs as Do You Believe in Magic, You Didn't Have to Be So Nice, Daydream, Darlin' Be Home Soon and Nashville Cats. Their first seven songs went to the Top 10 - an almost unthinkable feat in the midst of Beatlemania. Within four years, they produced five albums and wrote the soundtracks for two movies produced by Frances Ford Coppola and Woody Allen. From 1965 to early 1969, the band toured almost constantly and were one of the first big name bands to tour college campuses.
As the music scene evolved in the late '60s, the band members decided that solo careers would best serve them but vowed to not let the spark the group had created die. John Sebastian, especially, established a very successful solo act, appearing at Woodstock, touring and writing the theme to a 70s hit sitcom, Welcome Back Kotter.
In 1991, three of the band members came back together and started touring again, pulling in old fans along with new ones just discovering the catchy and melodic songs. To mark their historic popularity, the group was inducted into the Rock and Roll Hall of Fame in 2000.
Come out for a great night of music under the stars. Tickets sell for $30-$60; click here to order tickets online.
Other PNC Presents: Live at the Waterside Concert Series shows feature Jars of Clay on Sunday, August 3 and Marty Stuart & The Fabulous Superlatives on Sunday, August 17. All shows begin at 8 p.m.