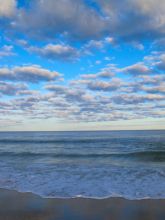 Recently, one of my friends enrolled at North Carolina State University as a full-time student at the ripe old age of 38. While many of us would be reluctant to exchange the comfortable routine of the workaday world for the uncertainty of being a "mature" college student in a sea of much younger peers, it is obvious from his periodic Facebook posts that my friend is having the time of his life! And while he has certainly partaken of some of the social outlets that college life offers, what has him most energized, most enthusiastic is the culture of learning that now surrounds him.
It is well-documented that lifelong learning and maintaining openness to new ideas and alternative views is essential to personal growth and to our intellectual and physical health as we age. But when was the last time you learned something new? Something you wanted to learn? Something unrelated to your responsibilities as employer, employee or parent? It's been awhile, hasn't it? The obligations and complications of daily life make unceasing demands on the time and resources necessary for educational pursuits or even hobbies. What can you do?
The After Dark at All Saints educational program at All Saints Episcopal Church in Southern Shores may provide just the outlet you seek. The After Dark program offers a diverse series of extremely affordable single-session classes taught by local experts or professional practitioners who share their talent, passion and expertise with students of all ages. Classes are offered in several categories from cooking to gardening, crafts and hobbies, and health and well-being as well as a broad collection of general interest topics ranging from French Wine 101 to Mah Jong for Beginners, Conversational Spanish, Islam and the West, and an Introduction to Social Media.
All net proceeds are funneled back into the community through All Saints' outreach programs. Proceeds from the three previous After Dark programs have generated $22,950 in contributions to agencies and organizations serving our community. This year's After Dark program will support Food For Thought, Interfaith Community Outreach, the Community Care Clinic of Dare, Room in the Inn and several other Outer Banks service organizations.
Most classes are held Monday to Thursday and begin at 7 p.m. The registration fee for each class is $20 for adults and $10 for participants younger than 18. Some classes may require additional fees to cover supplies. There is no limit to the number of classes that can be taken. Pre-registration is required for all classes, and payment by cash or check is required to secure registration. Visit the All Saints website for the class catalog, a registration form, payment instructions and a list of classes already full. Classes typically fill up quickly, so call the office at (252) 261-6674 to ensure your desired classes are still available. A telephone reservation will hold a class slot in your name for 48 hours only.
Over the past several years the Outer Banks has become a premier wedding destination and the Outer Banks Wedding Weekend organized by the Outer Banks Wedding Association is a clearinghouse for all things wedding related on the Outer Banks. The two-day event held Saturday, Jan. 19 through Sunday, Jan. 20 provides an overview of the hospitality, entertainment and natural beauty the Outer Banks offers those planning a wedding. The Wedding Tour and Expo feature wedding venues, a variety of vendors from wedding planners to photographers to floral designers as well as local restaurants and caterers. Sunday's Expo boasts more than 175 vendors dedicated to make each wedding a unique and beautiful experience.
Tickets are required for admission. Online ticket sales have closed, but tickets can still be purchased in person at the Wedding Welcome Center on Friday, Jan. 18 from 9 a.m. to 8 p.m. or at First Flight Middle School and First Flight High School in Kill Devil Hills during Sunday's Expo event from 10 a.m. to 4 p.m. Tickets are $25/person.
Coinciding with the wedding expo weekend is "Stolen Moments: A Tribute to the Artistry of Outer Banks Wedding Photographers." The exhibit, on display at the Dare County Arts Council gallery in Manteo through Jan. 29, showcases the less formal works of these outstanding professional photographers. The gallery is open Monday-Saturday from 10 a.m. until 5 p.m. Admission is free.
Recognizing the connection between mind, body, spirit and community, Outer Banks Yoga in Kitty Hawk offers their Karma Yoga Class every Sunday at 4 p.m. in their studio across the Beach Road from the Hilton Garden Inn. Karma yoga is the yoga of selfless service. To honor that tradition, Outer Banks Yoga has made this class available to students of all levels in exchange for donations to benefit the community. Donations may include canned goods for the Food Pantry in Kitty Hawk, seasonal vegetables from your garden or monetary contributions. E-mail questions to michelle@outerbanksyoga.com. Yoga mats and props will be provided.
On Thursday, Jan. 17 step out in Nags Head for a few hours and take in the latest installment of Outer Banks Sounds at Kelly's Restaurant and Tavern from 7 p.m. to 10 p.m. For those unfamiliar with the event, Outer Banks Sounds is collaboration between the Dare County Arts Council and WVOD 99.1-The Sound to promote a live performance and CD compilation series featuring some of the Outer Banks' best musical talent. All proceeds from CD sales benefit the Community Music School, a DCAC initiative to bring quality, affordable music instruction to financially disadvantaged children in Dare County.
One of the minor drawbacks of being an Outer Banker is that we sometimes miss out on great local cuisine as some of our restaurants close for the winter before we have a chance to dine there. Aqua Restaurant & Spa in Duck helps remedy this situation with their Locals Appreciation Night. Beginning at 4 p.m. Monday, Jan. 21 relax at Aqua on the shore on the Currituck Sound and savor a delicious three-course meal prepared with the highest quality community-farmed organic ingredients, natural meats and locally sourced seafood, all for an affordable $35. That's bound to make anyone feel a little more appreciated!
As we trudge through the short, dreary days and cold, damp nights of mid-winter, it can be a challenge to keep our spirits up. Aqua Spa has responded by putting together a stimulating "Winter Blues" offering of aromatherapy, Swedish massage, body scrubs, facials and manicure/pedicure combos sure to send the winter doldrums packing. Revive your spirit with a bit of pampering and begin channeling those warm, sunny vibes of Spring! Call (252) 261-9709 or book online.
Local vintner Sanctuary Vineyards and Winery has combined the art of painting with the art of winemaking, and the result is Canvas & Cork, an art class and winetasting event held at Sanctuary Vineyards each Tuesday from 6 p.m. to 8:30 p.m. The price of $45 includes art instruction by Candace Owens, free tastings of Sanctuary Vineyard wines and one glass of the wine of your choice (non-alcoholic beverages arel also provided). The class is appropriate for ages 12 and older, and all artistic skill levels are welcome. All art supplies are provided. Please bring an old shirt or apron to protect your clothing. Tap your talent for art while pleasing your palate with some fantastic local wines! For details or a list of future dates call (252) 491-2387 or visit the event page at Outer Banks This Week.
Also, make sure to check out Sanctuary Vineyards' free Winter Sunset events, a live music series held every Friday evening in January from 5:30 p.m. to 8:30 p.m. Sip a glass of wine or two while you shake off the work week with the help of a little live music performed by local musicians.

This week you have a chance to win two on-the-go pedicures and mimosa at Aqua Spa & a $35 Gift certificate to Barr-ee Station!
For more information about The Colonial Inn, check out their website.
For more information about Tortugas' Lie, check out their website.
Last Week's Winner
Congratulations to Ambra Levonick‎!!!
You won a two-night stay at The Colonial Inn and a $35 gift certificate to Tortugas' Lie!
For more information about The Colonial Inn, check out their website.
For more information about Tortugas' Lie, check out their website.