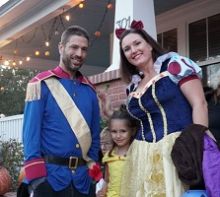 The Halloween bustle began in downtown Manteo's streets well before the trick-or-treaters emerged. Vendors, bounce houses, game booths and more turned Queen Elizabeth Avenue into a festive carnival scene. By dusk costumed trick-or-treaters of all ages, sizes and degrees of scariness filled the streets.
Handing out candy and watching the parade of costumes is just as much fun as actually getting the sweets (and a better choice from a dental perspective). OneBoat publisher Beth Storie, dressed as a crow, was in high spirits, perched on her festively decorated front porch alongside her friend, Linda Mizelle. They handed out candy to the young trick-or-treaters (and toothbrushes to those young at heart). From their vantage point, they kept a tally of the night's trending costumes.
Halloween is the perfect opportunity to brush up on your pop culture. You see which princesses and superheroes are currently popular and what new TV shows and musicians inspire children's garb. You rest easy, knowing that some costume choices never go out of style. As we roll away from our sugar-induced comas, here's a little recap of who was hot, who was not and who wore it best on Halloween 2018 in Manteo.
Witches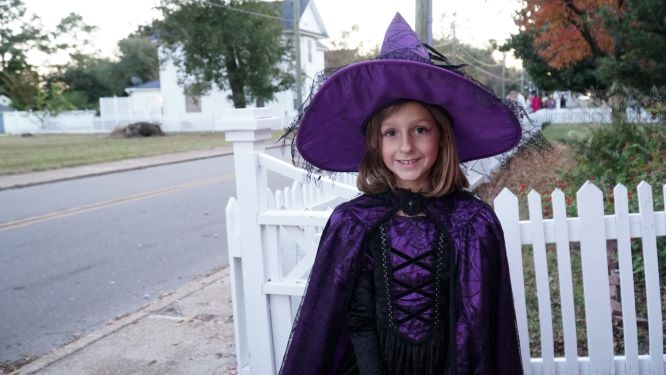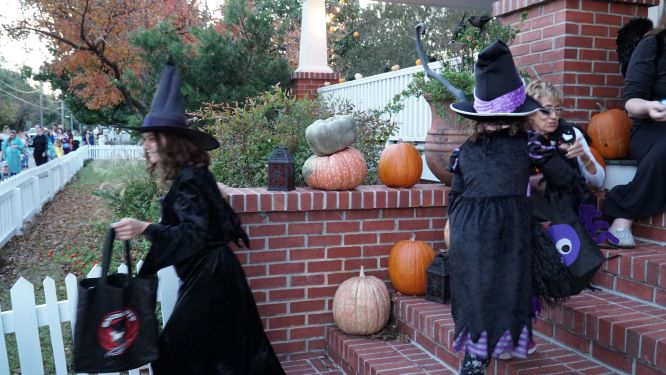 There's a reason that the witch is a classic costume. She's a symbol of the season. She can be cute, funny, scary or sexy. She's an all-around solid choice. Here are some of our favorite witches of the night.
Harry Potter Characters
When I used to trick-or-treat, Harry Potter characters dominated the costume choices. You can keep it classic with Harry, Ron or Hermione, or you can spice it up with a more creative choice, like a Weasley sibling or Slytherin scumbag. All you need is a Hogwarts robe, a wand and an appropriate color scheme. On Halloween 2018, Harry Potter, Hermione Granger, Ginny Weasley and Draco Malfoy made appearances in Manteo.
Spiderman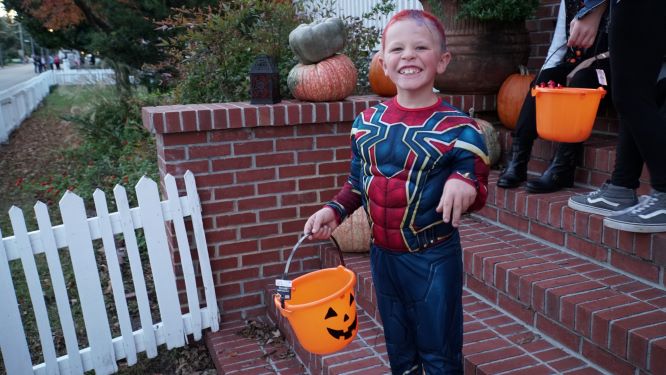 Did a new Spiderman movie come out recently? I ask because this web-slinging boy was swinging all over Manteo this Halloween. Sometimes he was buffed up (I'm thinking James Garfield's Spiderman), other times he was little and lean (like Tom Holland's latest portrayal of the character). No matter the form he took, however, it was good to see that the trending superhero of the year was one everyone – no matter their pop-culture savvy – could recognize.
Michael Myers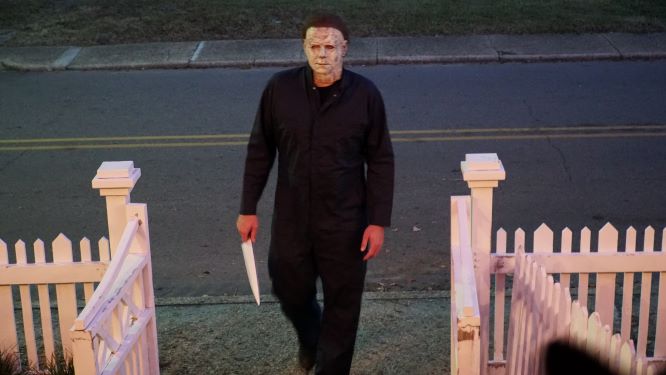 Here's another Halloween icon (figuratively and literally), but unlike the witch, sweet and cute are adjectives and interpretations that can't even apply to this character. On Halloween night it didn't matter if the Michael Myers stood perfectly still in the shadows, menacing and large, or traipsed down the street at 4 feet tall, plastic knife the size of his forearm. That bodysuit and expressionless, ashen face still made my skin prickle.  
Freddy Krueger
If Freddy and Michael Myers operated in the same universe, they'd either be BFFs or mortal enemies. At least in Manteo they kept it civil. There's much to appreciate about a Freddy Krueger costume – striped shirt and fedora are tucked away in almost every household. Throw in a set of slasher knuckles and you're set. Thankfully the Freddy Kruegers kept things far from nightmarish in downtown Manteo. My favorite was when one Freddy came onto the porch and requested a photo with the Michael Myers lurking inside in the kitchen (full disclosure: It was just Phil Forslund, Chief of Operations at Outer Banks This Week).
Frozen Characters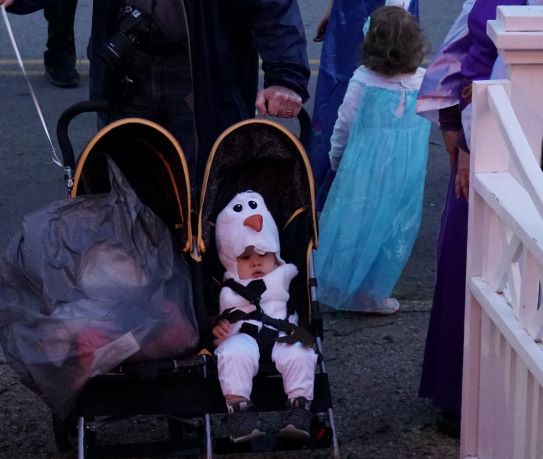 I haven't seen trick-or-treaters since Frozen came out in 2013, but it warmed my heart to see Princesses Elsa and Anna's braids and sparkling dresses out in the evening's chilly air. Elsa appeared more frequently than Anna did, but she is the one with superpowers after all. By and large the cast of Frozen was the most represented of all the Disney films; however, a few Belles and Snow Whites also graced the scene.
Group Ensembles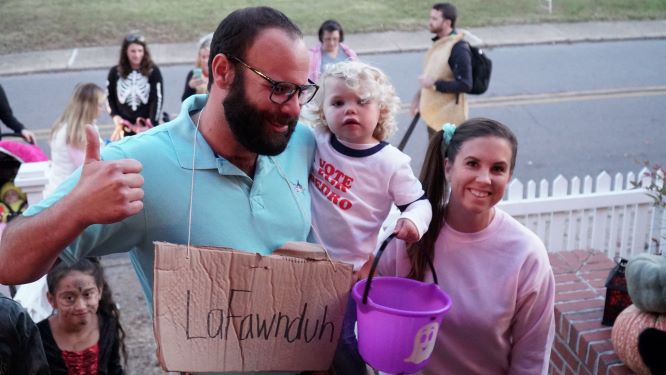 I love group Halloween costumes because it's where creativity shines. From the Addams Family, Alice in Wonderland characters, the Incredibles and even our favorite crew of misfits from Napoleon Dynamite, families, siblings and friend groups dazzled the crowds with their group efforts. 
---
What about you, what did you dress as? Check out the array of costumes that appeared this Halloween. Who do you think wore it best? And who wore it the scariest?