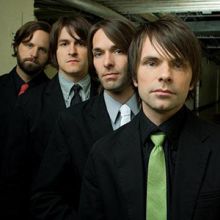 Geography matters. Especially as it concerns the delicately narrow sandbar we know today as the Outer Banks. Sitting as we are, nakedly exposed to whatever comes at us from the east and the passive recipients of whatever flows downhill towards us from the west, the Outer Banks is something of a geographical canary in a coal mine. All of which should give us pause as we consider additional development, increased tourism, demands for near-shore energy exploration and seek solutions to the impending challenges of climate change, rising oceans, declining fisheries and more frequent, potentially stronger hurricanes. Of course, requisite in any collective decisions on these topics is a common body of geographical knowledge.
As it turns out, this much-needed geographical knowledge is not that common at all. This comes as something of a shock to someone who as a youth wallpapered his bedroom with those huge fold-out maps that came tucked inside National Geographic magazine. (Yes, yes, I did manage to shoehorn in a life-sized poster of Cheryl Ladd, but there were a lot of maps.) I loved maps then and I still do. Sadly, studies routinely show that Americans are among the most geographically illiterate people of all the industrialized nations (we Americans are unfortunately well-represented on a number of what I have come to call Most Worst lists). In fact, a survey a few years ago found that the majority of American high school students could not identify the United States on a map of the world.
By way of example, just the other day, as I walked home for lunch from the downtown Manteo office where I work, I was stopped by a family of visitors seeking directions. How, they asked, could they find their way to Roanoke Island? My laugh quickly faded with the realization that this was a serious question. Wow, I thought, this is right up there with the woman who asked me, "So, why do they call it Roanoke Island?" (Um, body of land surrounded on all sides by water....) Keeping my incredulity in check - HOW did they even get here? - I informed them that they were, in fact, currently standing on Roanoke Island and proceeded to provide them with general directions to the attractions in which they expressed an interest. As I walked away it dawned on me that my directions, full of phrases like "head north up the island" and "turn west onto Airport Road," would probably prove useless to people so directionally impaired that they had arrived on Roanoke Island without realizing it.
To be fair, it's not only tourists who are geographically impaired. Two weeks ago a Texas-based retirement advisor website selected Duck, North Carolina, as one of the United States' Top 10 "islands" to visit or consider for a retirement home. Seems to me one might view with skepticism any additional retirement advice coming from these guys.
With our comfortable, mostly suburban, disturbingly virtual lives and our GPS-enabled cars and phones, we've become a people so detached from the natural, physical world that many of us derive absolutely no directional guidance from the flow of rivers, the angle of shadows or the movement of the sun across the sky. Even worse, some folks don't even seem to know from which direction it is that the sun rises and which direction it sets. I have seen more than one very expensive ad enticing visitors to the Outer Banks with copy lauding our spectacular Atlantic sunsets. Really?! This is very basic stuff, frighteningly basic stuff. Can we really be descendants of those restless people who crossed oceans in their tiny GPS-less ships, who arrived in strange lands and purposefully walked into the unknown?
Geography DOES matter.
Soooo, if you want to learn (and you do, don't you?) how dramatically the geography of the Outer Banks has changed over time, due to hurricanes, winter storms and human hands, set aside a little time for the 30-minute presentation of Geography Matters, a fascinating education presentation given by staff of Jockey's Ridge State Park in Nags Head. Sessions are scheduled for 4 p.m. each Tuesday throughout the month of August. Meet at the visitor center. All ages are welcome.
Other Happenings
Pine Island Audubon in Corolla has some fun activities going on. Programs begin promptly at 9 a.m. and run 60-90 minutes, rain or shine. The Animal CSI program set for Thursday, July 31 teaches you the skills needed to become a nature detective, identifying the animals that live on and pass through the sanctuary. You'll look for tracks, scat and other evidence of the critters that call the sanctuary home. The next session of the program is scheduled for Thursday, August 7. The Habitat Discovery Hike on Tuesday, August 5 starts at the lodge and then heads out to the maritime forest, dune fields and marsh, focusing on an overview of the plants and animals sustained by the sanctuary. Both programs include indoor and outdoor elements, including a walk of more than one mile, so wear enclosed walking shoes and bring sunscreen, bug repellent, a hat and water. No strollers or dogs are allowed. All of Pine Island Audubon's family programs begin at the Pine Island Lodge at 300 Audubon Drive in Corolla. Pre-registration is required. The price for each program is $10/person, with children 5 and younger admitted free.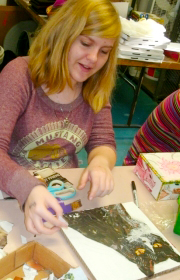 Parents of artistically inclined young people may want to investigate KDH Cooperative's Oceans and Beaches and Creatures of the Deep art class held Thursday, July 31 and Friday, August 1 from 10 a.m. to 12 p.m. Students will be instructed by local artist Julie Moye and use a variety of materials and techniques, including paints, mixed media, pastels, collage, printmaking and craft, to develop their art-making skills while exploring the theme. The class is appropriate for children aged 5 to 10, and the class fee is $95/student. KDH Cooperative is located in Kill Devil Hills. For more information visit the KDH Cooperative website or call (252) 441-9888.
The artists of the Baum Center Watercolor Group will exhibit a collection of their works in the first floor conference room of the Duck Town Hall from Friday, August 1 through October 24. An opening reception with light refreshments will be held Friday, August 1 from 3 to 5 p.m. Duck Town Hall is located at 1200 Duck Road, and the exhibit is open to the public Monday through Friday from 9 a.m. to 5 p.m. For more information see the Events page on the Town of Duck website.
This Friday marks Roanoke Island's August First Friday celebration. As folks have come to expect, you'll find a multitude of musical performances throughout Manteo's picturesque downtown waterfront area, delicious dinner specials at nearby restaurants and businesses serving refreshments, holding special events and sales while historical interpreters and street performers traverse the downtown. At the Dare County Arts Council gallery, photographer Chris Updegrave will exhibit a solo show of his work. Beginning with an opening reception featuring music, light fare and libations from 6 to 8 p.m. Visit the Dare County Arts Council website for more information.
While First Fridays happen only on the first Friday of each month, there's no reason to wait a full month for another celebration. Tuesdays In Manteo take place EVERY Tuesday. From mid-June to late August Manteo is hopping on Tuesdays with a local artisan and craft show at the Downtown Pavilion from 10 a.m. to 6 p.m., pottery, jewelry and weaving demonstrations, story hour for kids with Downtown Books, beer university at Full Moon Café and Brewery, live musical entertainment, an arts crawl and more! For the full slate of activities see the Tuesdays In Manteo Facebook page.
Puff, puff! It's the PNC Bank Sandbar 5K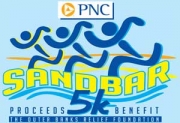 Runners, take your marks! The PNC Bank 2014 Sandbar 5K hits the beach Sunday, August 3 at 7:30 a.m. The race, a charity benefit for the Outer Banks Relief Foundation, starts on the beach at the MP 4.5 lifeguard tower in Kitty Hawk. Participants will run north to the mid-way point then back south to the start/finish line. The 1st place overall male and female finishers will win Outer Banks vacation packages. The second and third overall male and female finishers and the top three finishers in each age group will also receive awards. Registration is $30 until July 31 when it increases to $35. The Outer Banks Relief Foundation raises funds to help people on the Outer Banks with debilitating diseases and families in crisis. For more information visit the Outer Banks Relief Foundation website.
Jars of Clay at Waterside Theatre
The Outer Banks' Summer of Music continues this Sunday, August 3 when Jars of Clay perform at The Lost Colony's Waterside Theatre on Roanoke Island at 8 p.m. The Jars Outer Banks performance comes in the midst of their 20th anniversary tour, which also marks the release of their latest album, Inland. Over the course of their career, Jars of Clay has been awarded three Grammys, recorded 10 studio albums and created Blood:Water Mission, an organization dedicated to providing clean blood and water for African nations suffering from the HIV/AIDS crisis. The new album was cut live, straight to analog tape, with several songs captured in one take by noted producer Tucker Martine (My Morning Jacket, Beth Orton, The Decemberists). To celebrate their 20 years as a band, Jars of Clay will be playing all their previous hits in addition to cuts off the new album. Tickets can be purchased online at The Lost Colony website and are $30 for general seating and $60 for VIP seating.