Hatteras Islanders received an early Christmas gift Sunday afternoon as the North Carolina Department of Transportation re-opened the Herbert C. Bonner Bridge to traffic for the first time since its Dec. 3 closure. The decision to re-open the bridge was made after several sonar scans, test pilings and multiple inspections this week indicated that the emergency dredging conducted Dec. 7-8 had fortified the bridge's support structure enough to allow safe travel over the bridge. Approximately 30,000 cubic yards of sand were pumped during the dredging operation from Oregon Inlet's main navigation channel to the eroding area around the bridge's pilings. Although the bridge has been re-opened, emergency repair work will continue in an effort to prevent further erosion from occurring. "We will continue to closely monitor the bridge through inspections and weekly sonar scans during the emergency repair work. If safety becomes a concern again, we will take the appropriate steps to ensure public safety," said Transportation Secretary Tony Tata in a press statement.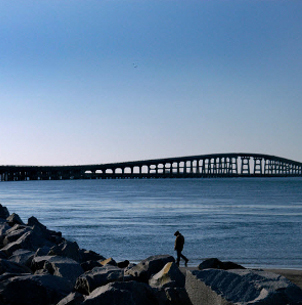 During the repair work large sandbags and concrete armor units known as A-jacks will be placed around the bridge supports to stabilize the sand pumped around the pilings during the earlier dredging operation. During this process the bridge may be closed intermittently to accommodate the necessary work, and the Department of Transportation will provide advance notice of these short-term closures.
The bridge closure deprived Hatteras businesses of off-island customers for nearly two weeks, so please keep these hardworking locals in mind as you do your last-minute Christmas shopping. Hopefully, our Hatteras Island friends can now shift their focus from dealing with sudden and extreme isolation to enjoying the remainder of the holiday season.
Other Happenings
Personal Time for Parents
During the holiday season, perhaps more so than at any other time of year, parents can use a break from the non-stop duties of being a parent. Here's an opportunity to take your own personal time-out to make your list and check it twice, do a little secret shopping or just sip a cup of coffee and collect your thoughts for a few moments during this hectic season. The Outer Banks YMCA will be running two sessions of its Parents Morning Out program during the holidays with the first taking place Friday, Dec. 20 and a second one Friday, Dec. 27. Both $10 sessions run from 9 a.m. to 12 p.m. under the supervision of YMCA child care staff. The Parents Morning Out program is open to all YMCA members with children ages 1 to 5. Visit the YMCA website to pre-register.
Parents remain onsite during the Aqua Tots program at North Carolina Aquarium on Roanoke Island, but a little time to relax, take stock of must-dos or just read a few uninterrupted pages of a novel is worth its weight in gold this time of year. Aqua Tots' interactive sessions are conducted by the Aquarium's education staff and are designed for children 2 to 5 years old to encourage hands-on learning through free play, stories, crafts and other activities. The next program begins Friday, Dec. 20 at 10 a.m. The price is $6.30/child for Aquarium members and $7/child for non-Members; there is no charge for one accompanying adult. Pre-registration is required.
Santa Sightings
On the last Saturday before Christmas, Santa continues his ramblin' ways along the Outer Banks and the nearby mainland. He appears first this Saturday, Dec. 21 from 8 to 9:45 a.m. at the Outer Banks Festivus Road Race 5K/10K Run in Southern Shores where he'll be available for photos with the kids. After visiting with Santa the little ones can join the Little Elf Jingle Jog 1-miler. Grown-up kids can take part in either the 10K loop race or trot the 5K out-and-back course. Medals will be given to all participants. Visit the event website for more information. Pre-registration is required.
Santa's next stop is at The Cotton Gin in Jarvisburg on the Currituck County mainland. Arriving by tractor, Santa will hand out goodies and visit with children from 12 to 3 p.m. Grown-ups will want to check out the all-day Santa Sale with great storewide gift deals, refreshments and door prizes from 9 a.m. to 6 p.m.
Finally, Santa finishes his Outer Banks swing with an appearance at The Elizabethan Gardens' spectacular WinterLights celebration on Roanoke Island from 6 to 9 p.m. Be awed by the amazing light show, enjoy holiday music, warm yourself by a bonfire on The Great Lawn and take advantage of what might be the last chance to make sure Santa's list is complete! Don't miss out! Admission to WinterLights is required to visit with Santa. Admission is $10/adults, $8/youth ages 6-17 and $5 for children age 5 and younger. For more information call (252) 473-3234 or visit The Gardens' website.
Holiday Lights
The Elizabeth II, a representation of a 16th-century sailing ship, is a highlight of the Manteo Waterfront all year round. But this year the vessel's presence is particularly stunning, rigged for the first time ever with cascades of colorful holiday lights and ablaze with Christmas cheer that reflects nightly across Shallowbag Bay. In addition to the after-dark holiday display, the exhibit Elizabeth II: 30 Years of History continues daily from 9 a.m. to 5 p.m. (closed Dec. 24, 25 and 26). The free exhibit tells the story of the ship's construction and history and includes photos of the shipbuilding process, blueprints, artifacts, a short film and letters and drawings from children who have visited the ship.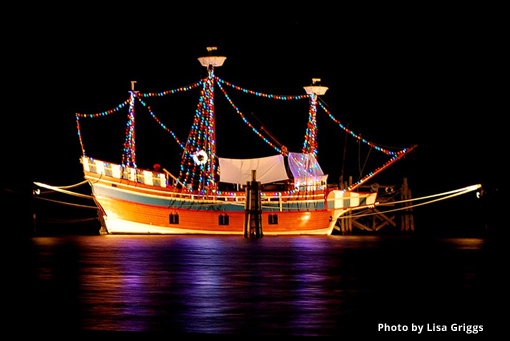 Up in Kill Devil Hills fans of holiday lights will make their way to the First in Flight Holiday Lights display running nightly at the Frog Pond at the KDH Town Hall through Jan. 3. Be wowed by giant snowflakes, Santa's sleigh, candy cane lights and more than 4,000 twinkling LED lights illuminating the trees and walking trail! Sounds impressive, doesn't it?
Christmas for Our Furry Friends
My life is made more fulfilling every day by the presence of two rescued felines who provide love, companionship and constant reminders of what's really important in this world...the holy trinity of food bowl, water bowl and litter box! But, seriously, there are many animals that find themselves homeless and spending the holidays with the caring folks at the Outer Banks SPCA. Lending a helping hand for the 12th consecutive year is the North Carolina Aquarium on Roanoke Island's Santa Paws Tree.
Over the years the Santa Paws Tree program has collected thousands of much needed items - all generously donated by our community - and provided them to the SPCA to assist in the care and improve the quality of life of animals who have not yet found their Forever Home. From now through Dec. 22 free admission will be granted for donations of 7 pounds or more of dog or cat food. Other items on the Santa Paws wish list are toys, rawhides, treats, blankets and pillowcases, dog shampoo, kitty litter and cleaning supplies such as bleach and paper towels. Drop-off donations are welcome. All items under the Santa Paws Tree will be delivered to the Outer Banks SPCA on Monday, Dec. 23. For more information call (252) 473-3494 or visit the Aquarium website.

This week you have a chance to win a 1 night-stay & a $35 gift certificate to Trio - Wine, Beer & Cheese!
For more information about Cameron House Inn, check out their website.
For more information about Trio check out their website.
Last Week's Winner
Congratulations to Kim Tytler!!!
You won a $35 gift certificate to Kinnakeet Clay Works & a $35 gift certificate to Blue Pelican Gallery & Yarn Shop!
For more information about Kinnakeet Clay Works, check out their website.
For more information about Blue Pelican Gallery check out their website.