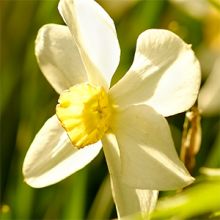 Could it be…finally? Spring? Is that you, Spring?
We can only hope. But if there is one place on the Outer Banks that is Spring Central it would have to be The Elizabethan Gardens on Roanoke Island. And they are certainly starting April off with a bang!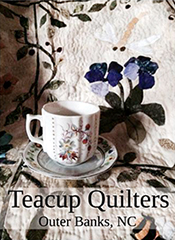 Cast off the winter grays with a dose of vibrant Spring color at Daffodilly Fest, the Gardens' month-long seasonal celebration complete with inspirational displays and educational opportunities. While you're there, stop by the Tea Cup Quilters' Quilt Show, a one-of-a-kind quilt show featuring unique spring floral displays. The quilt show runs through Thursday, April 30. For more information on these or any other of the Gardens' programs or activities call (252) 473-3234 or visit The Gardens' website. The Elizabethan Gardens is open daily from 9 a.m. to 6 p.m.
Easter Happenings
Put a little awe into your Easter weekend this Friday and Saturday in Nags Head with Kitty Hawk Kite's free Fly into Spring/Easter EGGstravaganza as you watch 30- to 100-foot kites ride the winds over Jockey's Ridge. With just a short hop across the Bypass to Jockey's Ridge Crossing you can meet the Easter Bunny and participate in the Easter egg hunt. Activities begin at 10 a.m. and run through 4 p.m. each day. Click here for a full schedule of events or contact Janet Chesson at events@kittyhawk.com for more information.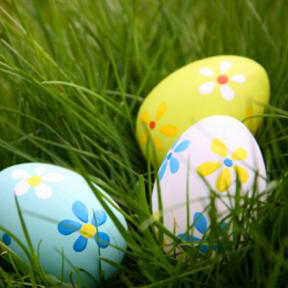 The eggstravaganza-ing continues Friday afternoon in Corolla with Whalehead's Easter Eggstravaganza from 1-3 p.m. featuring an egg hunt led by the Easter Bunny himself in Historic Corolla Park! A bevy of fun children's activities includes balloon art, face painting, egg & spoon races, bean bag toss, pony rides, a fire truck and a jellybean counting contest! Admission and parking are free.
On Saturday from 10 a.m. to 2 p.m. The Elizabethan Gardens on Roanoke Island pulls out all the Easter Eggstravaganza stops with its 10,000 candy- or prize-filled egg hunt plus bunnies, balloons, bubbles, an egg roll on the Great Lawn, a bake sale, music, petting zoo, horse rides, games and crafts, an Easter Hat Contest and more! Admission is free for Members/Friends; standard Gardens' admission price applies to non-Members. Children younger than 5 are admitted free with a paying adult. For more information call (252) 473-3234.
If you're in Currituck Easter Sunday make sure to stop in at The Cotton Gin's Annual Easter Egg Hunt in Jarvisburg at 2 p.m. Kids age 10 and younger can hunt for eggs and prizes while adults hunt for deals at the Indoor Tent Sale!
Down in Hatteras the festivities take place Monday, April 6 with the Hatteras Realty Easter Egg Hunt in Avon beginning at 10 a.m. The family fun includes the obligatory Easter egg hunt (more than 5,000 eggs!), free cookies and lemonade, games, an Easter bag, activities and prizes — even a special visit from the Easter Bunny! That is one busy lagomorph! (Although commonly considered a peculiarly soft and cuddly variety of rodent, rabbits are actually a member of the order Lagomorpha, which includes shrews, moles and hedgehogs. You learned something there, didn't you? Feel free to impress family and friends with this wee bit of esoterica.)
Easter Buffets
All this kite-watching and egg hunting is bound to perk up the appetite, and when those hunger pangs hit nothing is better than an Easter buffet. Kelly's Easter Buffet is open in Nags Head from 10:30 a.m. to 3:30 p.m. Sunday. See the menu here. A little farther south on the Nags Head/Manteo Causeway, the Easter Brunch Buffet at Basnight's Lone Cedar Café begins at 11 a.m. and serves until 3 p.m. View the menu here. Walk-ins are welcome but reservations are recommended — call (252) 441-5405. The buffet is $21/adults, $11 for children age 6 to 12 with children 5 and younger eating free.
Project Glam Girls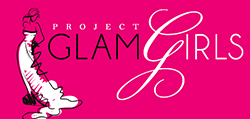 Every now and again an inspired solution arises to solve an intractable problem, a solution so seemingly obvious it's almost incomprehensible it was not arrived at sooner. Attending prom is a dream of most teenage girls, but its expense is unfortunately beyond the means of some and for these girls their only experience of prom is as a dream deferred, perhaps permanently. Project Glam Girls is the inspired solution for this prom problem on the Outer Banks. Originating in the heart of our very own Quinn Capps, Project Glam Girls collects gently used prom dresses, evening gowns, shoes and hand bags from generous members of the community to donate to girls in need so that they can attend prom with the rest of their peers. The Project Glam Girls Boutique will be set up at Kitty Hawk United Methodist Church on April 10 from 11 a.m. to 8 p.m. for girls to try on and select dresses and accessories. Project Glam Girls will be accepting donations through April 9. Drop-off locations are Duck's Cottage Coffee & Books in Duck, Outer Banks Association of Realtors in Nags Head and Duck's Cottage Downtown Books in Manteo. For more information or to make a donation, call (252) 216-9362, e-mail quinn@projectglamgirls.com or visit the Project Glam Girls Facebook page.
Fun and Learning
If you miss Kitty Hawk Kite's Fly Into Spring festivities over the weekend, you'll have another high-flying kite-filled opportunity with Whalehead's free Spring Fun Fly on Tuesday, April 7 from 11 a.m. to 2 p.m. Harness the power of Mother Nature and learn to fly a variety of kites from paper designs you build yourself to top-of-the-line gliders! Admission and parking are free.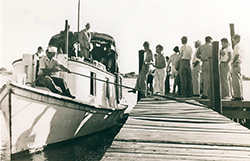 The Graveyard of the Atlantic Museum in Hatteras Village has some great free exhibits and programs scheduled in the coming week. First up is With Love, Aleta, a richly illustrated new exhibit dedicated to Aleta, the Ocracoke Island mail boat that carried passengers and mail to and from Ocracoke in the 1940s and 1950s, connecting the remote island with the mainland of North Carolina and the rest of the outside world for years. The exhibit explores the history of coastal communication and showcases vintage photographs while revealing the challenges the postal service and islanders faced to send and receive mail, a service mainland folk took for granted. With Love, Aleta, opened April 1 and will run through February 26, 2016.  
On Tuesday, April 7 at 2 p.m. comes the latest installment of the Salty Dawgs Lecture Series. In The History of Outer Banks Gulf Stream Sport-fishing, long-time Outer Banks charter boat captain Ernie Foster explains the genesis of North Carolina's Gulf Stream sportfishing industry with a focus on the visionary men who made it happen. And Capt. Foster has the bona fides to know — he made his first trip to the Gulf Stream as a youth in 1951, and his father, Capt. Ernal Foster, built the first North Carolina charter boat specifically constructed for deep sea fishing.
In recognition of National Library Week, on Wednesday, April 8 from 11 to 11:30 a.m. the museum is presenting Sea Story, a seaside tale created by local writer Merri Jamieson. Based on the ship's log of Italian navigator explorer Giovanni da Verrazano (who charted the North American coast from the Carolinas to Newfoundland), the maritime-flavored tale tells the story of Ahanu, an adventurous Algonquin-speaking American Indian youth living on the Outer Banks in the early 1500s. Call to reserve a space. For more information on these or other programs, call (252) 986-2995, e-mail maryellen.riddle@ncdcr.gov or visit the Museum's website.
First Friday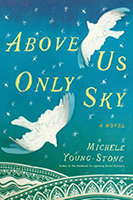 First Friday Roanoke Island kicks into high gear once again this month for its 2015 season! From 5 to 8 p.m. the sidewalks and boardwalks along Manteo's Historic Waterfront pulse with live music, artisans, magic, period-dressed actors and much more. Tantalizing aromas waft from the kitchens of the Waterfront's diverse eateries, and many downtown shops and galleries have their own individual celebrations, offering their live music, unique merchandise, special sales and light refreshments. Make sure to stop in at Duck's Cottage Downtown Books for the book signing party for Simon & Schuster's release of Above Us Only Sky, the latest novel from Outer Banks author Michele Young-Stone!
Local Live Music


Thursday evening Phil Watson entertains on the deck at Beachside Bistro in Kill Devil Hills at 6 p.m. It's 252-Country night over at Kelly's Outer Banks Restaurant & Tavern in Nags Head beginning at 6:30 p.m.
Friday night finds Joey Bouza on the Beachside Bistro deck at 6 p.m., live entertainment at Awful Arthurs at 6 p.m., Kevin Wilder loosening things up around 8:30 p.m. at Peppercorns Restaurant and Lounge, all in Kill Devil Hills. The Daniel Jordan Band brings their blend of rock, country and Southern rock covers to the Kelly's stage at 10 p.m. and Inside Outfit jam out at Poor Richard's After Hours Pub in Manteo beginning at 8 p.m. Down in Ocracoke music seekers will find the eclectic Ocracoke Jazz Society performing at Howard's Pub at 7 p.m. and Formula providing the soundtrack at Gaffer's Sports Pub.
On Saturday Rick Agudelo performs at Beachside Bistro at 6 p.m., Soul House Revival and Betty On Patrol share a rockin' bill at Kelly's in Nags Head at 9:30 p.m. and the Southern English Band brings a set list of Southern rock originals to Basnight's Lone Cedar on the Nags Head/Manteo Causeway at 9 p.m. On Roanoke Island the Acoustiholics perform a mix of classic rock and original songs at Poor Richard's at 8 p.m. and in Ocracoke Killin' Time provides the tunes at Gaffer's while Marcy Brenner and Martin Garrish combine for a beautiful hybrid of bluegrasss, folk and country at Dajio beginning around 7 p.m.

This time you have a chance to win a two-night stay at Days Inn Oceanfront & a $35 gift certificate to the Outer Banks Olive Oil Co.!
For more information about Days Inn Oceanfront check out their website.
For more information about Outer Banks Olive Oil Co. check out their website.
Last Giveaway's Winner
Congratulations to Scott Sharp!!!
You won a one-night stay to Oasis Suites Hotel & a $35 gift certificate to Basnight's Lone Cedar Cafe!
For more information about Oasis Suites check out their website.
For more information about Basnight's Lone Cedar Cafe check out their website.